Microsoft (NASDAQ:MSFT) released healthy operational and financial results for the second quarter of fiscal 2014 last week and they could lend Microsoft shares the necessary support to break new 52-week Highs in the coming weeks. Results surely support an appreciation in share prices of the 'software giant with a device business':
Q2 2014 revenues increased more than 14% to $24.52 billion from a year ago
Microsoft's operating income rose 3% to $7.97 billion from $7.77 billion earned in last year's second quarter
Microsoft's net income increased 3% to $6.56 billion
Second quarter diluted EPS also increased 3% to $0.78 vs. $0.76 last year
The company repurchased $2.1 billion worth of common shares during the quarter and $4.3 billion during the first six month of fiscal 2014.
Most notably, Microsoft achieved a meaningful sales turnaround in the most recent quarter which was at least partly driven by holiday console sales and Surface revenues. Microsoft's revenues have rebounded quite significantly when compared to the last four consecutive quarters which could lend momentum to Microsoft shares.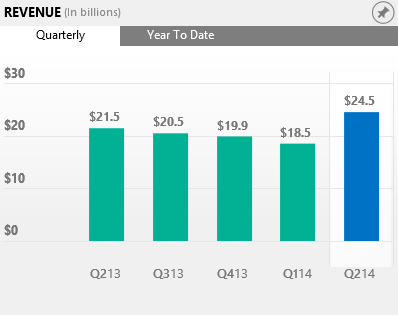 Segment overview
Microsoft's Devices and Consumer Business proved especially strong during the most recent quarter. Revenues in the Device segment increased by 13% compared to last year while Commercial revenues increased by 10% y-o-y. Microsoft sold 7.4 million XBox consoles (3.5 million XBox 360 and 3.9 million XBox One) supported by strong holiday season game console demand. The Commercial segment is Microsoft's most important business segment accounting for 52% of Q2 2014 revenues and 65% of total gross margin. A detailed breakdown of Microsoft's quarterly segment performance is provided below: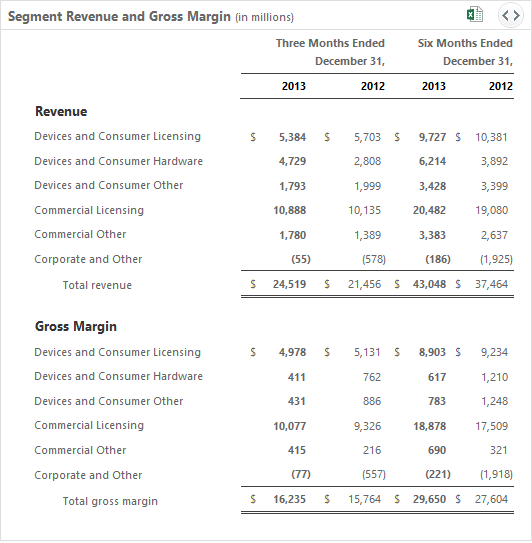 (Source: Microsoft Investor Relations website)
Downside risk?
Microsoft's acquisition of Nokia's device unit for Euro 5.44 billion in an all-cash offer is expected to close in the first quarter of 2014 (Microsoft's third quarter). Nokia's handset unit is loss-making at nosebleed levels and offloading the business to Microsoft was a major catalyst for Nokia's stock. Nokia's most recent sales figures have revealed that the device unit delivered a 29% revenue decline y-o-y and 5% q-o-q. Microsoft will probably not be able to turn around Nokia's Devices and Services business in the near term and a cash infusion might be necessary. I expect the device unit to leave a visible impact on Microsoft's future financial results.
Share performance
Microsoft had a good 2013. Over the last twelve month share prices have increased 32% while Microsoft's two-year return stands at 25%. Better-than-expected Surface and console sales as well as higher commercial cloud revenues could create further momentum for shares of Microsoft in 2014.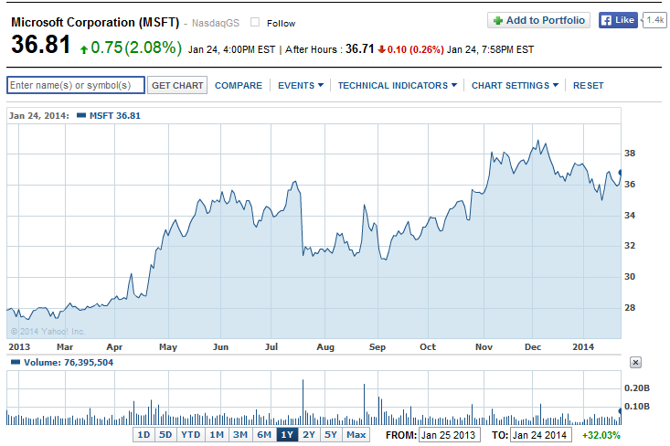 Click to enlargeConclusion
I think a determining factor in the coming quarters will be if Microsoft can sustain its sales momentum and how the company is going to integrate Nokia's Device and Services unit. The market will closely look how much cash Microsoft needs to put on the table in order to turn the loss-making business around.
On the other hand, Surface and Surface 2 Pro products could offer decent sales upside once the products gain higher market traction. Revenues in commercial cloud services (a high growth segment) could also offer a boost to Microsoft's bottom line in the coming quarters.
Microsoft is a particularly attractive investment because of its high amount of cash it holds on its balance sheets: As of December 31, 2013, Microsoft holds $84 billion in cash and short-term securities. This translates into $10 of gross cash per share providing investors with a great deal of downside risk and the company with resources to further repurchase shares. I think the sales momentum as well as Microsoft's rock solid balance sheet make the software company a good long-term BUY even though the integration of Nokia's handset business will be a serious short-term challenge for Microsoft.
Disclosure: I am long MSFT, NOK. I wrote this article myself, and it expresses my own opinions. I am not receiving compensation for it (other than from Seeking Alpha). I have no business relationship with any company whose stock is mentioned in this article.