AutoNation Inc. (NYSE:AN) has projected an improvement in results for the first quarter of 2010 due to a gradual recovery in the industry. The automotive retailer expects to earn 29–32 cents per share from continuing operations in the first quarter of 2010. This is an improvement from 22 cents per share earned in the same quarter a year ago.
AutoNation also expects new vehicle sales to increase 18% to 45,000 units, and used vehicle sales to rise 12% to 38,000 units during the quarter. Consequently, the retailer anticipates its revenue to go up to $2.8 billion from $2.4 billion in the prior-year quarter.
AutoNation has posted a profit of $50 million or 29 cents per share (before special items) in the fourth quarter of 2009, which is more than double the $23 million or 13 cents per share (before special items) in the prior-year period.
The automotive retailer also drove past the Zacks Consensus Estimate of 27 cents per share. This was attributed to lower structural costs and debt levels as well as an efficient inventory management.
Consolidated revenue scaled up 8% to $2.8 billion during the quarter. This was driven by a strong 7.3% rise in new vehicle sales to 46,532 units. However, used vehicle sales dipped 3.6% to 32,528 units. Same-store sales increased 9% to $2.81 billion.
AutoNation continues to improve margins by altering its product mix and increasing its focus on selling parts and services, such as insurance, finance and aftermarket product services, in order to improve profitability.
AutoNation has been increasing its proportion of luxury cars due to their higher margins than the domestic models. The luxury segment constituted 17.4% of the mix in 2009, up from 16.4% in the previous year. On the other hand, domestic models occupy 29.1% of the mix, down from 29.2% in the prior year.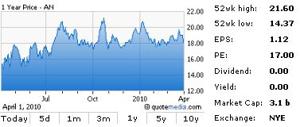 Click to enlarge
However, AutoNation has a high exposure to the bankrupt automakers General Motors and Chrysler, as they represent 35% of the company's new vehicle sales. As a result, we maintain our Zacks Rank#3 for the stock and continue to recommend the shares as "Neutral" in long term.
Disclosure: No positions