"Chance fights ever on the side of the prudent." - Euripides
Investors got jolted out of their complacency last week as the market posted its worst one week performance since June 2012. The trigger was escalating turmoil in emerging markets and currencies including China, Argentina and Turkey.
For followers of this column this is not a surprise as these markets are destined to see the first and possibility dramatic impacts of the start of Federal Reserve's initial move to finally to start to drain liquidity out of the market. So called 'hot money' that have bolstered these emerging markets in recent years are starting to already reversed their previous flow.
I think emerging markets will be one of the best buys in 2014 at some point but I suspect we have a ways to go before emerging markets hit bottom. In meantime, investors should stay local. I have and will continue to allocate 'dry powder' into our market if U.S. equities continue their recent decline.
I am looking to add positions in equities with lower valuations than the overall market, little to no exposure to troubled emerging markets. I also want a high dividend yield as these sectors are starting to outperform again as yields on the 10 year treasury bond declines on the 'flight to quality'.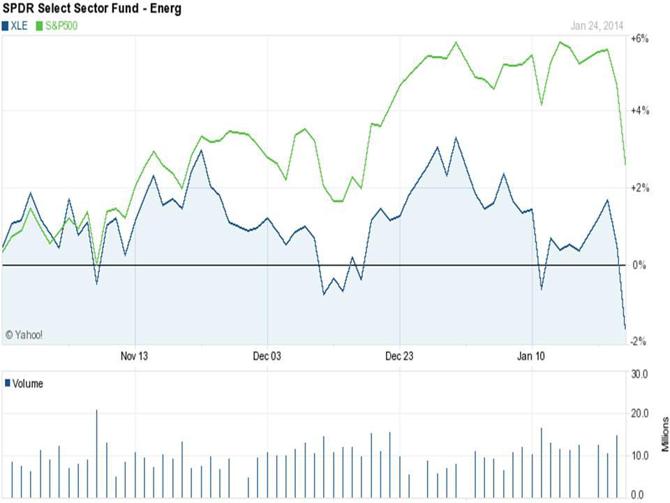 I am finding some attractive dividend plays like these within the energy sector. These stocks have underperformed the market over the past three months even as natural gas prices have hit their highest levels since 2010 and oil has started to bounce off six month lows.
I continue to like Tesoro Logistics (NYSE:TLLP). This is a limited partnership that recently made a major acquisition of two marine terminals, a marine storage terminal, a products terminal, a petroleum coke handling and storage facility, more than 100 miles of active crude oil and refined products pipelines, and other related properties, for $650M from its previous parent Tesoro (NYSE:TSO).
Tesoro already operated a crude oil gathering system in the Bakken, eight refined products terminals in the Midwestern and western United States, a crude oil and refined products storage facility, and five related short-haul pipelines. These dropdowns from its previous parent should continue to be a major source of growth in the years ahead.
Tesoro Logistics is an energy transport & storage play and has limited exposure to underlying commodity prices as it gets paid a transaction fee based on volume not price. The shares pay a distribution yield above four percent (4.2%).
The entity has raised its payouts 60% since it came public in 2011. Revenues are on a sharp up ramp with these acquisitions which bodes well for future dividend growth. Sales are tracking to over 90% gains this year and analysts project over 60% growth in FY2014.
I also continue to add shares in ConocoPhillips (NYSE:COP). The stock is down ~10% in the last two months. The company does have significant operations in Libya. However, 60% of its capital budget is allocated to growing production from its assets in North America including substantial acreage in the Eagle Ford, Bakken & Permian shale regions. It also has substantial production and acreage in Canada.
Production in North America is growing ~20% currently. Almost 60% of the company's natural gas production comes from North America. The energy concern should benefit nicely if natural gas prices stay at these elevated levels.
The shares pay over four percent (4.1%) while income investors watch Conoco continue to become a more focused North American energy play. Given its dividend yield and growing North American production, the shares are attractively priced at ~10x forward earnings and ~5x operating cash flow.
Disclosure: I am long COP, TLLP. I wrote this article myself, and it expresses my own opinions. I am not receiving compensation for it (other than from Seeking Alpha). I have no business relationship with any company whose stock is mentioned in this article.