A late-week tumble for global equity markets quickly changed investor sentiment from "risk on" to "risk off" and gold was one of the few beneficiaries as metal prices moved sharply higher. Falling stock prices helped push the gold price above a key resistance level at just over $1,250 an ounce, however, follow-through in the days and weeks ahead will be needed before a clear uptrend is established.
The exodus from stocks was fueled by new concerns over growth in China and suddenly volatile emerging market currencies added to the rationale for traders to bid the gold price higher. Speculation that India may soon reduce gold import curbs added to the positive factors in precious metals markets, but, in contrast to traders, investors in the U.S. appear to be largely unmoved by the recent rise in the gold price.
After recent developments in financial markets, this week's gathering of the Federal Reserve policy committee has suddenly become much more important and the results of their meeting are sure to influence the direction of both broad equity markets and precious metals.
For the week, the gold price rose 1.2 percent, from $1,254.10 an ounce to $1,269.00, but silver fell 2.0 percent, from $20.32 an ounce to $19.91. The gold price is now up 5.3 percent so far this year, still 34 percent below its all-time high of over $1,920 an ounce in late 2011, and silver has risen 2.4 percent in 2014, now almost 60 percent below its record high near $50 an ounce almost three years ago.
As shown below via Stockcharts, gold notched its biggest one-day gain in three months on Thursday and has now closed higher for the fifth straight week, a feat it hasn't accomplished since September 2012.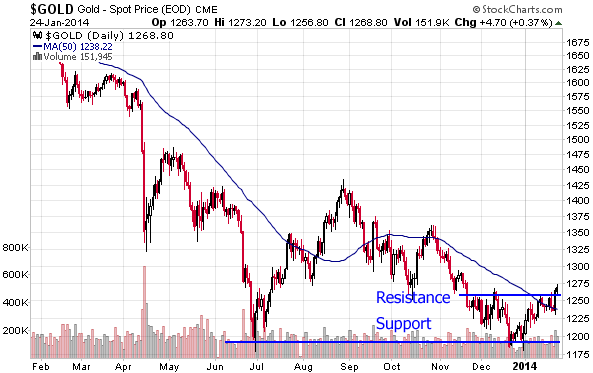 More importantly, key technical resistance at about $1,260 an ounce was surpassed late in the week and, following a second successful test of support near $1,200 an ounce over the last month or so, further gains may be ahead.
Of course, advancing from current levels is no guarantee of a resumption of the long-term gold bull market as one only has to look at the failed breakout last summer to see how far the gold price can move before it again disappoints.
Big losses for U.S. stocks played a key role in last week's gold market rally and, given the strong inverse correlation between the two as of late, the direction of the gold price remains, to a large extent, dependent upon the direction of U.S. share prices in the period ahead.
As noted here last week, these two asset classes have moved opposite each other in daily trading to an extreme degree recently and, given their wildly divergent performance last year, that trend seems likely to continue.
As shown below, as of Friday, U.S. stocks and gold have moved opposite each other during nine of the last ten days, something that has happened only once before going back three years.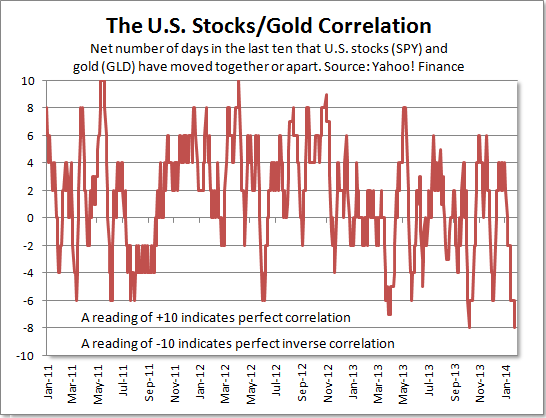 Even more surprising is that U.S. stocks and gold have moved in different directions for nine straight days and this hasn't been seen in almost six years, going back to the spring of 2008, just prior to the financial crisis.
(Note that the use of a 10-day correlation period was chosen arbitrarily, however, very similar results were achieved using 15-day and 20-day periods.)
In short, if equity markets continue to struggle, the gold price stands a much better chance of moving permanently up from the $1,200 to $1,250 an ounce trading range that has confined it since November.
It should be noted that silver, the other monetary precious metal, doesn't quite seem to know whether it should follow gold (as a safe haven) or the broad stock market (as a "risk on" asset). It seems to have opted for the latter in recent days as it continues to have great difficulty around the $20 level.
Developments in India were another factor behind last week's surging gold price as the Times of India reported that Sonia Gandhi, Indian National Congress Party Chief, asked the Indian government to relax gold import curbs prior to elections later this year.
Recall that China surpassed India last year as the world's largest source of gold demand due in part to India implementing strict import restrictions aimed at reducing their trade deficit. Lifting these restrictions, which would now be easier after a recovery in the Indian rupee following many record lows last year, could spur pent up demand at a time when the physical gold market remains relatively tight.
In China, gold premiums moved steadily lower throughout the week according to this story from Reuters, falling from $17 an ounce a week ago to as low as $10 on Friday. After record gold demand in 2013, one of the few bright spots in an otherwise dismal year for precious metals, analysts think overall Chinese gold buying will slow from over 1,000 tonnes to around 900 tonnes, which would still be the second-highest on record.
Here in the U.S., investors seem to have lost their early-January desire for the yellow metal as, last week, the SPDR Gold Shares ETF (NYSEARCA:GLD) trust shed nearly all of the 7.5 tonnes it had added the week prior. Gold ETF holdings continue to be a good gauge of investor sentiment in the West and, based on this indicator, investors remain wary of precious metals, for the time being at least. Holdings of the popular iShares Silver Trust ETF (NYSEARCA:SLV) were steady last week, still up an impressive 70 tonnes so far in 2014 after a big increase on January 17th.
Investment banks in the U.S. remain negative on gold as Bloomberg reported that Morgan Stanley sees "more pain to come" this year with a 2014 gold price target of $1,140 an ounce. The Thomson Reuters GFMS survey had only a slightly better outlook for gold with an average price at $1,225 this year and Western investors were characterized as being "obsessed with the 'tapering' issue" as detailed in this item at Mining.com
To be sure, the actions of the Federal Reserve will play an important role in how precious metal markets fare in the period ahead, however, if last week's market action is any indication, the result may not be the one many expect. The Fed is widely expected to further reduce their money printing effort when they meet this week and that appears to be weighing on global equity markets with a strong carry-over effect here in the U.S.
As depicted in the chart and discussed above, what has been bad for stocks has recently been good for gold.
Disclosure: I am long GLD. I also own gold and silver coins and bars. I wrote this article myself, and it expresses my own opinions. I am not receiving compensation for it (other than from Seeking Alpha). I have no business relationship with any company whose stock is mentioned in this article.