Ford (NYSE:F) is in the midst of a worldwide automotive recovery and, having not taken any bailout funds from the government years ago, has become the U.S.A.'s darling automaker. Ford is a company that the country seems to be getting behind once again.
With Alan Mulally staying on board and the fire continually stoked within the heart of the company, Ford - like GM (NYSE:GM) - is moving into 2014 looking to accelerate and double down on 2013, which was one of the best years in the auto maker's history. Mulally was previously rumored to be considering taking over the CEO duties at Microsoft (NASDAQ:MSFT).
Ford has traded accordingly, as well. The auto maker's stock was up over 20% for the year at certain points, although broad market selloffs and revamped guidance have pulled the company's stock down into the $15 region again; where QTR feels the company remains a buying opportunity.
(click to enlarge - stockcharts.com)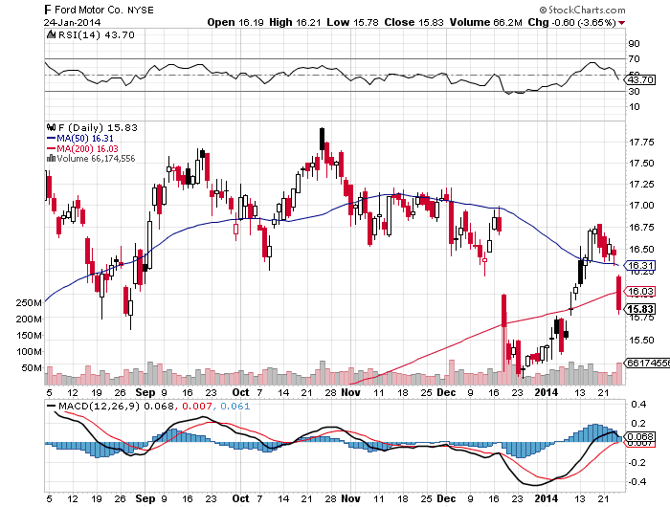 Ford is expected to release earnings on Tuesday, January 28th this week. Ford's report will likely carry the automotive industry's tide for the week - offering outlook on how the domestic automaker, as well as the industry as a whole, are holding up.
Analysts are expecting Ford to report its sole YOY net income decline in this quarter.
Analysts are expecting $0.28 cents per share on revenues of $36.2 billion.
This quarter marks the end of one of Ford's best years in the company history.
Ford has consistently beaten analyst expectations through 2013.
An eye is going to be on the economy overseas, as well as whether reports of the auto market bottoming hold water.
Bears will be keeping a close eye on incentivized sales and their effect on the bottom line for both Ford and GM .
(source - Yahoo! Finance)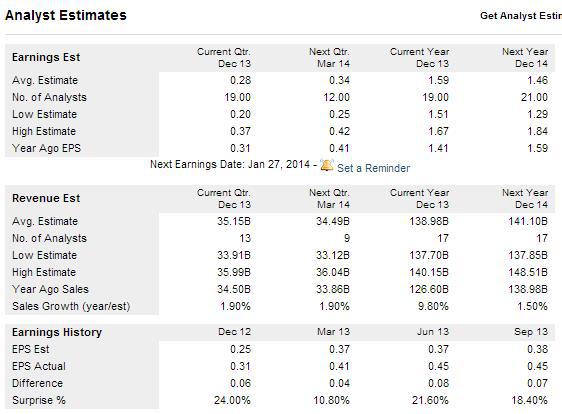 As I stated above, those analyst estimates are down considerably from what they were at the beginning of the year, due to increased opex from expansion and tame guidance. I'm also expecting color from Ford with regards to its recent success in China expansion, which I touched on a month ago:
That type of forward thinking is what's going to continue to propel Ford's growth through 2014. Talk about bearing fruit - Ford's China sales for December were great. Ford continues to market their vehicles seamlessly with the Chinese auto market. All you have to do is take a look at their Chinese website to know they're staying flashy and on their feet.
Ford is expecting increases in opex from a massive global initiative that is going to cost the company $1.5 billion to introduce new vehicles worldwide. Just like Ford's recent success in China, you've got to invest money to make money.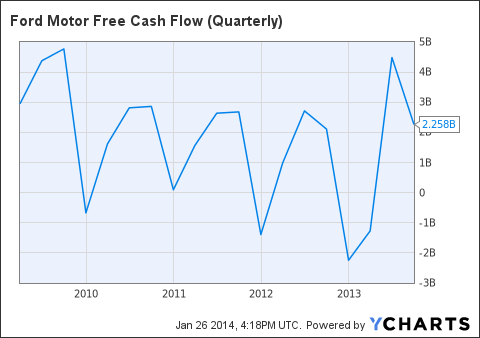 F Free Cash Flow (Quarterly) data by YCharts
Ford's cash flow continues to impress, and the company's balance sheet is healthy.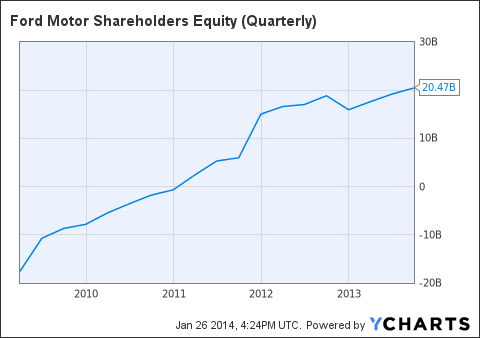 F Shareholders Equity (Quarterly) data by YCharts
Ford is currently trading at a trailing twelve month P/E of 11.17 and has recently reinstated its dividends, which will yield 3.2%. The company currently has $6.63 in cash per share.
While it's not likely to rocket, or have another 2013, I am looking for Ford to end this year over $20/share, and that's why I'll be buying Ford on any potential dips. I'll look for Ford to continue to draw strength from overseas markets, including China, and I'll argue that once realistic guidance is set for the year to come, analysts will be able to re-frame and refocus on the bargain that the company trades for heading into this new year.
Best of luck to all investors.
Disclosure: I am long GM, . I wrote this article myself, and it expresses my own opinions. I am not receiving compensation for it (other than from Seeking Alpha). I have no business relationship with any company whose stock is mentioned in this article.