Times are hard for a large number of US consumers. And Ezcorp Inc. (EZPW) is betting that there is difficulty in Mexico, Canada, the UK and Australia as well. The company is a leader in the pawn shop / cash advance / payday loan market and is quickly expanding internationally. With revenue growth between 34% and 44% for the last four quarters, it appears consumer demand is increasing as well.
The "collateralized and short-term non-collateralized loan business" as it is now being called has come under scrutiny as many consumer advocacy groups have issues with the business model. And while I don't condone predatory lending practices, there are certainly legitimate arguments that some of these businesses offer access to capital that would not be available to consumers otherwise. I'll leave the social issues up to the more qualified and instead look carefully at the investment merit for the business.
Currently, the expansion into Mexico and Canada appear to be generating strong revenue growth and time will tell whether partnerships to gain access to the UK and Australian marketplaces will pay off. EZPW is showing impressive earnings growth especially considering the fact that the additional stores in Mexico are not actually contributing to earnings growth. The new stores are profitable, but the expansion campaign is capital intensive with new store opening costs offsetting any existing store earnings growth.
It's basically a story of reinvestment where the existing store profits have been paying for expansion plans – but once a material base has been built, the expectation is for Mexico to contribute substantially to EZPWs growth. And after the first quarter announcement (EZPW operates with a Sept 30 fiscal year end) it looked like that growth was on track:
In all segments of our business, we saw strong loan demand. It appears that our broadened range of loan offerings provides solutions to customers' cash needs… With these strong ending loan portfolio balances, we are well positioned for a solid fiscal year. ~Joe Rotunda, CEO
Ezcorp is expected to earn $1.83 per share this year which represents 27% earnings growth over 2009. Analysts expect 2011 to feature an additional 11% growth although it's difficult to predict earnings that far in advance. But looking at the fundamental landscape in North America, I would venture to guess that the consumer will continue to need the financial services and access to cash.
Currently the stock is near $21 which represents a multiple of 11.5 – hardly an expensive price for a company with so much growth. The low price is likely a reflection of the regulatory risk as many expect the current administration to increase its oversight. The risk is certainly real, but EZPW is doing a good job of diversifying geographically so that it won't be devastated if it becomes much more expensive to operate in the US.
The upside of this risk is that if we get to a point in the near future where it becomes clear that regulation will NOT materially hamper profits, the stock could quickly trade to a multiple of 20 or 25 times earnings as investors expect substantially higher growth.
With the stock having pulled back for a few weeks, and holding firmly above the 50 day average, it could easily become a target for momentum players who would want to see the stock break to new highs and maintain its positive trend. The current consolidation gives us a good area of support and swing traders could place their stops just below $20 to manage risk. With the potential to run $5, $10 or $15 higher and risk of just over $1.00, EZPW looks like an attractive setup to pursue after the long weekend.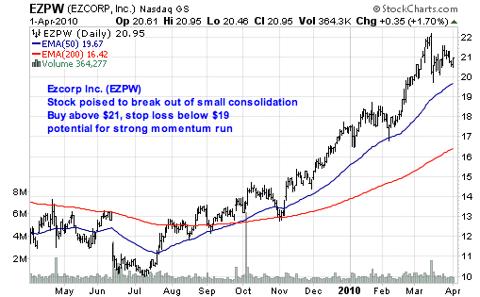 Full Disclosure: Author does not have a position in EZPW