(Editors' Note: This article covers a micro-cap stock. Please be aware of the risks associated with these stocks.)
I have been doing my usual weekend review of Barron's top 20 insider buys and sells for the just completed week. I have a couple of observations about the insider buying & selling in the last completed week.
First, insider selling continues to massively outweigh insider buying. There are fourteen companies that had over $10mm a piece in insider selling on this week's Top 20 list. There is only one company with over $1mm in insider buying.
The other observation I had reviewing these buys & sells this week. There seems to be a preponderance of what there is of insider buying in high yield stocks & sectors. This makes sense given high yield sectors have underperformed the market significantly since yields on the ten year treasury has moved up from ~1.6% in late May to 3% late in December.
These yields have started to decline with the turmoil in emerging markets. This 'flight to quality' could continue as volatility from emerging markets does not seem to have subsided yet.
Given this, here are two attractive yield plays with recent insider buying.
MVC Capital (NYSE:MVC) is a business development company (BDC) that makes private equity and debt investments. MVC provides long term equity and debt investment capital to fund growth, acquisitions and re-capitalizations of small and middle market companies in a variety of industries mostly located in the U.S.
Two insiders have bought over $800K worth of shares in several transactions in the New Year. This continues a trend as insiders bought over $3mm in stock in June through September. Earnings are on a significantly upward trajectory. MVC posted small losses in FY2013 but is analysts believe it will deliver almost 60 cents a share in FY2014 before doubling to $1.20 a share in FY2015.
Revenues are projected to increase more than 10% this fiscal year before accelerating to over 40% growth in FY2015. The shares yield almost four percent (3.8%) and payouts should increase substantially if MVC hits analysts' projections. Maxim recently called the shares 'very undervalued' at 78% of book value and has a $17.50 a share price target on MVC.
Orchid Island Capital, Inc. (NYSE:ORC) invests in residential mortgage-backed securities, such as those are guaranteed by Fannie Mae (OTCQB:FNMA), Freddie Mac (OTCQB:FMCC) and Ginnie Mae. ORC has recently bounced off a technical support level around $10.50 a share but is still down ~20% from its 52 week highs.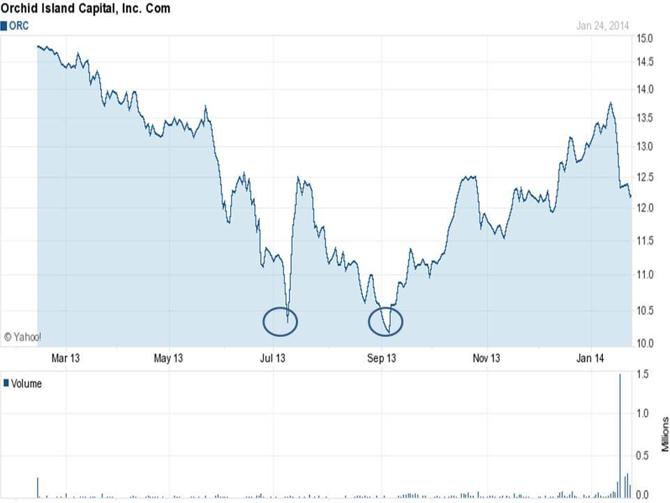 Two insiders bought over $150K in new shares a week ago. This follows insider buys in February, May & September. Orchid pays monthly payout that equates to an over fifteen percent (15.2%) yield on annual basis. It recently raised that monthly payout by over thirty percent.
Orchard sells for ~90% of book value. The company looks like it will post small losses this year but the two analysts that cover the stock believe it will post ~$1.60 to ~$2.00 a share in earnings for FY2014. This gives ORC a forward PE of under 7.
Disclosure: I have no positions in any stocks mentioned, but may initiate a long position in MVC over the next 72 hours. I wrote this article myself, and it expresses my own opinions. I am not receiving compensation for it (other than from Seeking Alpha). I have no business relationship with any company whose stock is mentioned in this article.