(Editors' Note: This article covers stocks trading at less than $1 per share and/or with less than a $100 million market cap. Please be aware of the risks associated with these stocks.)
The cannabis sector is off to a great start in 2014. I will provide my typical monthly review next week, but I wanted to address a key issue separately. While ending prohibition, which Colorado has done and which Washington is currently implementing, is an obvious first step, it takes a lot more than legal change: It takes capital. The mainstream media is certainly picking up on this, with Time Magazine recently discussing it in a feature story.
The industry is in transformation, with production shifting from the black market to the for-profit sector. As I will describe, this is creating opportunities, though perhaps more for private investors than public investors. Still, as I detail, some publicly-traded cannabis stocks appear to be poised to capitalize on these changes.
I visited Colorado last week and met with both publicly-traded and private companies. I visited Pablo Duran's "Garden of the Gods" dispensary in Denver and witnessed how a large-scale grow operation works. Here is what it looks like from the outside: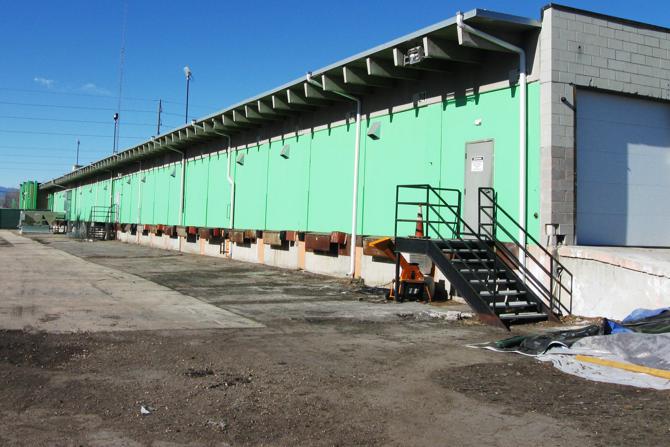 Duran is actually in the process of expanding it, and it was clear to me and several subscribers of 420 Investor who toured with me that there is a tremendous opportunity to make this industry more efficient.
As the industry builds out in Colorado, Washington, the states with medical marijuana and Canada, which is transforming its medical program, there is a tremendous need for capital. As I will detail, the spigots have opened. In fact, they appear to now be gushing. Here are just a few signs.
GrowLife/CANX
GrowLife (OTCPK:PHOT) was the first public company to address this key challenge, announcing its "GIFT" (GrowLife Infrastructure Funding and Technology) program in October. It followed up in November with the announcement of its funding partner, CANX, which received warrants up-front after agreeing to fund an initial $40mm in loans that could increase to $80mm. The details of the people behind the private entity have begun to emerge, but the company hasn't yet announced its first official GIFT transaction.
I first pointed out PHOT as poised to benefit from the trends in legal and medical cannabis in late September after I had just launched 420 Investor and had interviewed CEO Sterling Scott earlier that month (published on Seeking Alpha). The price has gone up a lot since then, but it has now pulled back significantly as well. Investors seem to fail to understand the pending vote on February 7th to increase the Authorized Shares to 3 billion from 1 billion. Penny stock investors have often been burned by dilution, which is typically viewed as stock-selling schemes designed to enrich insiders. In this case, I take a divergent view: The company is attempting to use its industry position to become a major enabler of large-scale growing operations. Investors should take comfort in the fact that insiders at PHOT have relatively large equity stakes. In fact, CEO Scott recently locked himself up, suspending his right to convert his note into equity.
My own view is that the valuation, like most of these stocks, is hard to justify based on current financials, but I like what I see happening. The company hired a new President, Marco Hegyi, who has a strong technology background, and it engaged a leading national law firm to help with M&A. In late December, the company announced the first two CANX-designated board members:
Effective December 19, 2013, GrowLife, Inc., a Delaware corporation (the "Company"), has appointed Anthony Ciabattoni and Jeff Giarraputo as members of the Company's Board of Directors. Also effective December 19, 2013, Justin Manns has resigned as a member of the Company's Board of Directors.

Mr. Ciabattoni has an entrepreneurial background that includes the formation, growth and eventual sale of three successful start-up companies. He currently manages a diverse investment portfolio with assets ranging from real estate, satellite communications, and software. Mr. Ciabattoni has a Bachelor of Arts Degree from the University of Delaware. His business background includes sales and marketing management positions with two Fortune 150 companies.

Mr. Giarraputo has spent the last 15 years as a digital business architect and co-founder of the advertising agency Factory Design Labs, now the visionary leader in customer creation for global, culture-driven lifestyle brands such as The North Face, Oakley, Callaway, and Aspen/Snowmass. Factory has offices in Denver, USA, Shanghai, China and Verbier, Switzerland. More recently, Mr. Giarraputo co-founded Beatport, the largest music store for DJs in the world. Beatport is privately held and headquartered in Denver, USA and Berlin, Germany.

Currently, Mr. Giarrraputo is consulting with a limited number of private equity companies as an advisor and/or board member. He is also an investor and mentor in several start-ups and later stage companies.
Finally, the third new Director, Alan Hammer, put his own money into the stock, with an open market purchase of 225K shares on 1/13 at $0.19. I am hopeful that upon shareholder approval we will hear details about several GIFT transactions, which could be a catalyst not only for improved investor sentiment in the name but also an opportunity for the company to share specific financial insight regarding the deal economics, as it has suggested it would as soon as feasible.
Advanced Cannabis Solutions/Full Circle Capital
Advanced Cannabis Solutions (OTCQB:CANN) announced an exciting deal on 1/21, partnering with BDC Full Circle Capital (FULL) to access up to a $30mm line-of-credit. Fellow contributor BDC Buzz detailed the deal, concluding it could add over $3 per share to gains for FULL, assuming CANN holds a price near $18 and that it borrows all of the initial $7.5mm. A recent Financial Times article (free with registration) describes the deal as well, with the reporter confirming what I learned following my discussion with the co-CEOs of FULL. Importantly, they conducted extensive due diligence over many months. As the FT article suggests, I think that FULL could become a public-company proxy for conservative investors who want to participate in the cannabis sector.
I introduced CANN to the Seeking Alpha community in December, when I shared an interview with CEO Robert Frichtel. On my recent trip to Colorado, I met CFO Chris Taylor as well as Roberto Lopesino, who serves as VP, Business Development and who runs a most fascinating consulting business that I expect will be folded into CANN. CFO Taylor was a guest on Genifer Murray's "All about Cannabis" internet radio show on iCannabisRadio on 1/20. The stock has had a tremendous run, but the story is one worth monitoring, as the company's strategy is sound. CANN recently announced its first sale/leaseback (triple-net lease) earlier this month, and I expect several more in the near future.
Mentor Capital
Mentor Capital (OTCQB:MNTR), which has historically been focused on cancer, announced plans in September to enter the medical marijuana space. In November, it shared its broader strategy, as it highlighted its potential to invest $140mm into "leading cannabis brands". More recently, the stock exploded after the company announced the $7mm purchase of industry conference host, HempCon. I am not yet ready to share my thoughts regarding MNTR, but this is something that investors should research further, as the company is making investments in both public and privately-held companies.
ArcView Conference
I spoke with Troy Dayton, CEO of The ArcView Group, the California-based investor network, about the recent conference the organization held in Las Vegas, and he indicated that it was attended by 140 individuals who came to hear 12 companies present, the largest gathering thus far. The energy level and enthusiasm was greater than ever, and I think that this is a harbinger of greater private investment ahead. For those interested in understanding the industry better, ArcView publishes fantastic market research. You can download an executive summary of the second edition of "State of the Legal Marijuana Markets" for free.
Private Equity
I have previously discussed private investment, as opposed to investing in the common stock of public companies, as a more likely route to success in one's quest to capitalize on cannabis. Whether it's buying other parts of the capital structure of the public companies that are available to accredited investors or participating through private equity funds in direct investments, the better deals are beyond the current crop of stocks in general.
One of the first movers was Privateer Holdings, based in Seattle and led by a highly qualified group that began operations quietly in 2010 and is known for its ownership of internet site leafly.com. The initial capital raised was $7mm, and it wasn't easy. I spoke with CEO Brendan Kennedy this week and confirmed that they are likely to raise an additional $25mm. Kennedy is quite excited about the company's entry into the Canadian market through Lafitte Ventures. Public market investors have more than ten-bagged Creative Edge Nutrition (OTC:FITX), which is also pursuing the market but is now capitalized at over well over $130mm (almost 3.5 billion shares) and still needs to raise additional capital apparently.
I am aware of other funds dedicated to the cannabis space as well and will share some of those publicly soon. The stigma of marijuana is fading fast, and cannabis capitalists are rapidly emerging. To the extent one is able to invest with pros (or source one's own deals), the opportunities (with risks, of course) seem quite appealing.
Who Will Cross The "Green Line" First?
One of the most interesting aspects of the publicly-traded marijuana stocks is that none of them actually touch the plant directly. Terra Tech (OTCQX:TRTC) may be the first to cross this "green line". CEO Derek Peterson, who separately is an owner in the Blum dispensary in California, shared in an interview with Abdullah Saeed of High Times that was posted on Huffington Post that TRTC "is applying for a license to operate a cannabis farming facility and dispensary under recently implemented changes to Nevada's medical cannabis laws."
Bottom-Line
The short and steep correction to which I alluded earlier this month has likely come and gone, though we should expect the balance of the year to be volatile for the sector. 2014 will play out much differently than last year's bubble, which was premature. New capital coming into the sector is a major bullish factor, and it could benefit some of the current public companies, though investors should be cautious and not generalize, as many of the companies in the cannabis universe likely won't succeed. The fundamentals for the industry are very strong, even if the valuations of the stocks don't seem to be justified. The good news, in my view, is that new companies are on the way. Based on my sources, we could see two NASDAQ IPOs this year.
Disclosure: I have no positions in any stocks mentioned, and no plans to initiate any positions within the next 72 hours. I wrote this article myself, and it expresses my own opinions. I am not receiving compensation for it (other than from Seeking Alpha). I have no business relationship with any company whose stock is mentioned in this article. 420 Investor offers a paper portfolio with trade alerts, and it is currently long PHOT and FULL.