Gold is used as a source of storing value in times of recession due to its limited supply. A country's economy is based on gold as it is used as collateral for printing money in the market. Even though the gold purchased by India and China amounted to 1000 tonnes each, it did not help much in stabilizing the price of gold, over the year, as there has been a 24% decrease in price in spite of the increasing demand. This means that even though there was an increase in demand, gold companies failed to gain from it. The share price of gold producers had an unstable year and reflected the price of gold.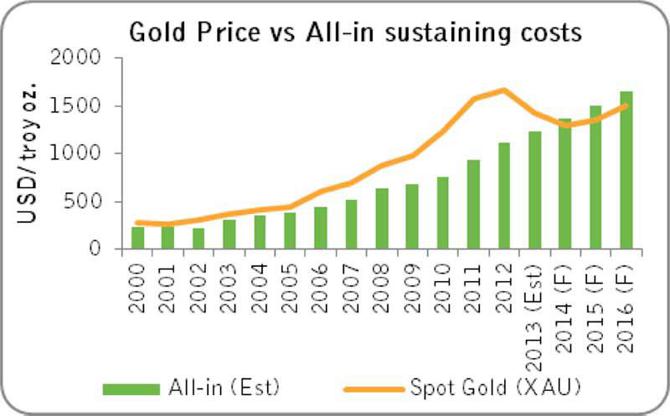 As can be seen from the graph above, decreasing resource price and high operating costs of gold producers diminished any financial gain that could have been generated from the market. Recently the Fed has announced that it will reduce its stimulus program, which started in the economic recession, because the dollar has strengthened and the economy has also greatly recovered during last year. That being said, the gold market itself paints a different picture. The Fed announcement created fear in the gold market by worsening the already unstable conditions, decreasing the price of gold and deteriorating share prices.
Introduction
IAMGold Corporation (IAG) is involved in gold mining, development and exploration projects in different parts of South America and Canada. The company's headquarters are located in Canada and it operates five gold mines - namely Rosebel Gold Mine, Essakane Gold Mine, Doyon Division Gold Mines, Sadiola Gold Mine and Yatela Gold Mine - and the Niobec Niobium Mine. During 2012, the company produced 830,000 ounces of gold, costing approx. $715 per ounce, and 4.7 million kg of niobium. Rosebel, Essakane and Doyon Division, which are company operated mines, contributed 46%, 38% and 0.5% to the total gold production respectively. The remaining 2 mines, Sadiola and Yatela, are joint ventures and were responsible for the production of the remaining 15.5% of gold.
IAG invests heavily in exploration projects; an estimated $152.3 million in 2012, which was 40.5% more than the exploration expense in 2011. This was due to the company's expanding exploration program and the acquisition of Côté Gold Project during the year.
However, due to the unfavorable market conditions, the company has planned to cut down its expenditure due to which the exploration expenses have decreased by 32.8% ($102.3 million). This was part of the company's plan to decrease the operating costs of 2013 by $100 million.
Fundamentals of The Industry
During 2013 IAG faced a significant decrease of 66.81% in its share price caused by a 53% decrease in the price of gold.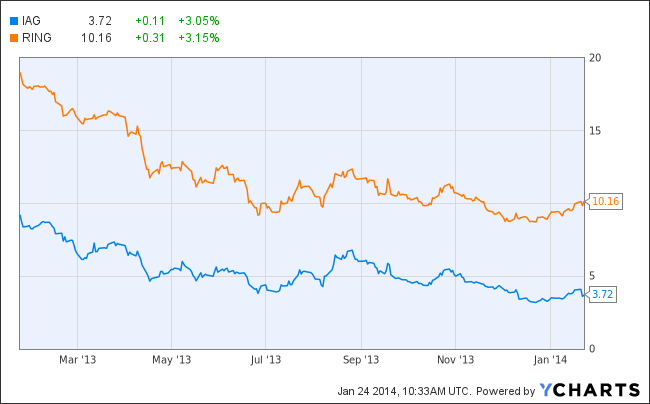 IAG data by YCharts
During the recession in the US (and other effected economies), gold gained great value due to the rush of countries and private investors to protect the value of their money. Prices of gold skyrocketed until it was announced in June, by Federal Reserve Chairman Ben Bernanke, that if the economy and job market continue to improve the Fed will reduce the infusion of $85 billion per month in the economy. This gave the indication that in the future inflation rates were expected to decrease and interest rates were expected to increase; creating panic in the market and coercing investors to sell gold in order to avoid capital loss, decreasing its price drastically. The dollar became more attractive for storing value. Companies such as IAG have been directly affected by the price change of the commodity which is reflected in their share price.
| | | | |
| --- | --- | --- | --- |
| | Company | Industry | Sector |
| Quick Ratio (MRQ) | 2.29 | 1.56 | 2.71 |
| Current Ratio (MRQ) | 3.33 | 2.98 | 3.37 |
| Dividend Yield | 6.51 | 2.30 | 2.32 |
IAG is paying dividends and has a current dividend yield of 6.51, which is very high as compared to the industry average of 2.3. This shows that the company has been performing comparatively better than the industry in spite of reduced revenues and the increasing cost of operations. However, the company could not sustain giving out such a high dividend yield due to the fact that the free cash flow in Q3 (including dividends) was negative $112 million. This was reflected in the company's recent announcement that it will no longer pay dividends until further notice due to low gold prices. Because of this news there was a 5.65% decrease in IAG's share price on 11 Dec 2013.
In his statement regarding the dividend suspension, IAG President and CEO Steve Letwin said:
"This decision to suspend the dividend allows us to conserve cash and ensure we maintain the flexibility we need to take advantage of opportunities when they arise."
IAG's total cash flow is negative but it should not be taken as an alarming sign due to the fact that most of the costs are incurred in exploration, which means that the company might be able to capitalize in the future as new mines are discovered.
Nonetheless, these are tough times for IAG as its cost of sales has increased by 6.6% and revenue has decreased by 13% (as compared to 2012) due to low prices. The company needs to cut down its expenses and has already started to do so by decreasing its exploration costs, leading to a decrease of $100 million in the total operational cost in 2013.
IAG is planning to initiate a solar power project, with its subsidiary Rosebel Gold Mine, which will produce 5 megawatts of electricity and will cost around $12 million to $14 million. This will aid the Rosebel Gold Mine in reducing its operational costs as a large amount of power is required in the transition process of soft rock to hard rock. The excess electricity will be sold to the local government. This project, however, has not affected the share price of the company as yet but the reduction in the cost of production will help the company in increasing its market share. This project will be operational in Q3 of 2014.
Valuation
| | | | |
| --- | --- | --- | --- |
| | PROVEN | PROBABLE | TOTAL |
| GOLD | | | |
| Rosebel | 3,315 | 2,130 | 5445koz |
| Essakane | - | 3,293 | 3293koz |
| Sadiola | 92 | 2,046 | 2138koz |
| Yatela | 2 | 30 | 32koz |
| Doyon Division | 62 | 9 | 71koz |
| Westwood | 65 | 283 | 348koz |
| NIOBEC | - | 1768 | 1768Mkg |
*koz = Kilo ounce
* Mkg = million Kilogram
All the reserves estimated are as of 31 December 2012 and Rosebel's gold reserves are as of 31 December 2011. The reserves are estimated on the basis of each mine giving a clear picture of its worth.
| | | | |
| --- | --- | --- | --- |
| | (Amount x Price per ounce/Kg) | Amount in ( $ Billion ) | Amount in ( $ Billion ) |
| Revenue | | | |
| GOLD | | | |
| Rosebel | 5445 x 1200 | | |
| Essakane | 3293 x 1400 | | |
| Sadiola | 2138 x 1185 | | |
| Yatela | 32 x 1300 | | |
| Doyon Division | 71 x 1400 | | |
| Westwood | 348 x 1400 | 14305.9 | |
| NIOBIUM | 1768 x 45 | 79.56 | 14385.46 |
| | | | |
| Production Cost of Sales | | | |
| Gold | 11327 x 1216 | 13773.6 | |
| Niobium | 1768 x 24.64 | 43.6 | 13817.2 |
| Gross Profit | | | 568.26 |
*All-in Sustaining cost is used as basis of cost of producing
*It is considered that all the minerals are mined and there are no extra costs incurred.
*it is assumed that both proven and probable materials are extracted.
IAG's cost of production of gold is very high, compared with the industry, which makes it clear why it is focusing on cost cutting measures. This is just an estimate of how much worth the company has in reserves if the market conditions remain in the range of the above values; and by our estimates the company is profitable.
| | |
| --- | --- |
| | Amounts in ($ Millions) |
| Market Capital | 1450 |
| Long term Debt | 639.9 |
| Cash and Cash equivalents | (360.8) |
| Enterprise Value | 1729.1 |
The enterprise value of the firm is $1729 million and EV is $4.59/share whereas the shares are being traded at around $3.84 at present. This indicates that the shares will move towards the EV but seeing the gap between current and estimated share price, the growth will not be great. Low estimated capital gains and a suspension of dividends will deal a hard blow to the share price in the near future, decreasing its price even further.
Conclusion
IAG's share price greatly depends on the price of gold, which means that the company's performance will not affect its share price significantly. Due to the Fed tapering gold prices might be reduced further, affecting the price of the share; as the inflation rate will decrease and interest rates will go up, leading to further selling of gold by investors due to fear of losses. However, it is expected that the Fed will not increase the interest rate any time before 2016 which might give gold prices a little room to breathe. India (which had imposed high taxes on the import of gold to correct its balance of trade back in September) has decreased its import tariff to 5% which may give a little boost to the gold demand in the country, which has been clogged for some time. IAG has taken measures to decrease its costs by reducing exploration expenditure and, also, by initiating a solar project. However, the benefits of the solar plant will not kick in until it becomes operational in Q3 of 2014.
The recommendation is to sell IAMGold as there is very little potential for return or growth.
Disclosure: I have no positions in any stocks mentioned, and no plans to initiate any positions within the next 72 hours. I wrote this article myself, and it expresses my own opinions. I am not receiving compensation for it (other than from Seeking Alpha). I have no business relationship with any company whose stock is mentioned in this article. Equity Flux is a team of analysts. This article was written by our Basic Material analyst. We did not receive compensation for this article (other than from Seeking Alpha), and we have no business relationship with any company whose stock is mentioned in this article.