When a company announces its annual capital-related budget, any considerable shift from the prior year's course is certainly worth considering, especially when it comes to establishing a long-term position in that particular company. With that said, I've decided to shift my focus to one of the bigger names in the oil and gas sector and highlight several reasons behind my decision to remain bullish on shares of Hess Corp. (NYSE:HES).
#1 2014 Capital Budget Highlights
On Thursday, January 23 Hess Corp. announced that it plans to spend $5.8 billion in E&P related activity in 2014, which is roughly 15% less than what it had spent in 2013. Hess also said that it expects to spend $2.85 billion on continued shale development, which is up from the $2.7 billion it spent last year. Included in 2014's budget are plans to bring an estimated 225 of the newer Bakken wells online and spend 21% more to develop wells in the Utica (Ohio) shale fields. If the company can successfully reduce its overall E&P spending while continuing to develop its shale plays over the next 12 months, I see no reason why long-term investors shouldn't consider a position at current price levels.
#2 Near-Term Trend Behavior Could Signal A Buying Opportunity
On Thursday, shares of HES, which currently possess a market cap of $26.24 billion, a forward P/E ratio of 14.72, and a dividend yield of 1.29% ($1.00), settled at a price of $77.40/share. Based on their closing price of $77.40/share, shares of HES are trading 3.59% below their 20-day simple moving average, 3.96% below their 50-day simple moving average and 3.19% above their 200-day simple moving average.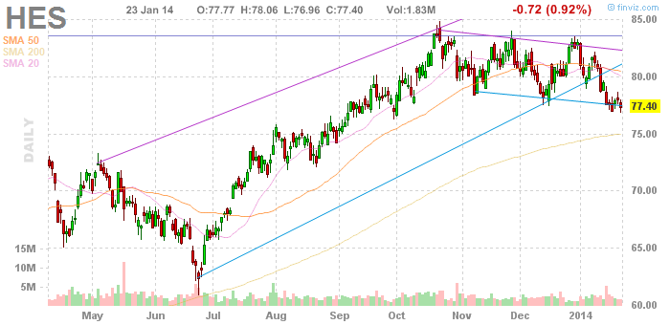 These numbers indicate a short-term and mid-term downtrend and a long-term uptrend for the stock, which would normally signal a moderate selling mode for most traders and somewhat of a buying mode for long-term investors. That being said, I think this creates somewhat of an opportunity for those who may be looking to establish a position in the company especially since shares are trading at just over 14.7x forward earnings which is much better than shares of Alon USA Energy (NYSE:ALJ) which were trading at 16.3x forward earnings as of Thursday's close.
#3 5-Year Dividend Behavior
Since March 12, 2009, the company has increased its quarterly dividend once over the last five years, with the most recent increase having taken place in September of 2013. The company's forward yield of 1.29% ($1.00) coupled with its ability to maintain its quarterly dividend over the last five years make this particular oil and gas play a highly considerable option, especially for those who may be in the market for a conservative stream of quarterly income. If the company can successfully execute its plan to reduce overall spending, while concentrating on its shale-related operations, both earnings and dividend growth could increase over the next 12-24 months.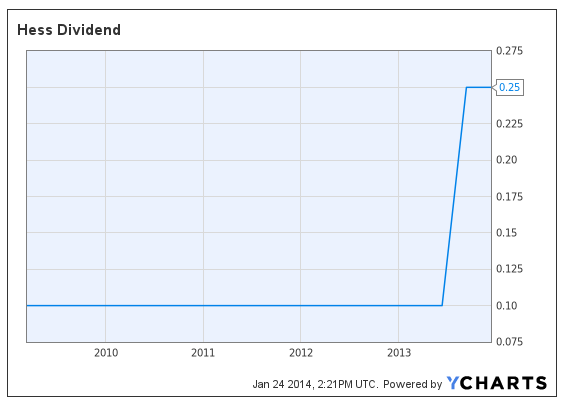 Risk Factors (Most Recent 10-K)
According to Hess Corp's most recent 10-K, there are a number of risk factors investors should consider before establishing a position. These risk factors include but are not limited to:
#1 - The company's oil and gas operations are subject to environmental risks, environmental laws and regulations that can result in significant costs and liabilities.
#2 - Concerns about climate change may result in significant operational changes and expenditures and reduced demand for our products.
#3 - There are a number of inherent uncertainties in estimating quantities of proved reserves and discounted future net cash flows, and actual quantities may be lower than estimated.
Conclusion
For those of you who may be considering a position in Hess Corp., I strongly recommend keeping a close eye on the company's ability to maintain its dividend while reducing spending and focusing more on shale-related activity as such factors could play a role in the company's growth over the next 12-24 months.
Disclosure: I am long HES. I wrote this article myself, and it expresses my own opinions. I am not receiving compensation for it (other than from Seeking Alpha). I have no business relationship with any company whose stock is mentioned in this article.