All too often over the past couple of years have we seen instances where certain banks have been probed over their trading tactics - rarely is action taken - even rarer does it have a material or adverse effect to the company in question's bottom line. Such will be the case with the recent headlines plaguing Bank of America (NYSE:BAC):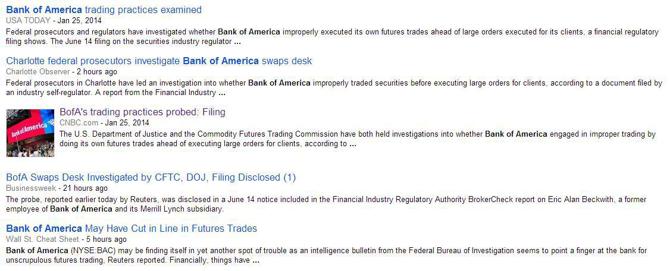 Reuters reported the details behind the story:
The U.S. Department of Justice and the Commodity Futures Trading Commission have both held investigations into whether Bank of America (BAC.N) engaged in improper trading by doing its own futures trades ahead of executing large orders for clients, according to a regulatory filing.

The June 2013 disclosure, which Reuters recently reviewed on a website run by the securities industry regulator FINRA, sheds light on the basis for a warning by the Federal Bureau of Investigation on January 8.

The warning, in the form of an intelligence bulletin to regulators and security officers at financial services firms, said that the FBI suspected swaps traders at an unnamed U.S. bank and an unnamed Canadian bank may have been involved in market manipulation and front running of orders from U.S. government-owned mortgage giants Fannie Mae(FNMA.OB) and Freddie Mac (FMCC.OB).

Reuters has since learned that Bank of America's trading practices regarding Fannie and Freddie are the subject of probes, and that the investigations are ongoing.

Bank of America spokesman Bill Halldin declined comment when asked abut the investigations.
From the get-go, it's important to realize that despite the headlines, the company hasn't been accused of wrongdoing - yet.
CNBC.com reported:
The disclosure on the FINRA site doesn't specifically accuse Bank of America of any wrongdoing.

It says: "We understand that the (U.S. Attorney's Office) is investigating whether it was proper for the swaps desk to execute futures trades prior to the desk's execution of block future trades on behalf of counterparties."
So, the million dollar question is whether or not this is going to have an adverse effect on the bank - and, of course, its stock. While I find it unlikely that the bank will trade lower simply on this news (if it does trade lower this week, I expect it to be part of a broader market correction), I will be buying in the case of the bank puling back.
Bank of America did have some ugly headlines in 2013, if you recall. There were reports of the bank asking its employees to lie to customers, there was an extremely unfortunate death of a 21 year old intern, litigation resulting from foreclosure abuse, and lawsuits from FINRA.
I mean this in the nicest way possible, but here's how the stock responded to those events in 2013: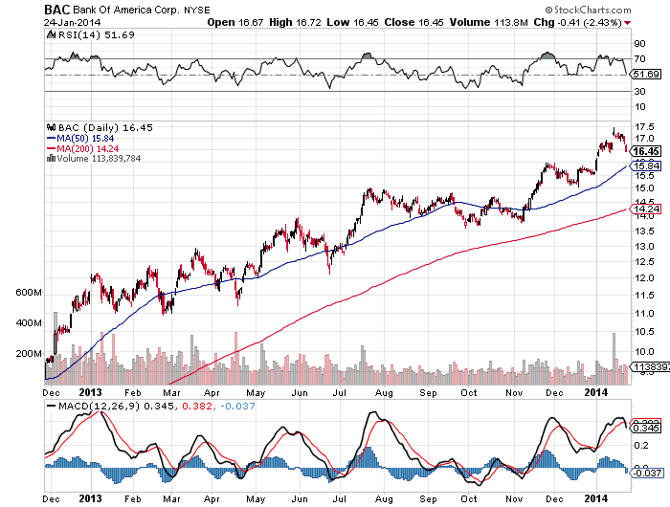 The point is that headlines can't seem to buck the bank's run right now. So, should the bank pull back for any reasons, whether it be the headlines or a broad market sell-off this week, I'll be adding. Morally, is that right or wrong? Who knows. Sure, things should be different when news like that drops, but they aren't.
I'm not going to reiterate and beat a dead horse on Bank of America and why I'm long the stock - for now, at least. If you want some indication as to the reasoning I'm long BAC, read this article, which explains my basic thesis. Also, I pointed out BAC in a recent article about my 8 Attractive Trades for 2014 - as one the companies that I would recommend holding long throughout 2014.
Headlines are just that - headlines. While I'm not taking away from the severity of any of 2013's headlines, especially the extremely tragic death of the intern forced to work three straight days - the point is that headlines don't always effect the bottom line. In the case of legal issues, it's another story - they remain BAC's biggest caveat. This trading probe? Likely to hardly be a blip on the long-term BAC radar.
In this case, where the bank is simply being probed, we're looking at an absolute worst case scenario of a suit being filed, forgotten about, and settled out of court for peanuts compared to what the bank is already spending on legal fees.
You need to be a realist with your money.
The ugly facts are the ugly facts - banks get off with slaps on the wrist for issues like this. You may not agree with it, but it's similar to my bullishness for investing in big oil. The companies that remain close to the government remain safe options, as the smart money gravitates there - and, in case you haven't noticed in the U.S. - the "smart money" has lots of influence.
I remain long BAC. Best of luck to all investors.
Disclosure: I am long BAC, . I wrote this article myself, and it expresses my own opinions. I am not receiving compensation for it (other than from Seeking Alpha). I have no business relationship with any company whose stock is mentioned in this article.