More than 25 years ago my first job out of college was to help lease up a "power center." At the time, I had never heard of a "power center" and how this type of shopping center was differentiated from the more common, grocery-anchored shopping centers.
As my first leasing assignment started to rise from the ground, it became apparent that this "power center" was nothing ordinary; it was a gigantic open-air shopping center with more than 300,000 square feet of space. In addition, this gigantic center was anchored by a new brand of retailers known as a "category killer."
Home Depot (NYSE:HD), TX Maxx (NYSE:TJX), and Michael's Crafts were the anchors - or "category killers" - and my job was to assist in filling up the balance of the space with smaller regional and local credit tenants. Around six months after the project was completed, the space was almost 95% leased, and the parking lot was almost always full. This "power center" earned its reputation as one of the most visited shopping centers in town and a "powerful" source of revenue for more than two decades.
Fast Forward … 25 Years Later
After a few successful years of leasing out space, I decided it was time to trade in my brokerage boots for development boots. It was a natural transition and certainly a more lucrative one.
I spent around 20 years developing free-standing stores, grocery-anchored centers, and a few power centers. It was fun and prosperous, but all good things usually come to an end.
For many developers (including me), the Great Recession became the true "category killer," wiping out countless retailers and slowing growth in an industry that seemed invincible. The monstrous "power center" and most other forms of shopping came to a screeching halt.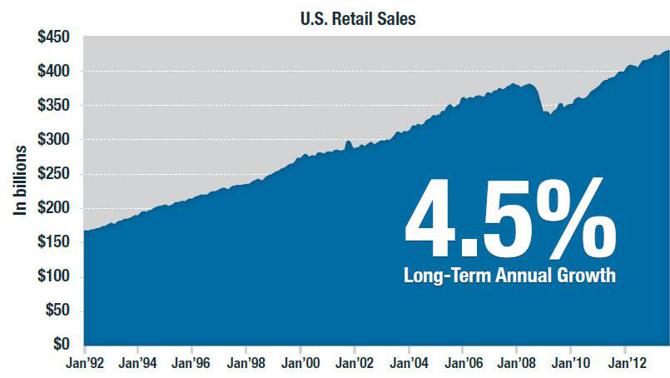 As evidenced by the snapshot below, new shopping center construction in 2009 fell drastically, and since that time very little new development has occurred.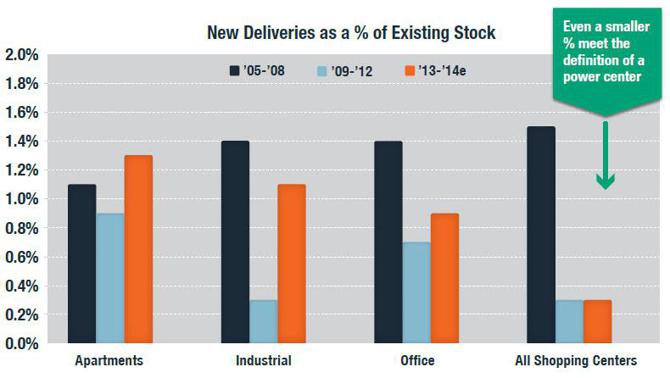 While many of the so-called "category killers" were killed by tough economic times, the "power center" model survived. Much of the success of the "power" model has been driven by the evolution of the tenants (in the power centers). While many department stores, like J.C. Penney (NYSE:JCP) and Sears (BATS:SLD), are losing market share, the value store discounters, like Wal-Mart (NYSE:WMT) and Target (NYSE:TGT), are gaining ground.

In addition, the traditional grocery chains are continuing to fight for thin margins and the non-traditional chains (located in power centers) are gaining ground.

As illustrated below, many of the "power center" tenants are opening new stores.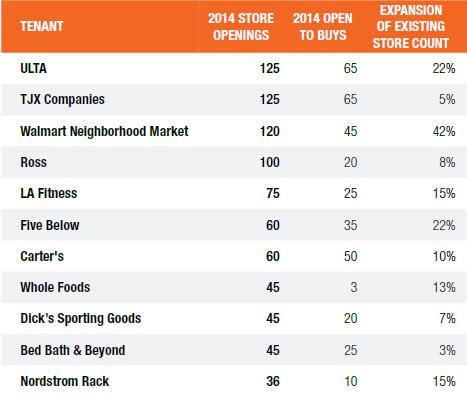 The power center model has evolved into a highly profitable platform where tenants are converting sales to profits. It all boils down to operating margins and the power center model has the best operating margins in the retail sector.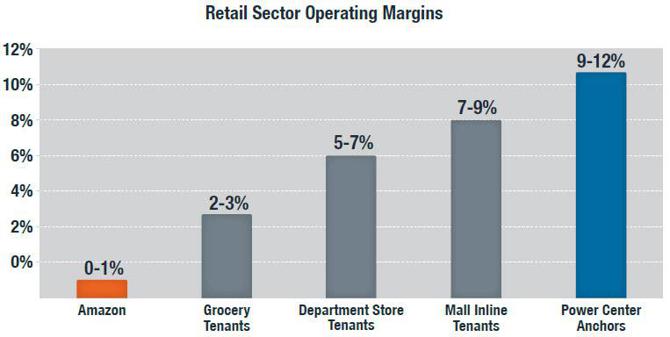 As a power center landlord, there are considerable advantages to investing in the sub-sector. By owning "brick and mortar" in larger scale, returns are more robust. In addition, power centers are typically located in prime trade areas where retailers expect to be housed in dominant trade areas. Also, there are tremendous advantages to having co-tenants that feed off of one another.
Essentially, it's the "shopping experience" that provides the power center consumer with a unique experience to eat, shop, and socialize in one setting. Although e-commerce has impacted certain retail models, most people agree that the Internet is simply another channel to shop, and the traditional storefront is not going to die.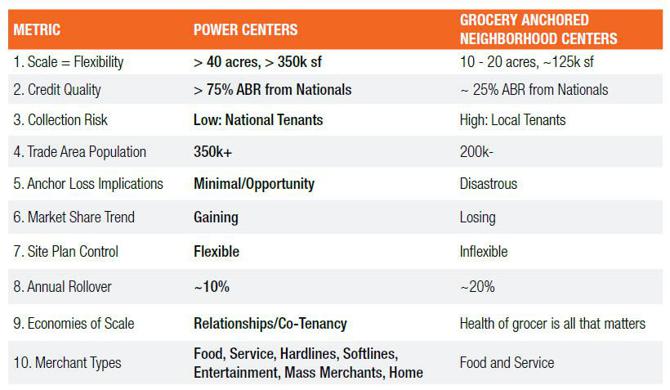 DDR Corporation - The Evolution of the Power Center Dinosaur
DDR, Corp. (NYSE:DDR) commenced operations as a publicly-listed REIT on Feb. 3, 1993, and today the company is the owner and manager of 431 value-oriented shopping centers representing 95.4 million square feet in 39 states, Puerto Rico and Brazil. DDR has a market capitalization of around $5.64 billion, the 3rd largest shopping center REIT in the United States.

Since the Great Recession, DDR has pruned off a considerable number of properties, from 658 assets in 2008 to 431 locations today.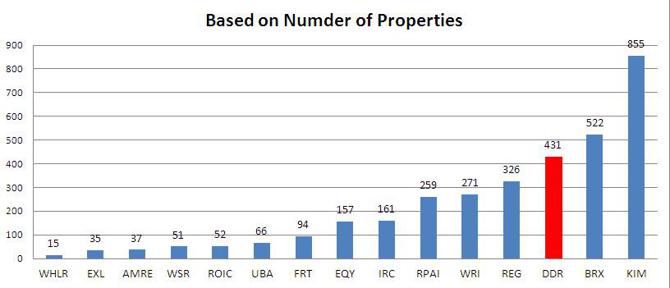 DDR's investment strategy is to acquire (and invest in) dominant power centers in target, top 50 MSAs, with high barriers to entry, string employment and population growth. As illustrated below, more than 97% of DDR's more recent acquisitions have been in the top 50 MSAs.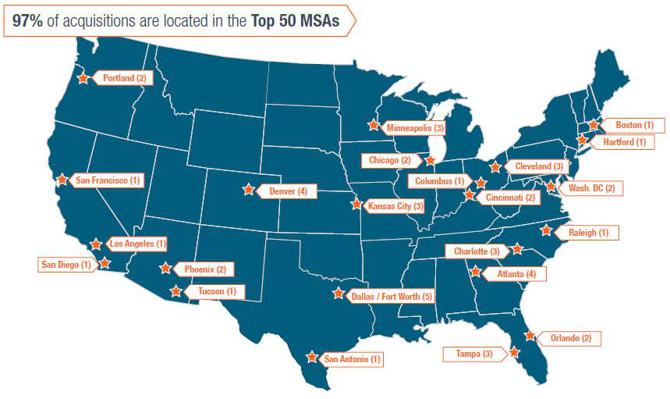 DDR has been actively disposing of non-prime assets in weaker markets. As illustrated below, the company has pruned 85% of its dispositions outside of the top 40 MSAs (or also in Detroit).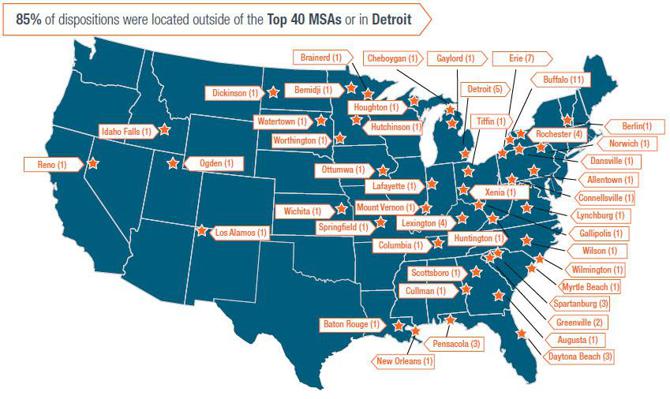 DDR - A Highly Focused Risk Management Model
As referenced above, the Great Recession was devastating for many retail landlords and developers, and DDR was no exception. The Ohio-based REIT had become a gigantic landlord that invested in just about every sub-sector: grocery-anchored centers, community centers, free-standing stores, and power centers.
In addition, DDR had considerable debt in 2008 (debt to total cap of 81% and 50% secured debt), and of course that combination (of high leverage and no circle of competence) led to a drastic decline in value. As illustrated by the FAST Graph below, DDR got hammered hard during the Great Recession: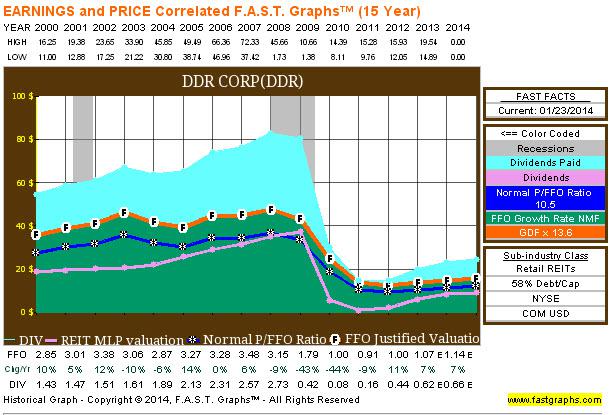 In order to reduce debt, DDR has spent the last three years selling off non-core properties and reinvesting back into more "critical" power center properties. This aggressive recycling program has improved portfolio fundamentals and enhanced overall credit quality of the company's cash flows.

In an effort to effectively manage the risk profile of the company, DDR put together a strategic risk-weighted portfolio model whereby the company scores each asset based upon certain growth and quality attributes. The risk-based model scores each asset based upon "prime +", "prime", or "prime -" categories. Here is a snapshot of the company's score card model: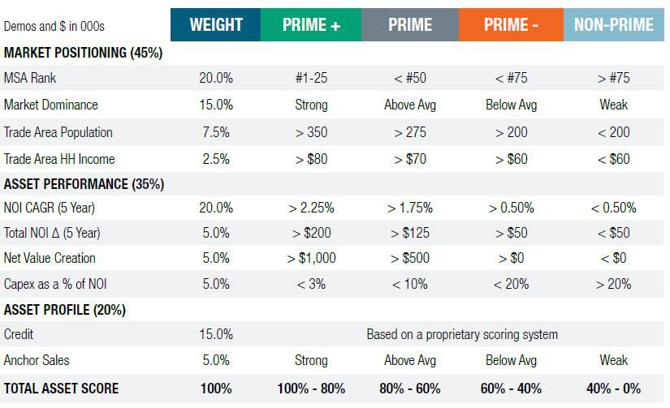 Today most of DDR's portfolio is considered "Prime +" or "Prime," and the enhanced risk-management platform has enabled DDR to capture significant value by recycling the "non prime" assets into more strategically valuable assets.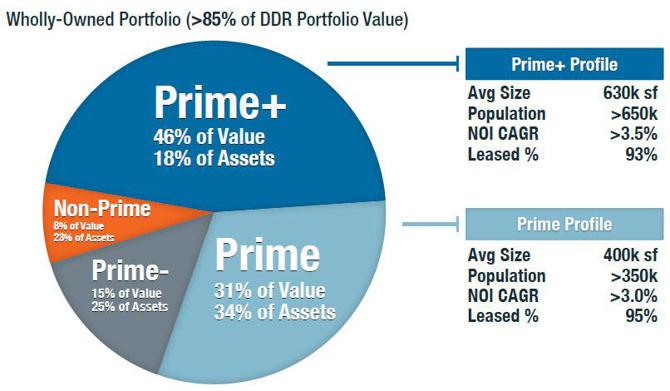 According to DDR, more than 70% of the company's non-prime assets are either JV's or being marketed for sale. The remaining non-prime assets are being sold, and the capital is being recycled into more opportunistic assets.
So Will DDR's Risk Management Model Pay Dividends?
As stated above, DDR took a nose dive in 2008, and since that time the company has begun to "claw back" some of its previous earnings power. During the course of the company's first 16 years as a REIT, the dividends were robust; however (and as evidenced below) DDR was forced to drastically cut dividends in 2009.

Since the Great Recession DDR has begun to steadily increase its dividend. Here is a snapshot of the recent history including the most recent dividend declared in the fourth quarter (2013) - a common stock dividend of $0.135 per share, which represents an increase of 12.5% from the fourth quarter of 2012.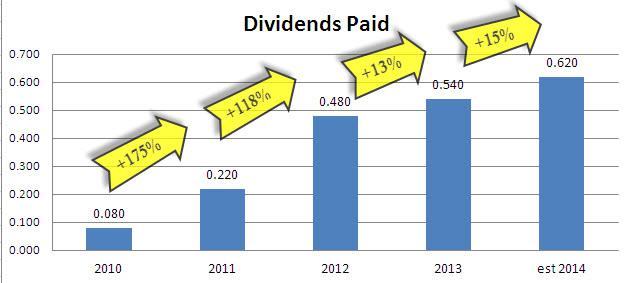 By upgrading credit quality, DDR has been able to strengthen its revenue stream and provide investors with better and more reliable forms of differentiation.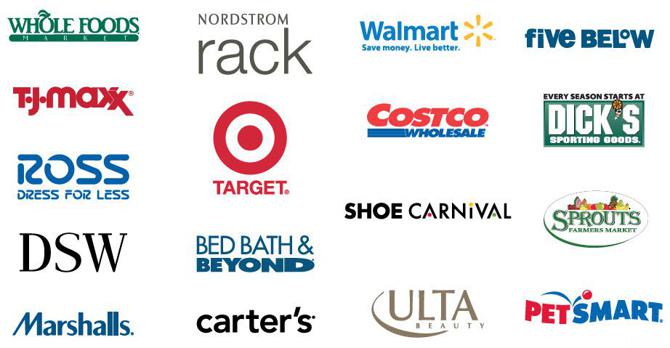 Conversely, DDR has reduced overall asset-based risk through strategic portfolio dispositions. Throughout the course of the last few years DDR has eliminated more than 2 million square feet and $15 million in watch list retailer rent.

By raising DDR's standards to "Prime" characteristics, the company has been able to maximize and realize the better, risk-adjusted returns, and of course that means higher dividends.
How Will DDR Grow Its Dividend?
Consistent and durable cash flow is the best indicator of long-term value. By utilizing a focused capital allocation model, DDR has been able to grow its dividend while maintaining a low payout ratio. Here is a snapshot of DDR's payout ratio compared with its peer group: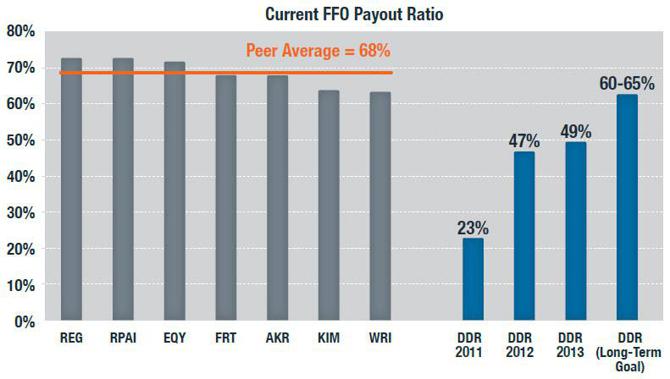 Also, and serving as further evidence of dividend sustainability, DDR has grown organically by SSNOI (same store net operating income) and redevelopment. Throughout the last 12 quarters, no other peer in the shopping center sector has produced > 2.9% more SSNOI growth than DDR.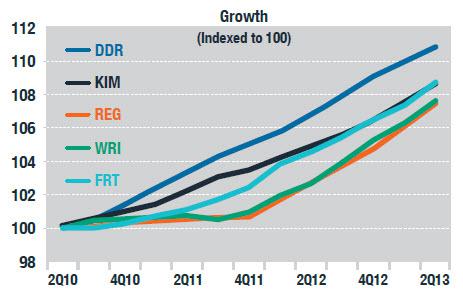 DDR's balance sheet has continued to improve as evidenced by the progress in reducing leverage: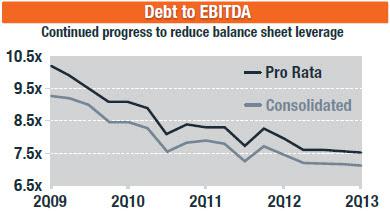 In addition to better debt duration maturities: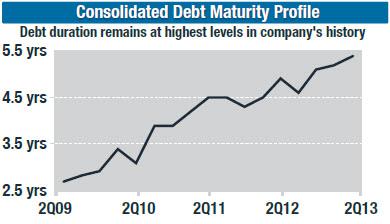 More than 80% of DDR's current capital structure is > 5 years in duration: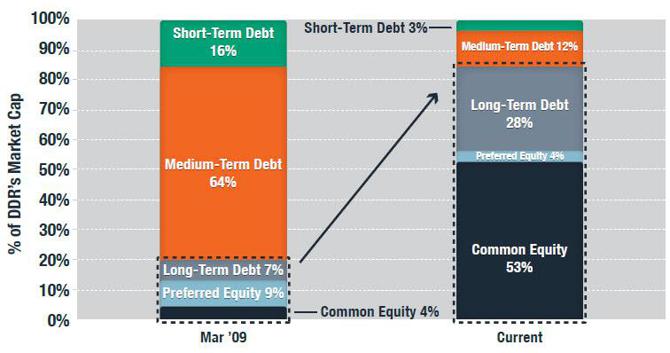 DDR has dramatically improved its duration and leverage on an absolute and relative basis. Its debt duration (in years) has improved significantly: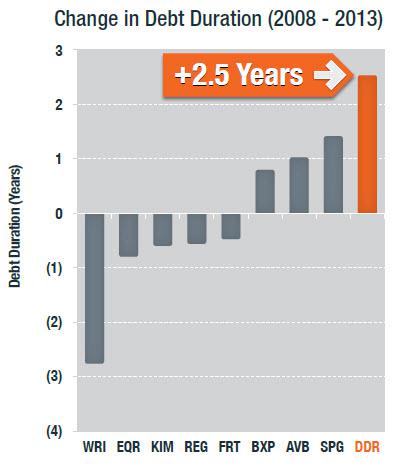 As illustrated below, DDR has improved its balance sheet significantly, and the company is now closing in on the other peers.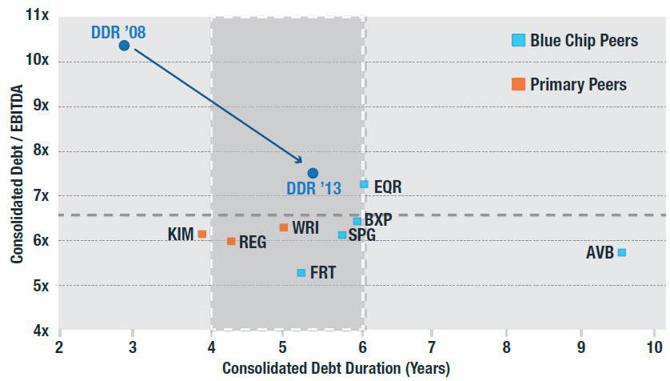 Since 2012, more than two-thirds of DDR's acquisitions have been funded through new equity and asset sales.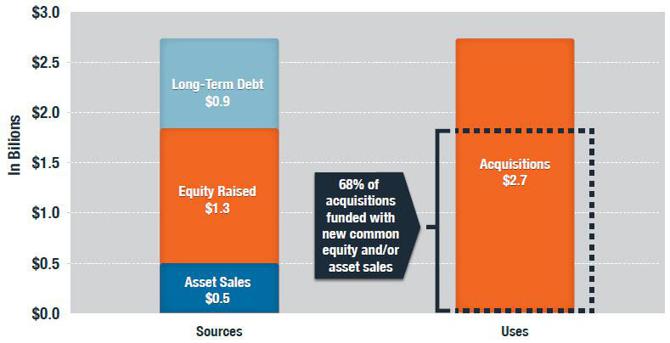 DDR has grown its unencumbered pool of assets by around 66% from $247 million in 2009 to around $409 million today.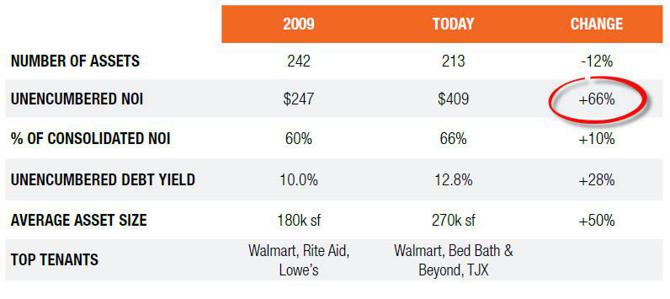 In early January DDR announced that it had completed over $2.8 billion of transactions in 2013 - $2.3 billion in new shopping centers (46) and $433 million in dispositions. The new investments total 17 million square feet with an average size of approximately 380,000 square feet. The assets are located primarily in the top 40 MSAs and enjoy an average trade area with over 480,000 people and average household incomes of $87,000.
As a result of the recycling efforts, DDR has improved its overall occupancy considerably, and the latest occupancy results (Q3-13) are the highest reported since the Great Recession.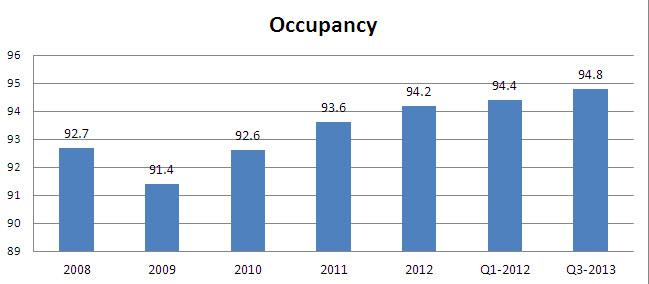 The Power in Owning Power Centers
DDR has excelled considerably in its long-term strategic plan. Take a look at this snapshot of debt improvement: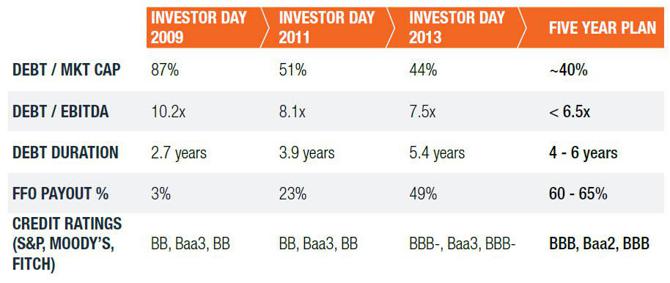 In addition, DDR has done a great job of recycling assets: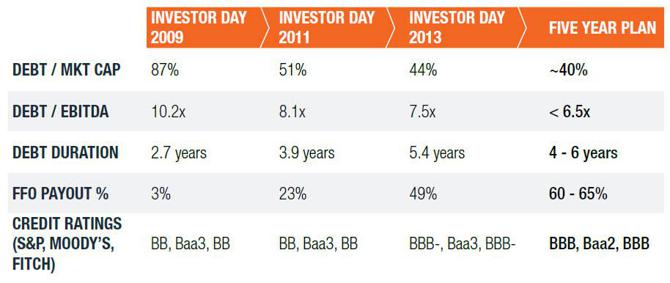 By focusing on its power center asset model, here's how the company's CEO, Daniel Bruce Hurwitz, explained it during the latest earnings call:
And so I think these things just take a while to play out, but if you simply are looking at the retailers results, you're going to see not only the best sales results, the best earnings growth, the best inventory return, the best margins from the power center tenants. And so I think quarter-after-quarter, our underlying tenants show that the consumer is clearly voting and it shows up in the performance of the centers.
DDR is currently trading at $15.69, around 20% below the company's pre-taper talk price (May 21, 2013) of $19.44.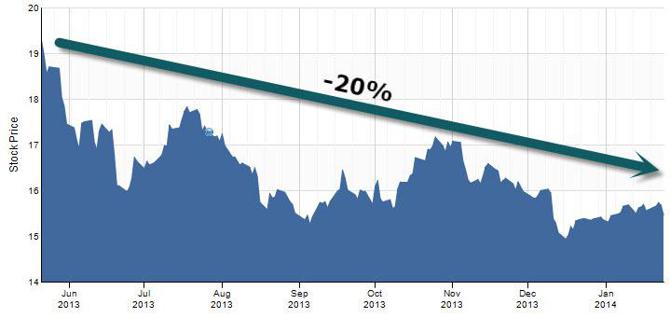 DDR has a Price to Funds from Operations (or P/FFO) multiple of 14.3x. I would consider the shares to be "fairly" valued today.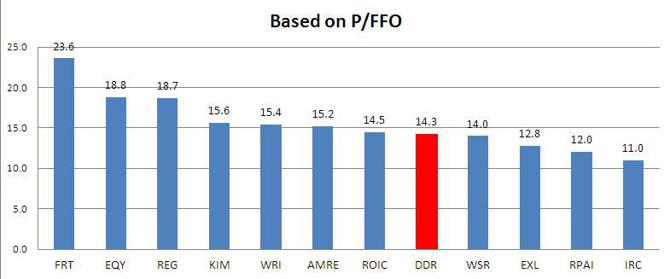 Here is a snapshot of DDR's earnings and dividend history since 2000: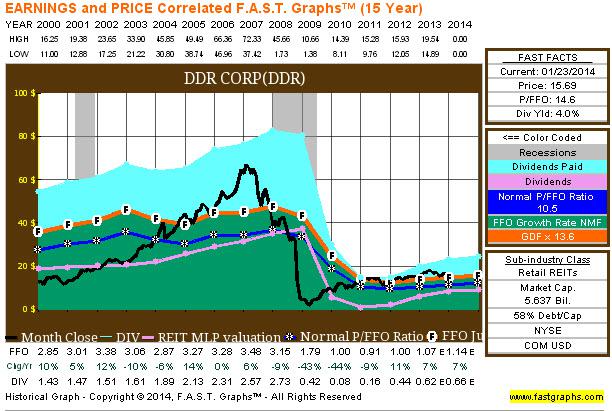 Zooming into the "post recession" valuation, we can see that DDR is trading at "fair" value, and although I don't see a quantifiable "margin of safety" in the current price ($15.69), I don't see the market placing a premium on DDR's progress throughout the last few years. In a previous article I suggested an entry price of $15.00, and I feel comfortable with that same target BUY number today.
DDR also has a Class J perpetual preferred (the company replaced the Class I 7.5% shares last year) that yields 7.29%. The current price is $22.38, with a B rating. DDR also issued $150 million of 6.25% perpetual preferred equity in early April (2013), 25 basis points below the coupon on the preferred equity issuance (DDR-J). The DDR-K issue is trading at $21.31 and yields 7.33% -- my choice overall. (source: Yield Hunter)
I prefer DDR's K series to the common shares today. Although I commend DDR for continuing its path to become a "blue chip" REIT, I see too many other (REIT) opportunities that yield more than 4% with less risk. I will wait patiently for a more attractive entry price (on the common shares) - a "margin of safety" - in hopes that I will one day power up my REIT portfolio with this "power center" REIT.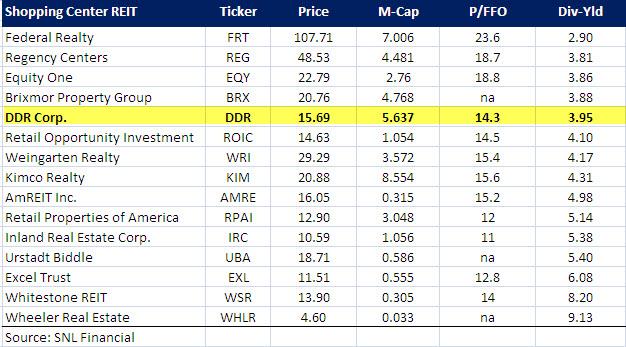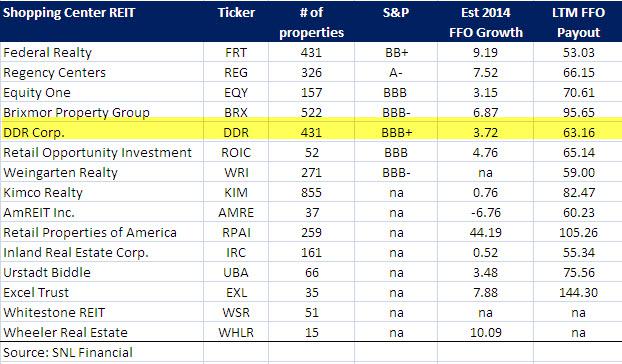 Source: FAST Graphs, SNL Financial, and DDR Investor Presentation.
REITs mentioned: (NYSE:FRT), (NYSE:REG), (NYSE:EQY), (NYSE:BRX), (NASDAQ:ROIC), (NYSE:WRI), (NYSE:KIM), (NYSE:AMRE), (NYSE:RPAI), (NYSE:IRC), (NYSE:UBA), (NYSE:EXL), (NYSEMKT:WSR), and (NASDAQ:WHLR).
Disclaimer: This article is intended to provide information to interested parties. As I have no knowledge of individual investor circumstances, goals, and/or portfolio concentration or diversification, readers are expected to complete their own due diligence before purchasing any stocks mentioned or recommended.
Disclosure: I am long O, DLR, VTR, HTA, STAG, UMH, CSG, GPT, ARCP, ROIC, MPW, HCN, OHI, LXP, KIM. I wrote this article myself, and it expresses my own opinions. I am not receiving compensation for it (other than from Seeking Alpha). I have no business relationship with any company whose stock is mentioned in this article.