In my previous article, I listed 7 reasons not to join the sell-off party for 3D Systems (NYSE:DDD). However, in spite of the 21,063 page views which my article received, DDD's free fall continues.
I'm sorry I failed to convince enough bulls to fight off the bears. English is not my native language: I cannot thoroughly express the logic and beauty of holding on to 3D Systems shares. DDD went down further to $78.75 during the after-hours trading last Friday.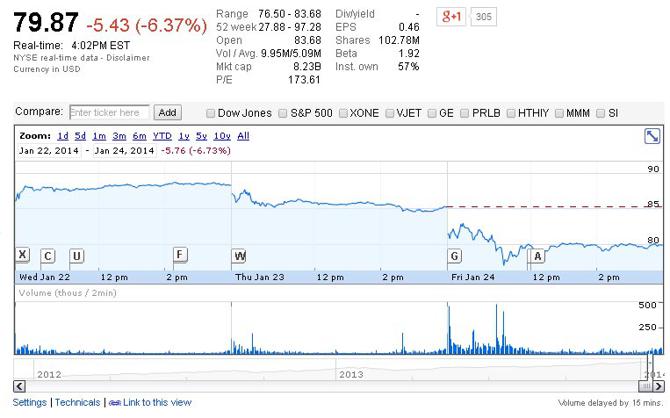 The sharp fall is allegedly attributed to Citron Research's latest report on DDD. However, learned investors already know that Citron's latest negative assessment of 3D Systems is just as mischievous as the one it issued last February 14, 2013. Citron called DDD a "bubble stock" and we all knew how 3D Systems performed last year. Citron's earlier report did not deter investors from letting DDD fly after February 2013.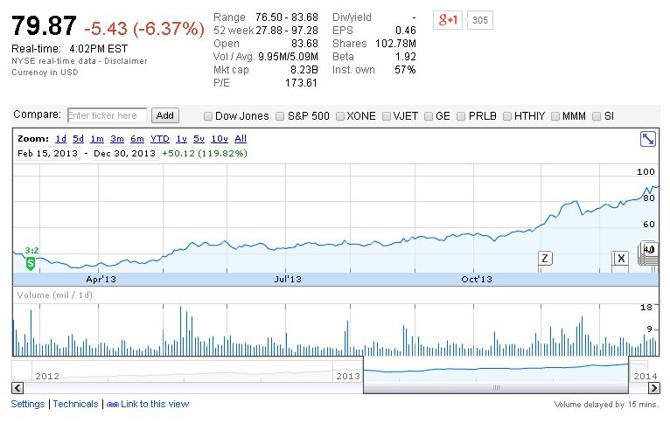 This is why I hate day trading - the stock market is sometimes very susceptible to rumors and black propaganda. Shorts have no qualms exploiting gullible investors. I'm sticking to grinding online poker. At least in poker, no short-selling propaganda or half-truths can meddle with my win/loss variance.
Citron Research Might Be Credible But Not Infallible
I do not want to get into a credibility contest with Citron Research. They are the experts in digging up all the inadequacies of a company. I cannot disprove all their claims about 3D Systems. I leave it to individual investors to do their own due diligence over the said report.
However, I strongly disagree that 3D printing's future is purely industrial - it's consumer and small-scale manufacturing. 3D Systems' current weak consumer sales numbers are not indicative of the future. Five or ten years from now, 3D printers will be as endemic as inkjet printers. Device sales and printing materials will drive DDD's future, not its low-margin service bureau.
Furthermore, I think I'm not the only one who knows that product reviews on Amazon are easily manipulated. There are guys in my country who get paid for posting "product reviews" on Amazon and other online stores. I believe most Seeking Alpha readers are 10 times smarter than me, many of you will agree that the use of Amazon product reviews weakened the value of Citron's report.
If DDD's financial success is all an illusion, how did it get away with it for so long? I look at the company's financial records and I see steady revenue and net income growth over the last 5 years.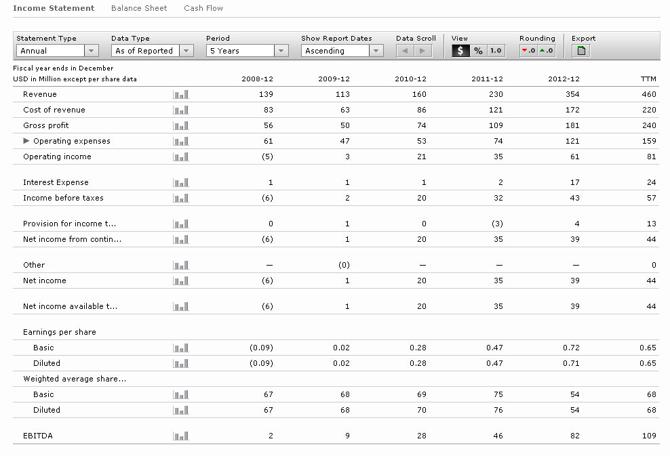 How did 247 institutional investors overlook the "illusion" that 3D Systems created. Mutual funds and investment firms hold 63% of floated DDD shares. These big investors have their own analysts and they have access to insider or confidential information. It is more prudent to believe the wisdom of 247 large investors.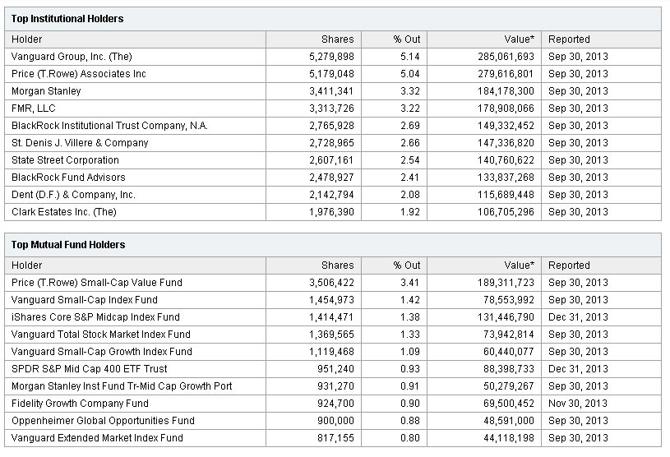 None of these big investors have recently unloaded their DDD shares. These expert fund managers most likely did not believe the Citron Research report. If they did, they would have dumped their DDD immediately last Friday. In my opinion, it is more prudent to believe the wisdom of 247 institutional investors than one research company.

Also, no insiders have dumped their DDD shares this year.

I am also not questioning the credibility of Terry Wohlers, but he isn't a god to be all-knowing and infallible. If you are willing to pay $3,950 for Wohlers' 2013 Report then you can verify Citron's claims. I can't afford it, so I'll stop delving further into Citron's reasons why 3D Systems is overvalued.
I noticed that the intro of Citron's latest report on DDD included a recommendation to buy Stratasys (NASDAQ:SSYS) instead.
Why does Citron value Stratasys more than 3D Systems? Is market-darling DDD so overrated that its true value is lower than SSYS? I know that experts at Macroaxis give SSYS a 79% probability to go bankrupt in the next two years. 3D Systems only has 2.9% chance of going bust. I can also see that 3D Systems has higher operating and profit margins. There's no compelling reason to dump DDD and replace it with SSYS.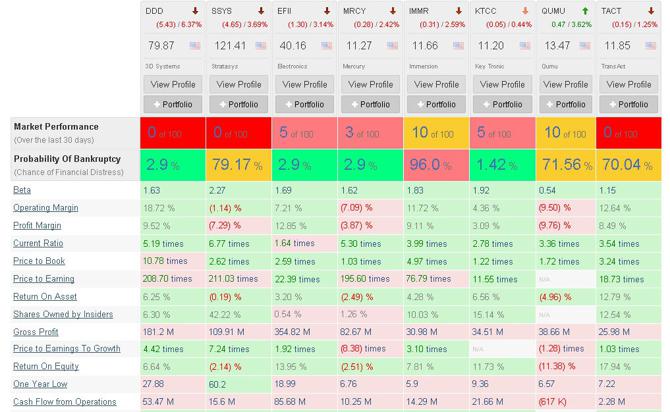 Since the fall of DDD, the 209.33 P/E of SSYS is now higher than that of DDD's 173.22. If Citron Research really cares for small investors, it should have not recommended SSYS in its negative assessment of DDD. 3D Systems clearly makes more money than Stratasys. Besides, insiders only own 6.3% of DDD shares while 42.2% of SSYS shares are owned by Stratasys insiders.
I therefore refuse to believe Citron's master-of-illusion potrayal of CEO Reichental. He doesn't own 40% of 3D Systems to have the worst of ulterior motives. Citron call DDD a bubble stock but did not say the same about SSYS. Since its debut on the market, SSYS has also gone Icarus high. Speaking of bubble categorization, SSYS did +925.41% while DDD only managed +508.3% during the same period.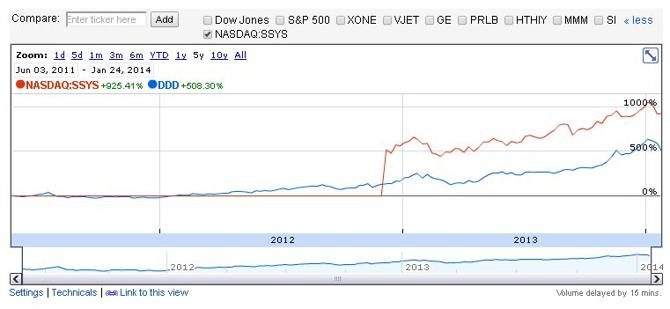 Conclusion
The big decline of 3D Systems last Friday was largely due to a negative report from Citron Research. A report which I found to be far from being infallible.
I suspect that many susceptible investors who believed Citron's assessment that DDD's success is just an "illusion", panicked last January 24 and they caused the big drop. Profit-taking may have also been a factor - or maybe it's a real market pull-back. I don't really know - I'm not a qualified financial analyst.
I just look at charts online, and because I understand elementary mathematics, I find DDD was and is still a better buy than SSYS. You can sell DDD for profit now... or buy more and wait until Avi proves Citron is wrong again this year.
Disclosure: I have no positions in any stocks mentioned, but may initiate a long position in DDD, over the next 72 hours. I wrote this article myself, and it expresses my own opinions. I am not receiving compensation for it (other than from Seeking Alpha). I have no business relationship with any company whose stock is mentioned in this article.