Over the past few days, we've seen a lot of red in the stock market. Investors took a chance to sell some risky assets late in the week, and US stocks were slammed hard. On the flip side, some money moved into the fixed income market, and yields went lower. One thing some may have missed is that the 10-Year and 30-Year US Treasury Bonds are now about 30 basis points off their recent 52-week highs. I've put a 10-Year chart below to show the recent pullback in yields.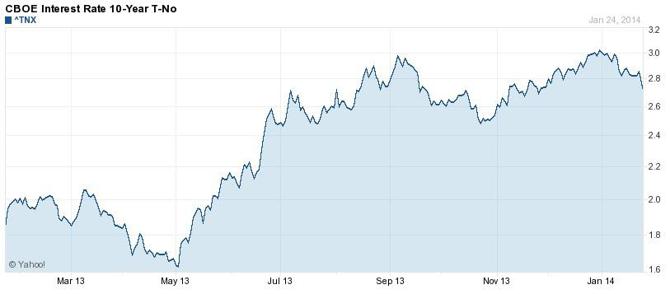 (Source: Yahoo! Finance)
With rates coming down a bit, it poses an interesting question. Should companies take advantage of this pullback to issue some debt? 30 basis points might not seem like much, but that's $3 million in pre-tax interest a year on $1 billion in debt. Add that up over 30 years, and you're talking about a nice chunk of change. Today, I'll look at five names that I think could use the pullback in rates to potentially issue debt, discussing why these names should do so.
Apple (NASDAQ:AAPL):
Some may find it shocking that Apple makes this list. Why should a company with nearly $147 billion in cash and investments at the end of September need to issue debt? Well, this is the Carl Icahn theory as Icahn wants a larger buyback. Of that $147 billion, only a little more than $35 billion was located inside the US, and only US funds can be used for dividends and buybacks. For Apple to buy back stock, it either has to repatriate foreign funds, and face a huge tax bill, or borrow against those funds. Borrowing is most likely the cheaper way to go.
Apple will report earnings on Monday, and the company's cash position should probably grow. Here's my preview for Apple's report. I'll be certainly looking to see how much stock Apple bought back during the quarter as part of its current $60 billion plan. With most of Apple's cash generation coming outside the US, the company many need to issue some debt to complete the buyback before the end of 2015, thanks to the large dividend as well. With rates coming down, it might not be a bad idea for Apple to take out some debt now. If the stock sells off after the earnings report, Apple might want to issue debt and accelerate some more of the buyback.
Cisco Systems (NASDAQ:CSCO):
Like a name I'll discuss later on this list, refinancing might be one reason to take out some debt now. Looking at page 23 of the most recent 10-Q filing shows some long-term debt for the company with rates a bit above 5%. If Cisco can get a lower rate now and refinance, it makes sense to lock in a lower rate and push the maturity out a few more years. The goal here is simple, and that is to save money.
The second reason is to accelerate part of the company's buyback. In November 2013, the board of directors authorized another $15 billion in share repurchases. While Cisco is buying back stock right now, it is not enough to get the share count down. Additionally, the company is in the midst of bad year, with both revenues and earnings expected to decline. If Cisco's forecast goes lower at the next report and the stock drops, the company might want to speed up the buyback to slow the earnings per share fall, as well as cushion the stock.
Dendreon (NASDAQ:DNDN):
This company is the small biotech name that brings you the prostate cancer treatment Provenge. Dendreon had a bad 2013, with Provenge sales disappointing badly, and the stock sold off. Dendreon's balance sheet continues to get worse as the company loses tens of millions per quarter, burning through a ton of cash.
While Dendreon did pre-announce Q4 2013 results that were a little bit ahead of expectations, investors didn't need to celebrate just yet, and the stock has fallen since that announcement. In the announcement, Dendreon announced that its cash position was down to $199 million, less than half of the $430 million on hand at the end of 2012. Dendreon might need funds to keep the business going towards the end of this year or earlier next year. The company has nearly $28 million in debt due in June this year, which will surely eat into the cash position if the debt is not refinanced. Dendreon burned through $34 million in cash during Q4, which was the best cash burn quarter of the year, but that was still a lot of cash to burn.
I'm not sure if Dendreon can get any debt right now, as the company has a lot more liabilities than assets, and any interest rate would probably be very high. Most likely, it would probably be convertible debt, which is why I think the best bet for the company is to just raise money through equity. Investors will be looking for a financing discussion at the next earnings report. For a full breakdown of the company's financials, please read my article linked above.
Netflix (NASDAQ:NFLX):
This one is a bit obvious, because Netflix already announced in its Q4 investor letter that the company will be issuing another $400 million in debt during Q1. Netflix management is probably smiling that rates have come back down, so the company might want to issue debt now and lock in a rate before rates potentially go back up. With rates down a bit recently, it will be interesting to see if Netflix potentially decides to raise more than $400 million. If the company can get a low rate, maybe it can take out extra money here and pay back some of the debt it took out in 2013. Refinancing at lower rates is always a good idea.
Why does Netflix need to issue debt when it had $1.2 billion in cash on the balance sheet (along with $500 million of debt) at the end of 2013? Well, the company's investment in original content is expensive, especially as payments are due sooner than a normal content deal. Also, Netflix plans on aggressive international expansion in 2014 and beyond. The company also has $7.3 billion worth of content liabilities, of which more than $4 billion haven't even reached the balance sheet yet. I'll have a complete article out on Netflix to discuss the company's recent earnings early this week, so please look for that one if you're interested in Netflix.
Philip Morris (NYSE:PM):
I might get some interesting comments on this one as I have been a little worried about the company's increasing debt pile in recent years, which has weakened the balance sheet. Yes, there is a cash flow savings when the company can use low rate debt to buy back shares that have a 4% plus dividend yield. The company has done an excellent job of reducing the share count in recent years, although the stock has lagged a bit in the past year or so.
So why should Philip Morris issue more debt now? Well, there are two reasons. The first reason is that the company will need more cash to pay the dividend and buy back stock over the next year or so, with the current buyback plan ending in 2015. Cash flow is not enough right now to cover all of the capital returns, which is why the company took out debt a few months ago. If the company thinks rates are going higher, it has to weigh the cost of higher rates say six months from now versus the interest costs it will pay between now and then.
But I think the best reason for the company to take out debt is to refinance some other debts. Philip Morris on its last few debt issues has paid a spread of about 120 basis points above treasuries on 30-year debt. Even if the company pays 135 basis points now, that puts a 30-year debt offering at a 5% interest rate, before tax savings. If you look at the company's fixed income page, you'll see a number of debts that have rates over 5%, especially a 6.375% one due in 2038. Wouldn't it be nice if the company could get that rate down by more than a full percentage point as well as push the maturity back about six years?
Final thoughts:
These five names all have good reasons to issue debt right now. Apple could buy back a ton of stock and appease Carl Icahn, as well as significantly improving earnings per share. Cisco could potentially refinance some higher rate debt, as well as buy back stock in a down year for the company. Dendreon might need the money just to continue operations as its cash position continues to plummet. Netflix is going to issue debt to fund originals and international expansion. Philip Morris will be issuing more debt at some point, and refinancing could be just as important as the buyback going forward. With rates coming off their highs, this might be the perfect time for companies to issue debt, especially if they think rates will be going higher in the long run.
Disclosure: I have no positions in any stocks mentioned, and no plans to initiate any positions within the next 72 hours. I wrote this article myself, and it expresses my own opinions. I am not receiving compensation for it (other than from Seeking Alpha). I have no business relationship with any company whose stock is mentioned in this article.
Additional disclosure: Investors are always reminded that before making any investment, you should do your own proper due diligence on any name directly or indirectly mentioned in this article. Investors should also consider seeking advice from a broker or financial adviser before making any investment decisions. Any material in this article should be considered general information, and not relied on as a formal investment recommendation.