How do you put last week in perspective? "The worst week since May of 2012" should do the trick. On second thought, maybe even that doesn't do it justice.
You may recall that in May of 2012, the United States was posting some terribly alarming job-growth figures (just 69,000 non-farm jobs were created that month), while Europe's manufacturing activity saw its worst month since June of 2009 in May of 2012. Commodity prices were plunging too, and Facebook (NASDAQ:FB) shares were getting trashed right out of the IPO gate.
Terrified of a re-entry into recession, investors had a reason to dump stocks in the third week of May in 2012. Last week though? Last week, there was no clear prompt for the pullback - it just happened. Yeah, overseas markets turned weak on Friday, and U.S. stocks followed suit. The biggest reason foreign stocks tanked on Friday, though, was in response to Thursday's drubbing of the American market… for which there's still no real explanation. Weak earnings results got some of the blame, but the fact is, earnings have been fairly typical so far - also some overseas currency problems.
Point being, last week's selloff doesn't appear to be event-based. It appears to be a calculated decision. That could be a potential problem, as event-based (or fear-based) selloffs tend to be short-lived, while well-reasoned selloffs can persistent.
We'll take a look at the risks and rewards in a second. Let's hit the economic numbers first. It shouldn't take long, as there wasn't much in the lineup for last week.
Economic Calendar
Actually, to say there wasn't much in the economic data lineup last week is an understatement. There were only two data nuggets worth a look, and both were real estate numbers. And, both were positive.
First, home prices rose about 0.1% in November, and December's existing home sales were up 0.8% compared to November's pace. Specifically, the National Association of Realtors says existing home sales reached a pace of 4.87 million houses last month, up from November's annualized rate of 4.83 million. That news underscores a broad - even if slow and chopping - improvement in the housing market. As our chart of real estate and construction data illustrates below, all of the key data plots are rising, indicating improving health.
Real Estate and Construction Data Chart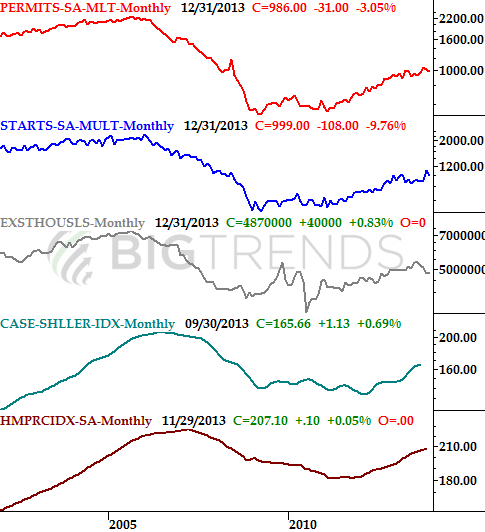 Note that the only data that isn't updated on the chart is December's new home sales, which won't be posted until after this write-up has been published. December's new home sales figure will come out on Monday, the 27th.
Everything else is on the following grid:
Economic Calendar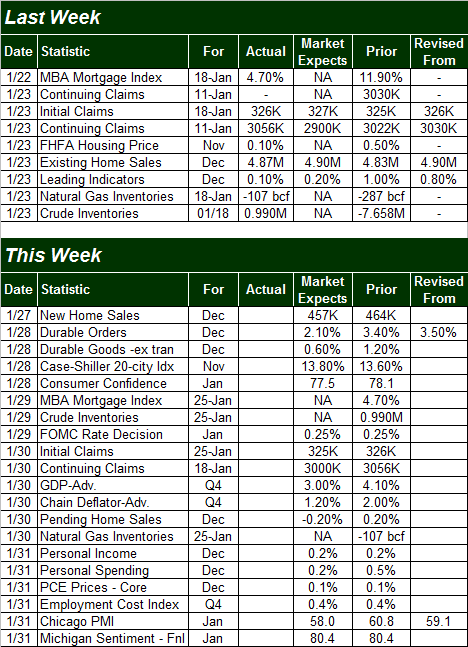 Clearly there's a lot more coming this week. Aside from Monday's new homes sales number, it's a pretty big week for consumer sentiment. The Conference Board's consumer confidence score comes out on Tuesday, and the final December reading for the Michigan Sentiment level will be posted on Friday. As you can see from the data through November, we're getting close to starting a new downtrend in confidence. Another lower score from either or both measures could be a problem for the market.
Confidence Trends Chart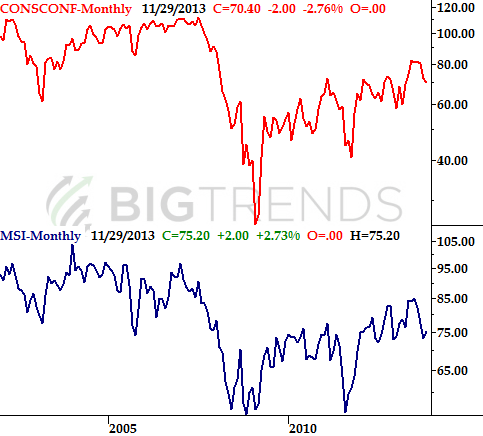 Last quarter's GDP growth (the first estimate) will come out on Thursday.
Given what happened last week, investors will be desperately looking for encouraging news. If they don't get it, stocks could find themselves in a "from, bad to worse" situation.
Stock Market Index Analysis
Before we say anything about what the market looks like after last week's meltdown, one thing has to be made clear…. anything could happen (or could have already happened) by the time you read this. Anytime the market drops 2.6% in one week, traders get anxious. Some get bullish, seeing the dip as a buying opportunity. Some get even more bearish, assuming the current trend is going to get worse before it gets better. The only thing that's certain is that nobody's really sure what's supposed to happen next, and that means anything could happen here.
Now, just for the sake of perspective, let's paint the broad strokes of the bigger picture first, which means a look at the weekly chart.
As ugly as last week was, the S&P 500 (SPX) (NYSEARCA:SPY) still hasn't broken under the lower line of its long-term bullish channel. You may recall we plotted the rising bullish "zone" last week with black lines. The lower edge of the rising channel is now at 1761, versus the S&P 500's close of 1790.29. Truth be told, until the S&P 500 falls under that floor, the long-term uptrend is still alive.
S&P 500 & VIX - Weekly Chart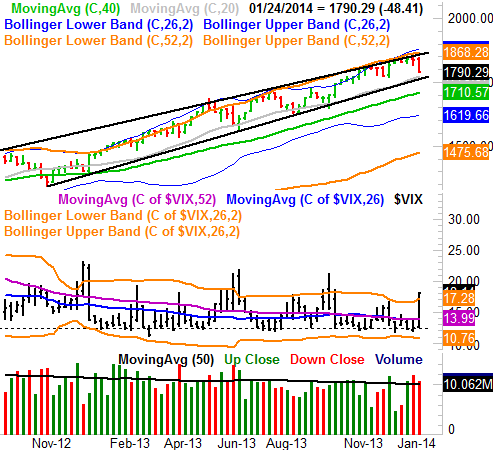 Something else working in the market's favor here is the spike in the CBOE Volatility Index (VIX) (NYSEARCA:VXX). Had the VIX simply drifted modestly higher, it likely would have left plenty of room for the S&P 500 to keep sliding. As you can see just a little further back on the chart, when the VIX soars above its upper Bollinger band like it did last week, it usually marks a pretty significant bottom for the market in recent years.
What changes when you zoom into the daily chart? No a whole lot really. Although the S&P 500 broke under a major floor at 1812 as well as broke under the key 50-day moving average line, it's survived worse. On the daily chart, the big line in the sand is still waiting at 1765, and rising. That's where the 100-day moving average line and the lower 50-day Bollinger band have converged. Until those lines are broken, last week doesn't qualify as anything more than a little volatility.
SPX & VIX - Daily Chart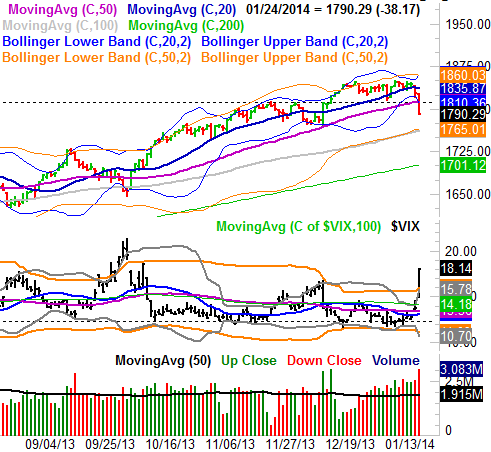 The VIX also became overextended in the daily timeframe too, with Friday's action. It's begging for at least a small bounce soon, even if not a long-term bounce.
With all of that being said, it's worth bearing mind that it's been more than two years since the broad market (NYSEARCA:DIA) (NASDAQ:QQQ) (NYSEARCA:IWM) has suffered a setback of 10% or more. We're overdue. It's also worth noting that Friday's selloff volume was the highest volume day we've seen in a month, and the most bearish volume we've seen in one day since March of last year. While we certainly pointed out a few reasons and ways the market could sidestep a meltdown with the discussion above, it can't be denied that stocks are ripe for a good-sized correction now. This week is going to be pivotal. The 1765 mark is the make-or-break line for the S&P 500.
Disclosure: I have no positions in any stocks mentioned, and no plans to initiate any positions within the next 72 hours. I wrote this article myself, and it expresses my own opinions. I am not receiving compensation for it. I have no business relationship with any company whose stock is mentioned in this article.