After the bell on Wednesday, streaming giant Netflix (NASDAQ:NFLX) announced its fiscal fourth quarter and full-year results for 2013. Overall, the report was very strong and Netflix issued solid guidance for the first quarter of 2014. This sent shares spiking higher, and many shorts were left with another large loss. Today, I'll break down the results, detail why Netflix is in better shape than most people thought, but explain why a better business doesn't always equal a better stock.
Streaming and overall results:
Netflix ended 2013 with more than 44 million streaming subscribers, and the company expects to end Q1 of 2014 with more than 48 million. The following table shows a breakdown of Netflix's Q4 results versus the company's guidance from the Q3 report.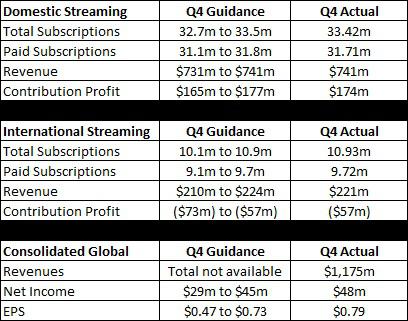 I'll first start by discussing domestic streaming, since this is Netflix's largest segment. Both total and paid subscribers came in towards the upper end of Netflix's guidance range. Also, revenues hit the top end of the range. The only slight negative is that contribution margins could have been a bit better given the large revenue number.
Netflix came in with a domestic streaming contribution margin of 23.4% for the quarter. While that was down from the 23.7% figure in Q3 of 2013, it was up from the 19.2% figure in Q4 of 2012. Netflix believes that its strong performance in this segment could allow the domestic streaming business to have a 30% contribution margin sometime during 2015. That would be a tremendous win for the company. Two years ago, in Q4 of 2011, this segment had a contribution margin of just 12.2%.
In terms of the international streaming business, Netflix came in just above the top end of its ranges for both total and paid subscribers. Contribution profits (losses in this case) came in at the lower end of the range, which is a good thing. The only slight negative is that revenues came in a tad bit light given the number of subscribers. One very important milestone was reached during Q4 for the international segment. This was the first quarter, in which revenues were higher than the cost of revenues. This means that the international business actually had a positive gross margin. The segment is still losing money after you subtract out expenses. However, contribution losses have improved from over 236% a couple of years ago to just 26% in Q4. Netflix will look to launch a major European market in 2014, which probably will increase losses again for a few quarters, but this will really help revenue and subscriber growth.
Overall, Netflix came in at $1.175 billion for revenues, which was ahead of analyst estimates for $1.17 billion. On the bottom line, Netflix came in at $0.79 a share, which beat estimates for $0.66. This was a solid quarter for Netflix in terms of subscriber growth, revenues, and profits.
DVD results:
While the DVD business is not as large as it used to be, it still is a key profit center for Netflix. The company has stopped providing subscriber guidance for this division, only providing contribution profit guidance. For Q4, Netflix guided to DVD contribution profits of $96 million to $110 million. The following table shows Netflix's Q3 to Q4 results for the DVD segment.

Netflix came in just above the high end of its profit range for the segment. Netflix will continue to lose DVD subs going forward as the company tries to move to a nearly all streaming business. It was a little disappointing that Netflix lost more paid members than total members in Q4. I was expecting about $210 million in revenues, so Netflix did beat that expectation. This was the highest contribution margin quarter (51.67%) in two years for the DVD segment. With the USPS postage hike in Q1, Netflix expects contribution profits to drop to $98 million in Q1. However, the company has been rather conservative with its contribution profits for this segment in recent quarters.
The ability of Netflix to keep DVD contribution profits in the high 40s and low 50s percentage-wise means the segment will be profitable for about a year or so more than originally thought. That means Netflix will probably hold on to the business a bit longer as well. I don't know if Netflix will feel the same way about the DVD segment if it turns to losing money, but that is probably a couple of years out. For now, the DVD numbers will worsen, but the segment is profitable.
Margin improvement:
Profitability has been one of the biggest issues for Netflix, and is one of the important criticisms from the bear camp. The following table shows Netflix's overall margins over the past three years.

This was Netflix's best quarter in two years. Will Netflix be able to keep this margin growth going? That depends on the company's growth strategy. We know that domestic streaming margins are likely to improve over the next year or two. The DVD business, which is higher-margin, is becoming less important, so that will hurt margins a bit, especially in Q1 2014. The key will be the international segment. In quarters where Netflix does expand (or the quarter after it expands) into a new market, profitability will be hurt. In other quarters, like Q1 of 2014, profitability will improve. I expect margins to be flat or maybe slightly higher in Q1 of 2014, but the rest of 2014 will depend on when and where Netflix decides to expand internationally.
Balance sheet update:
Another key criticism from the bear camp has been Netflix's balance sheet and poor cash flow. The following table shows some key balance sheet numbers over the past few years. Dollar values in thousands.

In Q4, Netflix's cash position increased from $1.135 billion to $1.2 billion. The balance sheet numbers in the table above were mostly flat, with a couple of small negatives. In the investor letter, management stated that it would raise $400 million through debt shortly, as the interest rate environment is fairly decent right now. Netflix had $500 million in debt at the end of 2013.
So why is the company raising money? Well, funding for original content is expensive, and the payments are due more upfront than normal deals for Netflix. Also, international expansion is costly. On the conference call, Netflix stated that content liabilities were up $700 million in Q4 to about $7.3 billion. This was mostly due to a number of announced deals during the quarter, some originals, and the extending of existing deals. Not all of these liabilities are on the balance sheet, as only about $3.1 billion were included as both current and non-current content liabilities. That leaves more than $4 billion off-balance sheet, and these are the minimum payments Netflix expects. They could be higher.
Overall, Netflix does not have the best balance sheet out there, but the $400 million being raised will certainly help with content purchases and international expansion. It would be nice to see cash flow improve, but for the moment, Netflix is not in any financial trouble. I think Netflix could also have raised money through equity, as each million shares brings in almost $400 million. With only 61.3 million fully diluted shares, Netflix could dilute shareholders by about 5% and raise more than a billion dollars. For now, the company has gone the debt route, and it will be interesting to see what rate the company gets. Rates on the US 10-Year are up about 80 basis points since Netflix took out the $500 million in 2013, but rates have come down recently. The good news is that the business has improved a bit and the company is taking out less money, so maybe the rate won't be as high, depending on the maturity of course.
Q1 guidance:
The following table shows Netflix's Q1 2014 guidance compared to its Q4 2013 results for the streaming and overall business.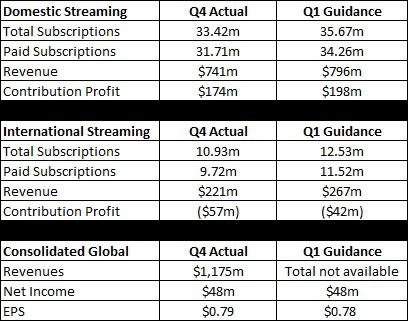 Subscriber guidance was a bit ahead of estimates, which helped fuel the huge rally in Netflix stock. If we assume $205 million for DVD revenues in Q1, Netflix is looking at just under $1.27 billion for revenue guidance in Q1. Analysts were looking for $1.24 billion, so revenue guidance is ahead of estimates. Analysts were calling for $0.77 in earnings, so Netflix's guidance is a penny ahead. You might have expected stronger guidance, but remember that the postage rate hike will hurt the DVD business, and if Netflix does take out debt, that means more interest expenses in the quarter. Netflix is no longer providing ranges for its guidance, and will just provide a single point. This isn't a big change, as you were easily able to calculate the midpoint in the past.
Competition:
There has always been a huge argument when it comes to Netflix over competition. While there are many players in this space, it can be very costly to enter the space, and new entrants need deep pockets or the ability to sustain prolonged losses. Netflix has shown that with international launches time and time again. One key item, though, that many miss when it comes to competition is that consumers have the ability to be subscribers to more than one service. With Netflix at $8 a month and Amazon's (NASDAQ:AMZN) Prime at $79 a year (including other benefits), it's not a costly proposition to have both services. With cable bills sometimes reaching $100 or more a month, a household could get an entire year of Netflix plus Prime for about two months of cable.
Yes, Amazon is going to be a competitor to Netflix, and in my latest Netflix article I examined Amazon's decision to start marketing Prime Instant Video. One must wonder if Amazon will eventually split off Prime Instant Video from the rest of the overall package (free 2-day shipping, etc.). Prime Instant Video has grown from 5,000 to more than 40,000 titles in about three years, and you have to figure that pattern will continue going forward. Amazon will invest hundreds of millions, or even billions of dollars per year like Netflix, to remain competitive. Some consumers will decide to go with only one service, but the bear camp needs to realize that a fair amount of people could subscribe to both. So when the discussion comes up about market size and US households, it doesn't necessarily mean that 10 million Prime users limits Netflix's market potential by 10 million.
Amazon and Hulu are obviously big competitors, and Netflix acknowledged them in the investor letter. A few others that Netflix talked about are YouTube, owned by Google (NASDAQ:GOOG), Apple's (NASDAQ:AAPL) iTunes Video, and BBC iPlayer. Netflix also took the time to mention Verizon's (NYSE:VZ) purchase of Intel's (NASDAQ:INTC) media assets, announced last week.
From that group, Apple and Google are obviously names to watch. Both of these names have tens of billions in cash, and could make a substantial move if they wanted to. With revenue growth slowing in recent years for both names, Apple and Google have looked for ways to increase revenues. Apple has branched out from just one new iPhone and iPad to multiple versions, and Google has gone the acquisition trail. If Apple and/or Google make a serious run into this space, the Netflix competition argument will become a lot more interesting. Until then, I think Netflix can hold off the challenges of others like Amazon and Hulu, and Netflix did prove that throughout 2013.
So what about Netflix stock?
Netflix is a very controversial stock. The bear camp laughs at the valuation, which at current estimates, has Netflix trading at nearly 100 times expected 2014 earnings. The bull camp argues that Netflix should be trading more in line with revenue and subscriber growth. In the following table, I have compared Netflix against some other tech names, including Facebook (NASDAQ:FB) and Twitter (NYSE:TWTR), for 2014 expectations.

*Apple's fiscal year ends in September.
**EPS Growth and P/E values are non-GAAP.
***Twitter's losses are expected to improve in 2014, but the company is still expected to lose money. Thus, there is no P/E yet.
Netflix looks expensive on a P/E basis when compared against the established names, not including Amazon. On a price-to-sales basis, Netflix looks expensive compared to Amazon and Apple, but not the rest. So how do I look at Netflix? Well, I think you have to look at the name as more of a hybrid. For the indefinite future, I think Netflix will be a combination of an old tech and a new tech. I think that the subscriber and revenue growth argument is the one working for now. Netflix only trades at a third the P/S value of Facebook right now.
I don't think it is unreasonable for Netflix to trade at 3-5 times expected revenues, especially with the growth potential. Netflix's core revenue growth for 2014, factoring out DVD, is closer to 32% based on current analyst estimates. The international potential for Netflix is enormous, and that's why I think the stock is where it is right now. The reason why I don't buy the P/E argument completely is because Netflix is intentionally hurting EPS to grow. Every time the company expands internationally, EPS drop. At that point, the bear camp complains. But if Netflix doesn't expand internationally, and EPS rise, the bear camp complains that revenues and subscribers are not growing fast enough. That's not fair to argue both sides against Netflix.
For now, I think an appropriate trading range for Netflix is about $270 to $450, based on current revenues and the range I noted above. While I understand that my range is very wide, this is a volatile stock. Netflix shares, thanks to the earnings report, have had a $70 range in the past seven trading days. With a valuation midpoint of $360, I do think Netflix is at the upper end of its range, and thus I consider it a short idea. However, I would not short Netflix until $400 at the absolute minimum, and I think waiting until $425 would be preferred. This is a momentum stock, and if the markets start to recover, people could certainly jump in after last week's strong report.
The other way you could play the short side is to buy at the money put options and sell out of the money put options to cover the cost. I pitched this idea in my last article. This way, you don't lose any money if Netflix stock rises. You gain for a bit until Netflix hits the strike at which you sold puts, and then your profits decrease a bit. You can lose money if Netflix falls too much, but depending on your strikes, you need a huge drop in the stock. This is a complex and risky strategy, and does require a bit of margin, so it is not for all investors. But in my opinion, it's a better way to play the potential downside than shorting the stock.
Final thoughts:
Netflix had a strong fourth quarter and issued great guidance for the first quarter of 2014. Margins are improving nicely, and the debt issuance will help reduce some of the balance sheet fears. Shares are now close to their all-time high, and while upside remains, investors should not be looking for a repeat of 2013. In fact, the bias may be to the downside. Netflix has already started to hedge against weak Q2 guidance by discussing seasonality and tough Q2 2013 comps, and the launch of a new international market later this year means profitability guidance will be weaker than expected at some point. I think that Netflix will probably break $400 at some point early in 2014, but I think the short case re-appears at that point.
Disclosure: I have no positions in any stocks mentioned, and no plans to initiate any positions within the next 72 hours. I wrote this article myself, and it expresses my own opinions. I am not receiving compensation for it (other than from Seeking Alpha). I have no business relationship with any company whose stock is mentioned in this article.
Additional disclosure: Investors are always reminded that before making any investment, you should do your own proper due diligence on any name directly or indirectly mentioned in this article. Investors should also consider seeking advice from a broker or financial adviser before making any investment decisions. Any material in this article should be considered general information, and not relied on as a formal investment recommendation.