The confluence of the startup of the China Mobile (NYSE:CHL) relationship, Carl Icahn pushing for corporate moves, and the December quarterly earnings report places Apple (NASDAQ:AAPL) stock on a high alert for Monday. Investors appear reluctant to give the stock a market multiple on fears that it is losing its technological lead though it appears to have several catalysts to propel it forward in the next few years. In fact, it's very possible that the Icahn proposal would solve the major issue of large numbers that might be holding the stock back as much as anything.
China Mobile
The pre-order sales for China Mobile weren't nearly as many as expected, but the recent speculation that Apple is preparing larger display phones combined with news from the Apple CEO that it maintains a 57% mobile browser market share sets it up for a large ramp in China by fiscal year 2015.
Reports suggest Apple is in development of a 4.5-inch-plus iPhone model that is being prepped for mass production. Another model larger than five-inches is in preliminary development along with a curved screen that is targeted for an unknown time.
With the rollout of the China Mobile 4G network in 2014 to more than 500,000 4G base stations and 340 cities combined with these larger iPhones later in 2014 and into 2015, Apple could have a major catalyst in a market that prefers the Apple brand and larger phablet devices.
Icahn Letter
Last week, Carl Icahn sent a letter to the Apple board suggesting that repurchasing shares were a "no brainer". He suggests that the S&P 500 price to earnings multiple is 71% higher than Apple's providing for a share price of $840, which is roughly 50% higher than its current price. Icahn proposes the company undertakes a more aggressive stock repurchase plan that utilizes the $130 billion cash hoard.
Icahn makes several proclamations that aren't clear-cut. He predicts that Apple will have a future in ultra high definition televisions, wearable devices, and a revolutionary payments solution that takes advantage of iTunes payment data. Apple appears late to these concepts already with Google (NASDAQ:GOOG) and Samsung (OTC:SSNLF) already releasing wearable products including Google Glass and Samsung Gear. The TV market is highly competitive and the payments market is already populated by private Square and PayPal owned by Ebay (NASDAQ:EBAY).
Apple didn't create the smartphone category or a music player. In both cases, Apple was able to so revolutionize the category that it leapfrogged existing options. Can Apple create a TV or a wearable device that it changes the category forever? Considering the TV is similar to the computer screen, it appears more like that a mobile device in the wearable category has the most potential for a revolutionary concept. Either way, the current valuation isn't suggestive that Apple will hit develop a winner in either category.
Valuation Focus
Analysts expect Q114 earnings to be relatively flat with last year at around $14 per share. Even with the release of the iPhone 5s and 5c plus the iPad Air, revenue is only going to grow around 5%. Most investors fear that Apple is now facing an issue of being so large that it can no longer grow. Ironically though the enterprise value of only $360 billion places Apple near the valuation of Google at $328 billion. The table below shows how Apple actually sits in the valuation realm of technology laggards Intel (NASDAQ:INTC) and Microsoft (NASDAQ:MSFT) and far from that of Google. If anything, Apple remains the innovator similar to Google and should trade in a similar manner.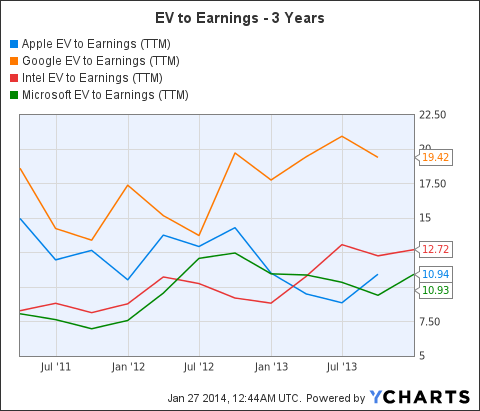 AAPL EV to Earnings (TTM) data by YCharts
*Note the above valuation excludes the roughly $100 billion in long-term marketable securities that would place the EV closer to 8x earnings.
Conclusion
Clearly, Apple is cheap at 8x forward earnings especially considering it has several potential catalysts. While it isn't clear that Apple will grab market share in the ultra high definition television area, it appears clear a future in mobile payments and wearable devices is much more likely. Either way, Apple likely grabs a larger market share in China by utilizing bigger phones and the new China Mobile 4G network. The last article suggests that China revenue alone could gain $8-10 billion each quarter.
By reducing the share count by 10%, Apple earnings immediately jump to nearly $48 in fiscal 2014 and over $53 in fiscal 2015. With a 20x multiple, the stock would easily jump to the magical $1,000 number placing the Icahn industry multiple valuation on the low end. In a scenario where earnings are back in growth mode and based on the current valuation, Icahn is absolutely accurate that repurchasing as many shares around $550 as possible is a "no brainer".
The stock typically doesn't take off after an earnings report that occurs after the market closes on Monday so investors should enter a partial position prior to earnings with dry powder to buy any weakness in after hours or the following days.
Disclosure: I am long AAPL. I wrote this article myself, and it expresses my own opinions. I am not receiving compensation for it (other than from Seeking Alpha). I have no business relationship with any company whose stock is mentioned in this article.
Disclaimer: The information contained herein is for informational purposes only. Nothing in this article should be taken as a solicitation to purchase or sell securities. Before buying or selling any stock you should do your own research and reach your own conclusion or consult a financial advisor. Investing includes risks, including loss of principal.