The names of US stock index ETFs are not adequate to inform you about the segment of the total market to which they give you exposure. Building a portfolio with multiple US index funds by name is a formula for creating gaps and overlaps. This chart of the market segments (by capitalization) covered by a variety of US stock index funds, gives you a better idea of what is inside of the funds than the names alone.
click image to enlarge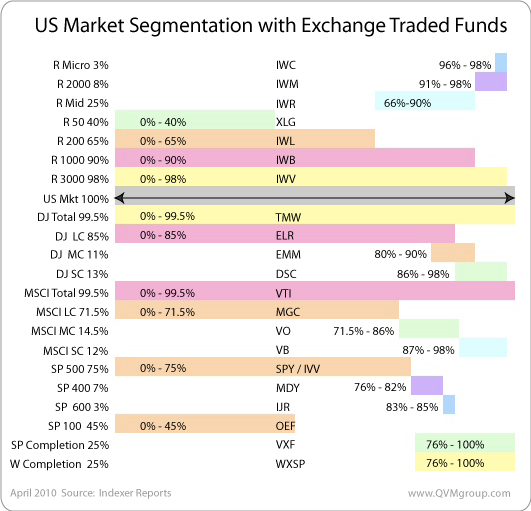 It may not be possible to fully reconcile the market coverage ranges between all of the funds, because the "as of dates" of the data published by the various index providers are not the same, and they may not all define the total universe of stock in the exact same manner. Nonetheless, the broad positioning of each index is reasonably well indicated.
Some of these funds are too illiquid for practical use, but they are included to give a more complete landscape of the market coverage possibilities. This table shows the average daily dollar trading volume for each fund.
ETFs listed in the coverage chart are: IWC, IWM, IWR, XLG, IWL, IWB, IWV, TMW, ELR, EMM, DSC, VTI, NGC, VO, VB, SPY, IVV, MDY, IJR, OEF, VXF, WXSP.
Here is a chart showing the relative performance over the past year for several of these funds that span different portions of the market.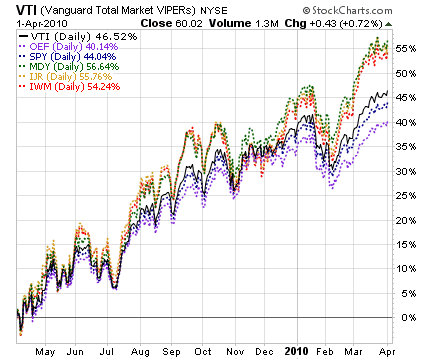 We would encourage you to use persistent percentage trailing stop loss orders with each position. Because stop loss orders execute as market orders when triggered, we encourage you to consider the average daily trading volume as a key measure of liquidity for exiting on market orders.
You should be concerned about any position that is more than 1% of average daily trading volume at the very most. A lower percentage is better.
Holdings Disclosure:
As of April 2, 2010, we hold VTI, SPY, MDY, and IWM in some, but not all managed accounts, and not necessarily all in any single account. We do not have current positions in any other securities discussed in this document in any managed account.
Disclaimer:
Opinions expressed in this material and our disclosed positions are as of April 2, 2010. Our opinions and positions may change as subsequent conditions vary. We are a fee-only investment advisor, and are compensated only by our clients. We do not sell securities, and do not receive any form of revenue or incentive from any source other than directly from clients. We are not affiliated with any securities dealer, any fund, any fund sponsor or any company issuer of any security. All of our published material is for informational purposes only, and is not personal investment advice to any specific person for any particular purpose. We utilize information sources that we believe to be reliable, but do not warrant the accuracy of those sources or our analysis. Past performance is no guarantee of future performance, and there is no guarantee that any forecast will come to pass. Do not rely solely on this material when making an investment decision. Other factors may be important too. Investment involves risks of loss of capital. Consider seeking professional advice before implementing your portfolio ideas.