You can own the full exposure to 98% or more of the US stock market capitalization range with a single index fund such as IWV or VTI. Alternatively, you can own virtually that same exposure with a non-overlapping group of funds such as SPY, MDY, IJR and IWM.
The benefit of the former is simplicity. The benefit of the latter is the ability to modulate exposure up and down the capitalization scale (and coincidentally achieve greater liquidity for those times that a timely exit may be needed).
We prefer using a group of funds to a using single fund. One of our preferred combinations is SPY, MDY, IJR and IWM. While all of the funds we've mentioned so far are optionable, only two (SPY and IWM) have the kind of options liquidity that would work for us. Sometimes we take in-the-money option positions in SPY or IWM instead of, or in addition to, the underlying funds, depending on the circumstances. That additional flexibility is another reason that we prefer to use a collection of funds, including SPY and IWM, for total US market capitalization exposure.
This chart below from our last post on US market segmentation by market-cap with ETFs suggests other combinations that are possible.
click image to enlarge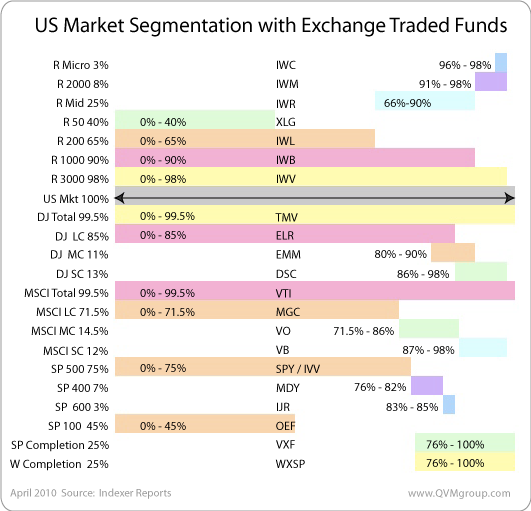 A simple 3-year weekly performance chart comparison shows that SPY achieved virtually the same result as the total market, as represented by VTI — presumably because of the extreme importance of the largest market-cap companies in both funds.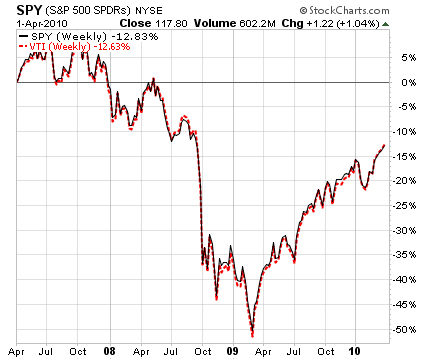 The lower market-cap funds (MDY, IJR and IWM), however performed significantly differently.
MDY, representing the mid-cap segment of the market, appears to have been the better performer over three years. As a matter of fact, MDY rather consistently outperforms SPY in most years. We think that is because mid-cap stocks are not yet so large that they have a hard time growing (and growth is a primary price driver for stocks), yet they have distinguished themselves from the vast bulk of small-cap companies — the broke out and achieved escape velocity from the pack.
Mid-cap stocks in MDY represent about 7% of the total market capitalization, whereas large-cap stocks in SPY represent about 75%. Small-cap stocks in IJR represent about 3% of market capitalization, and stocks with smaller capitalization in IWM represent about 8% of the market. Together they cover over 90% of the market capitalization.
We are inclined to underweight SPY, overweight MDY, and generally overweight IJR and/or IWM; although we are more likely to consistently overweight MDY than IJR or IWM. We think mid-caps are in more of a perennial sweet spot than small-caps. Sometimes we skip IJR in a move to reduce complexity, relying on SPY, MDY and IWM to do the job.
For our purposes, being able to modulate the weights between those funds is a superior alternative to being locked into a single market-cap spread of a single total market fund.
However, there are some accounts where a single fund makes more sense, such as ones with investment policies that limit the number of securities that may be owned, or that require the higher dividend yield of the large-cap range, among other reasons.
Holdings Disclosure:
As of April 2, 2010, we hold VTI, SPY, MDY, and IWM in some, but not all managed accounts, and not necessarily all in any single account. We do not have current positions in any other securities discussed in this document in any managed account.
Disclaimer:
Opinions expressed in this material and our disclosed positions are as of April 2, 2010. Our opinions and positions may change as subsequent conditions vary. We are a fee-only investment advisor, and are compensated only by our clients. We do not sell securities, and do not receive any form of revenue or incentive from any source other than directly from clients. We are not affiliated with any securities dealer, any fund, any fund sponsor or any company issuer of any security. All of our published material is for informational purposes only, and is not personal investment advice to any specific person for any particular purpose. We utilize information sources that we believe to be reliable, but do not warrant the accuracy of those sources or our analysis. Past performance is no guarantee of future performance, and there is no guarantee that any forecast will come to pass. Do not rely solely on this material when making an investment decision. Other factors may be important too. Investment involves risks of loss of capital. Consider seeking professional advice before implementing your portfolio ideas.