The past few months have seen a proliferation of yen bears as the USDJPY trekked higher. Most of this was based on the supposed monetary policy "differential" between the Fed and the Bank of Japan (BoJ). The former would be tapering and the latter would continue to print money forever more, so the USDJPY would be bullish, or so the logic goes. This article is an update on my view of the USDJPY.
Overwhelming market sentiment
Before this week, it was hard to find any yen bulls. A simple search reveals a treasure trove of yen bear statements, as per this Bloomberg article:
"The dollar touched the highest in more than six months versus the yen, as traders bet on diverging monetary policy between the U.S. and Japanese central bank..."
The Commitment of Traders also revealed the highest net speculator short in at least 5 years. This has often been a good contrarian indicator at extremes.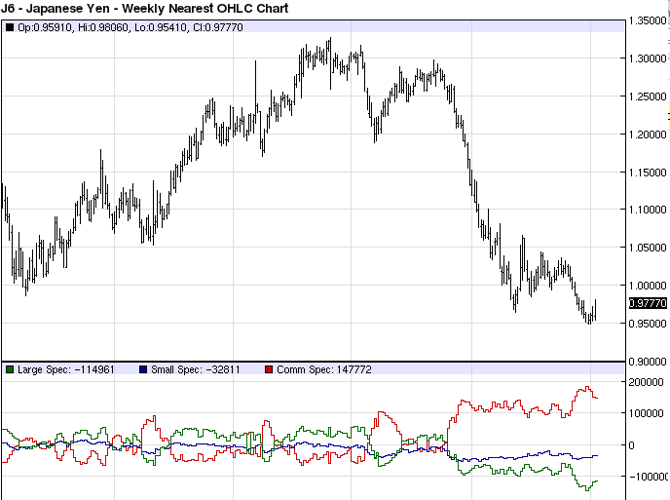 Source: BarChart.com
Shaky Argument
The tune sung before this week was something like this: Fed is going to exit printing, Japan isn't, so USDJPY should go up and up. However, this logic is fallacious. When there are few factors impacting the markets, we see US-Japanese yield differentials having high correlations with the USDJPY. But tapering itself became a catalyst for market uncertainties, especially in the emerging markets, which both increased risk aversion and decreased the US-Japanese yield differential.
There is also little proof that the BoJ will ease imminently, though it has declared it's prepared to do what's necessary. In fact, with the USDJPY up so much since last October (low around 97), one can argue the BoJ will be happy with verbal statements and little action.
News feeds also report that Treasury Secretary Lew mentioned pointedly that Japan can't rely on currency rates for economic advantage (unfortunately I was unable to find a better link source than zerohedge). Japan may have gotten away with the first round of devaluation as a growing Japan would be a net gain for other economies too, but any more rounds of devaluation would face stiff opposition internationally.
How Much Pain Can the Yen Bears Take?
We've barely scratched the surface of emerging market pain. Argentina's peso fell 14% in just two days after the central bank stopped intervening. Indonesia banned raw material exports for whatever esoteric reason. Bernanke will want to leave Yellen with the maximum room for maneuvering, so the Fed is likely to tone down the tapering and emphasize how gradual Qexit will be.
The yen will probably resume its role of safe haven currency as long as the BoJ hesitates to print even more money. Just a week or two of panic USDJPY selling could trip all the stops down to 90 and clean out all the leveraged longs.
For the big picture, I'm still sticking to my 3 stage thesis. For the next few months, I expect some relief in the immediate future as the Fed gets more concerned and the BoJ talks about action. Then a few waves of panic selling and USDJPY (NYSEARCA:FXY) falls to around 90. That will, ironically, trigger the BoJ into action, so some sort of expanded easing/intervention will be adopted. After emerging markets calm down in a few months or a year, the USDJPY will resume its uptrend since with anemic global growth, Japanese economic growth will be ever more reliant on an easy money policy and an asset boom.
Disclosure: I have no positions in any stocks mentioned, but may initiate a long position in FXY, over the next 72 hours. I am looking to go short USDJPY on a bounce at around 104/105. I wrote this article myself, and it expresses my own opinions. I am not receiving compensation for it (other than from Seeking Alpha). I have no business relationship with any company whose stock is mentioned in this article.