After the close on Tuesday February 5th , Pandora Media (NYSE:P) will be reporting a 2-month stub financials for November-December 2013 caused by a switch to calendar quarter reporting. They are also likely to offer EPS guidance for calendar 2014.
In its 3Q2013 conference call, guidance for this 2-month stub was $132 to $136 Million in non-GAAP revenue and $.05 to $.07 non-GAAP EPS. For CY2014, Wall Street pegs GAAP EPS around $.26 a share. Our modeling of Pandora's P&L indicates that the November-December 2013 financials will be at the high end of guidance, but not more.
The key metric to look for on February 5th, and going forward, will be continued acceleration in the rate of ad monetization, as measured by YOY growth in ad revenue $s per 1,000 listener-hours (RPM).
Specifically, we believe that Pandora's management needs to report a minimum of $36 in GAAP ad revenue per 1,000 listener-hours for this 2 month stub period to avoid any doubt of a topping out of their monetization efforts. The $36 in ad revenue per 1,000 listener-hours represents a $6.30 YOY growth in improvement from third calendar quarter's YOY growth of $5.90. (See this hyperlink to Pandora's quarterly financials restated to a calendar year basis for the last 11 quarters)
On the other hand, Pandora has already reported a deceleration in usage for the past two months, as measured by YOY growth in billions of listener-hours. This is not some new trend and, and in our opinion, should not have a material affect on management guidance, Wall Street EPS estimates, or the price of Pandora's stock. The trend had no effect on the stock the last month and a half.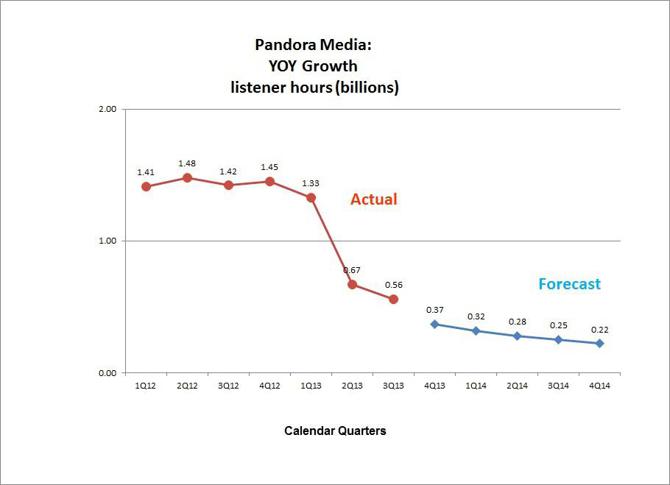 This deceleration in usage (see graph above) began is in earnest in calendar 3Q2013, before Apple's iTune radio roll-out. Further, deceleration in 2014 is to be expected given new roll-outs by Google, Spotify, and Beats by Dr. Dre. Nevertheless, our model indicates that Pandora will exceed Wall Street forecasts as long a they continue to accelerate monetization.
Investors should no longer be all that concerned about monthly disclosures of usage. In fact, we would recommend to Pandora's management that they stop monthly disclosures of active listeners (worthless anyway) and listener-hours (obviously decelerating).
Instead, investors should be keyed to disclosures of ad revenue $s per 1,000 listener-hour and should calculate YOY differences in this metric for the current quarter and compare it with YOY differences for the prior quarter.
The slightest hint of a stall in this metric should cause Pandora's stock to crash as its forward P/E ratio of 100+ is based on the prospect of accelerating monetization.
Below is a graph of two different 2014 scenario for Pandora's YOY growth in ad $s per 1,000 listener hours and the resulting GAAP EPS forecasted by our model. To beat guidance and Wall Street estimates of EPS, Pandora must accelerate monetization.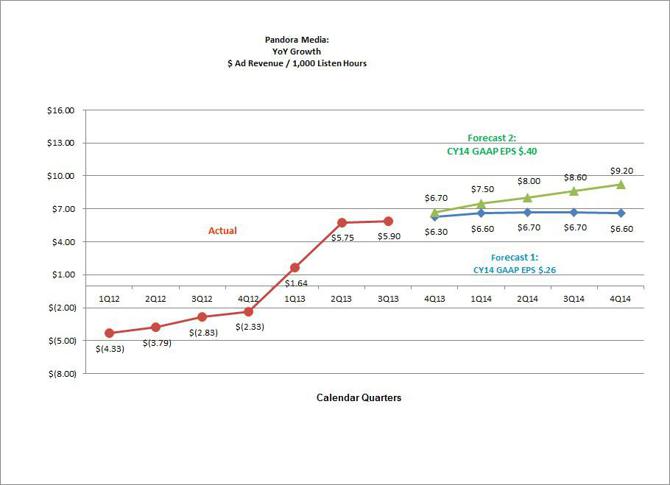 Disclosure: I have no positions in any stocks mentioned, and no plans to initiate any positions within the next 72 hours. I wrote this article myself, and it expresses my own opinions. I am not receiving compensation for it (other than from Seeking Alpha). I have no business relationship with any company whose stock is mentioned in this article.