In our last two articles (first, second), we discussed different ways to achieve total US stock market exposure. In this article, we discuss alternate ways to achieve S&P500 exposure. In addition to the traditional market-cap weighted S&P 500 exchange traded funds (SPY and IVV) and several mutual funds (VFINX, for example), it is possible to own all of the S&P 500 stocks other interesting ways:
It's a bit surprising that there is not a dividends weighted version of the S&P 500. The closest thing to that is the WisdomTree large-cap dividend fund (NYSEARCA:DLN), but is it not of the S&P.
Relative Performance:
Looking at the four alternative funds for the past 9 months (the longest time they have all been available for investment), the equal stocks weighted portfolio (RSP) did the best, followed not far behind by the revenue weighted portfolio (RWL). The earnings weighted (EPS) and equal sector weighted (EQL) portfolios essentially matched the traditional index. We find that also a bit surprising, but a fact is a fact. Perhaps the longer term will show more differences.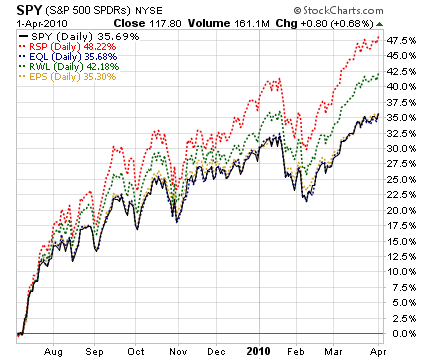 Taking a somewhat longer view using a 3-year weekly chart, we see that RSP under-performed SPY in the down period and out-performed in the up period. That is not surprising. SPY favors larger capitalization companies, while RSP provides more weight to the smaller capitalization companies within the S&P 500. Investors tend to flock to larger "higher quality", well established companies in deteriorating times and to take flyers on lower quality, less established companies in improving times.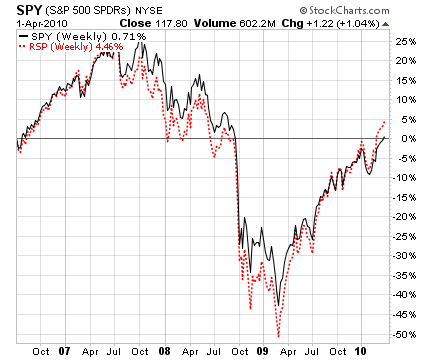 Fundamentals for the Equal Weighted ETF:
How does RSP look from a fundamental perspective? Here are some portfolio attribute comparisons between SPY and RSP that basically suggest to us the the smaller capitalization stocks in the S&P 500 that are driving RSP ahead of SPY, don't deserve the extra valuation at this time:
PEttm: 21.1 / 28.6
PEcurrent: 18.0 / 19.7
P/S: 2.5 2.2
P/B: 3.5 / 5.2
P/CF: 14.8 / 20.8
P/TBV: 6.3 / -5.3
Yield: 2.3 / 1.7
Yield 5 yr av: 2.1 / 2.4
Div 5 yr av growth: 4.9 / 5.1
Payout Ratio: 31 / 79
Operating Margin: 17.3 / 5.5
Operating Margin 5 yr average: 18.5 / 14.9
ROE: 18.1 / 13.2
ROE 5 yr average: 20.2 / 15.8
Current Ratio: 1.4 / 1.9
LTD/Equity: 0.6 / 0.8
Sales growth 1 year: -4.1 / -4.7
Sales growth 5 years: 9.9 / 9.6
Earnings growth 1 year: 5.5 / 0.3
Earnings growth 5 years: 11.6 / 4.7
Holdings Disclosure:
As of April 2, 2010, we hold SPY in some, but not all managed accounts, and not necessarily all in any single account. We do not have current positions in any other securities discussed in this document in any managed account.
Disclaimer:
Opinions expressed in this material and our disclosed positions are as of April 2, 2010. Our opinions and positions may change as subsequent conditions vary. We are a fee-only investment advisor, and are compensated only by our clients. We do not sell securities, and do not receive any form of revenue or incentive from any source other than directly from clients. We are not affiliated with any securities dealer, any fund, any fund sponsor or any company issuer of any security. All of our published material is for informational purposes only, and is not personal investment advice to any specific person for any particular purpose. We utilize information sources that we believe to be reliable, but do not warrant the accuracy of those sources or our analysis. Past performance is no guarantee of future performance, and there is no guarantee that any forecast will come to pass. Do not rely solely on this material when making an investment decision. Other factors may be important too. Investment involves risks of loss of capital. Consider seeking professional advice before implementing your portfolio ideas.