Deutsche Bank recently came out with a downgrade on Arm Holdings (NASDAQ:ARMH) due to its recent run up in stock price.
Last month DB upgraded the stock (from 200p to 220p), and since it has reached the target it was downgraded. So while I understand the reason for it, what I am anticipating, and I may be wrong, is that ARMH will run as Apple's (NASDAQ:AAPL) iPad sales ramp up. ARMH has not stated how many microprocessors it has in the iPad, but I think they will include at least four MPUs.
Company Overview
Arm Holdings (ARMH) is a British microprocessor firm that was formed in 1990 when Advanced RISC Machines was spun off from another company and formed a joint venture with Apple. This was done at the time to develop a microprocessor for Apple and it was the beginning of ARM's strategy of designing the microprocessors for OEMs like Apple (see here), essentially developing the technology, but not manufacturing it.
Since then, they have designed microprocessors for devices that would need to consume low power in exchange for sacrificing some capabilities (multitasking). These designs give ARM the right to hold onto the intellectual property (IP) and license it out to other customers.
Business Model
ARM operates in three business models:
Processor Division (69% rev),
Device System & Services (16%), Physical IP Division (15%)
Processor Division
The Processor Division works in mobile, non-mobile, smartcards, and digital set-top boxes. It has its MPUs in devices such as the Palm Pre (PALM), Apple iPhone, Amazon Kindle2 (NASDAQ:AMZN), Dell Notebook (NASDAQ:DELL), Google Nexus One (NASDAQ:GOOG), and many others. In fact, the average handset phone has an average of 2.1 ARM processors. As handset phones become more complex (i.e. smartphones), this number jumps to four. ARM states that as devices get more complex the opportunity for more processors increases (think netbooks).
When you look at the total available microprocessor chips in mobile and non-mobile devices in the table below, what jumps out is that ARM has 75%-85% of the microprocessor market in mobile applications except for 'computing' (application processors only).
These chips include:
Bluetooth chip: ARM 7, Cortex M3. Broadcom (BRCM) licenses ARM technology for these chips. Broadcom has significant market share in the Bluetooth space.
Wifi: ARM has 70% of the wifi chip market according to Benchmark Capital.
Touchscreen: The ARM Cortex-M0 processor is:
Rhe smallest, lowest power and most energy-efficient ARM processor available. The exceptionally small silicon area, low power and minimal code footprint of the processor enables developers to achieve 32-bit performance at an 8-bit price point, bypassing the step to 16-bit devices…
Meaning if you want a long battery life on a touchscreen, get the Cortex M0.
There are numerous other chips one could discuss, but the point is – most, if not all, smartphones have an ARM chip in them.
click to enlarge images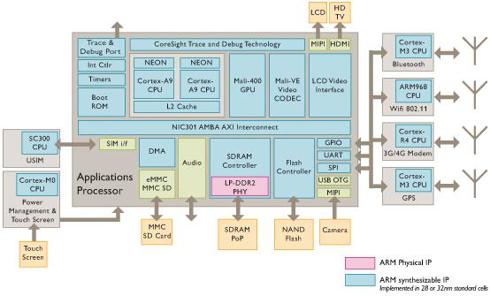 Source: Company website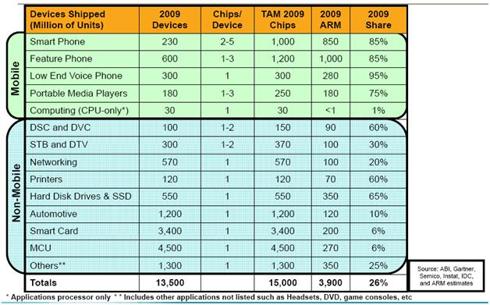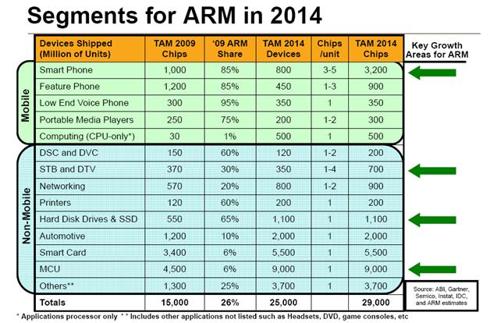 Source: Corporate presentation
New Opportunities for Growth
Smartcards
When it comes to smartcards, Infineon (OTCQX:IFNNY) will use ARM technology in their smartcards for the first time. Infineon has about 25% of the smartcard market and with this being the beginning of the partnership, ARM has an opportunity to increase its market share from 5% (I'm projecting 15% in line with its latest projections).
Set-top boxes
ARM has stated that ST Microelectronics (NYSE:STM) will be using ARM based chips in their next gen set-top boxes. Broadcom is in the set top box business as well and with ARM's relationship and migration into this space, it could be a catalyst to move the stock in the second half of 2010.
Other opportunities
ARM is projecting the hard disk opportunity to be about 10 billion MCUs by 2014 in terms of their royalties from this segment in 2009 which were up about 20% YoY (source: corporate presentation).
Mobile computing
ARM has microprocessors in devices such as the Kindle2, Skiff Reader, and other netbooks. Below is an interview conducted by CNBC Europe with Warren East (CEO) regarding the rumors about ARM chips in the Apple iPad:
Anna Edwards - CNBC:
You seem to have a strong relationship with Apple and they seem to still be able to turn out products that people want to buy. I have to ask you about the iPad. It's been all over the wires that your chips have been spotted in there. What can you tell us about your relationship there and how much that's contributing to your performance?
Warren East:

Well I'm actually not going to talk specifically about Apple. What they've done over the last week is introduce a new product category which we see as a great opportunity. The whole mobile computing, internet connected devices area is an area of huge growth potential for us over the next three to five years.
Recall that ARM was a company that was formed with the help of Apple; their relationship goes back to the early 1990s. I get the feeling there will be four of five chips in the iPad, and although it may not be acceptable for Deutsche Bank to guess how many chips the iPad will have, I feel fine saying that I'm guessing that they will have at least four.
According to another analyst report, ARM generates 1% of the retail price of the device as royalty. With the iPad coming out at $500 and sales projections for 2010 to be about 7 million…..one could surmise that ARM could pop soon. The stock seems expensive currently, yet I get the feeling it has room to still go if one adds in iPad revenue.
Why the Downgrade
As stated earlier, DB thinks the stock is fairly valued at ~$10.50 (price target 230p), and currency movements have pushed their EPS higher, yet they have downgraded it because they feel that their bull case for ARM to get HDD, set-top boxes, and other non-mobile royalty fees is in line. I am not sure if they have included the iPad in their valuation, but I can't imagine that it is:

Risks
Intel: Intel's (NASDAQ:INTC) Atom chip is designed for netbooks and this is a space where the two firms will eventually meet up. Intel has the high end market cornered, and ARM has the low power/low end market cornered. Intel most likely will not be able to compete with ARM in the smart phone space, in my opinion (as well as others). A PhD in Electrical Engineering who has a startup in the MPU space told me last month, "Intel cannot touch ARM in the smart phone market – and neither can Qualcomm (NASDAQ:QCOM) for that matter".
Currency: The company is based in England and generates about 60% of its revenue from the U.S. They have currency hedges in place, but GBP strength in the fx markets will hurt ARM's bottom line.
No iPad chips: Saying iPad chips sounds funny to me, but if ARM does not have any iPad chips then it would be a surprise.
Current price: At a P/E of 77 the stock does seem pricey, but when AMZN was at $90 and the Kindle was announced I felt AMZN (P/E then of 68) was pricey. I'm not all too comfortable with putting my overall buy/sell judgment on the P/E of a tech stock.
Oh, one more thing: Since ARM can generate revenue not only from selling its designs, but from licensing out the designs to other vendors, it thus has gross margins in the 90% range.
Valuation
This was a rough DCF I put together. Essentially what I did was include and remove iPad sales from the top line sales projections to see how ARM was valued. I am using a fx rate of 1.5/1 (constant), WACC of 9%, and a terminal growth rate of 4%. In addition I googled iPad sales and came up with 7M in 2010 and used 10M in 2011 with a 10% growth rate. I also used $500 for 2010 and $400 thereafter. Assuming 4 ARM chips at a 1% chip retail price, I got a target price of $14-$16. Oh, I also used a 20x multiple since I read somewhere that semis have historically been around 20x. I'd like to do a more thorough DCF but I wanted to get feedback on this article from the Seekin Alpha community, as well (good or bad, as long as it helps).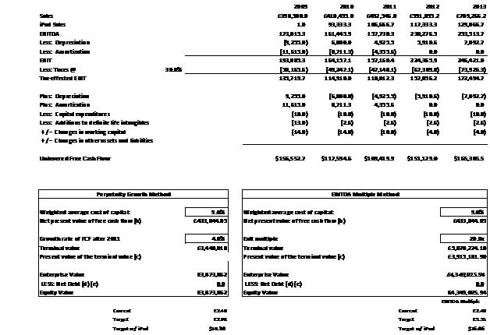 Institutional Holders
Looking at funds that held at least 0.5% per their Q4 (12/31/09) filings via FactSet, almost all of the firms added to their positions. Net positions were negative 3 million amongst the total filers, but the firms who held large positions essentially were adding to their positions. Q1 reports are now coming out so it will be interesting to see if any are still loading up on ARM.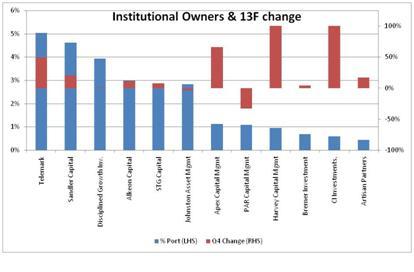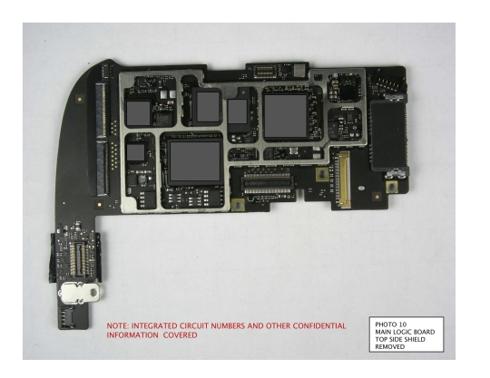 Source: Cnet
Conclusion
I am following ARMH and will buy on weakness
Disclosure: No positions yet