Old School Value Stock Portfolio Performance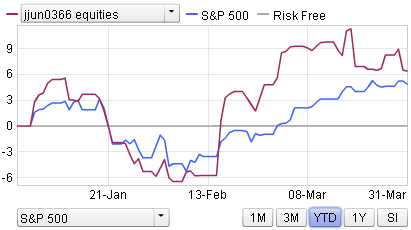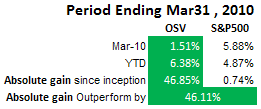 Portfolio Performance
Slow month in March despite the market run up. Seems like the market is running up on anything these days.
My portfolio was up 1.51% compared to 5.88% for the market. The Russell 2000 index rose 7.97% in March.
Q1 performance shows that I am just slightly ahead at this point but on an absolute basis, I am beating the market by 46% since inception.
Throughout March, I spent most of the time upgrading spreadsheets and working on Old School Value. This site is going through some growing pains at the moment and the lack of time committed to research is beginning to show. I missed out on several opportunities and for a couple, I didn't have the conviction to invest, resulting in big misses.
Portfolio Movers
Gen Growth Prop (GGP: 15.95 -0.87%) is the biggest position of my portfolio. It has grown to about 30% now. With the downside clearly limited at $15 with all the buyout offers and news, GGP has plenty of upside as its reorganization plans become clearer. It will also help other competitors to assess the attractiveness of GGP's properties.
My second biggest holding, ValueVision Media (VVTV: 3.44 +3.61%), didn't fare so well. Down about 20% for the month and about -35% for the year. Q4 results were released and the numbers weren't impressive. Given that Q4 is supposed to be the most profitable quarter of the year, VVTV still ended up with a loss. Had hopes going into earnings based on how brilliant HSN has been performing but it hasn't translated to the financial statements yet.
I was deciding whether to sell at a very respectable profit of over 900% but I'll be giving VVTV another year or so. Also check out the following story on the current VVTV strategy and team.
Insmed (INSM: 1.12 -4.27%) is up slightly this month but is up 40% or so YTD. I've written plenty about INSM and you can read my latest on INSM Q4 results.
Gravity (GRVY: 1.98 +8.79%) is flat in March but up 20% YTD. Great potential with this one. The market has severely mispriced GRVY. One of the best stocks under $2.
Servotronics (SVT: 8.45 +2.92%) is down 20% YTD after a sell off following Q4 results. The sell off occurred on low volume so I suspect impatient investors sold out. None of the institutions knows about SVT so I'm not worried at all. The annual report showed that SVT is operating well, despite some rising costs, but demand for the product is still there and their government contract looks healthy.
Portfolio Trades
This month, I would have ended with zero trades had it not been for some new areas that I'm really getting into now.
Special situations with bankruptcies. Don't let "special situations" and "bankruptcy" scare you off. I'll get to that in a second.
1. Bought more INSM
My original allocation was 3% when I first started buying, but as I learned more about the business and the role of IPLEX and the potential, my position increased slowly to my 7% allocation. Won't be adding for a while.
2. Bought Citadel [CTDBQ.OB] and sold it at a 10% loss
Remember how I was real big on media stocks and especially radio stocks? Well, since last year, I've had a list of radio stocks and Citadel Broadcasting was on the list. In March they entered Ch11 but like most radio companies, they are making money and generating cash. They just had a hard time getting credit to extend existing loans.
Well, I bought a very small amount and sold after I read in the reorganization plan that common shareholders will be wiped out. So in the heat of the moment, I frantically sold off and locked in a 10% loss.
The mistake isn't that I sold at a loss. My mistake is that I didn't dig deeper and look at who the stakeholders are. A couple of days after I sold, it seems like big institutions saw what I did but had the guts to start loading up. Up 100% since my buy price within a week.
3. Bought Regent [RGCIQ.PK]
Bought RGCIQ on the same day as CTDBQ. This one is a little different where the downside is clearly written down on paper.
All common shares will receive 12.8c in cash. My initial purchase was made at just under 12c which guaranteed a profit even at the worst scenario.
It then traded down to 10c. You could have made an easy 20% on this spread.
I purposely mentioned all this only in the forum under the RGCIQ bankruptcy discussion as I didn't want prices to be pushed up. You can read all the details and how great the opportunity was, maybe still is, from the forum. I'll write a formal post on this next week or so.
Disclosure: I own all stocks mentioned except sold positions.