The purpose of this article is to point out the lack of impact the Apple (NASDAQ:AAPL) iPhone will have on the share price of both AT&T (NYSE:T) and Verizon (NYSE:VZ). This article makes no attempt to argue the finer points of the financial gains and loses that are made to each company in terms of revenue, profit margins, net income, etc., etc... As Dow theorists, we believe that the change in the stock price reflects all current and foreseeable information. For this reason, when we invest, we're primarily concerned with how all the good and bad news about a company is translated into the movement of the stock price. After all, it is the consistency of the dividend and the appreciation of the stock price that we're seeking.
In the charts below (click to enlarge images), I have compared the price performance of AT&T (red line) and Verizon (blue line) and determined what, if any, difference in the change of price occurred before and after the introduction of Apple's iPhone.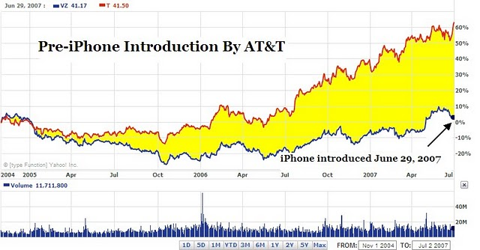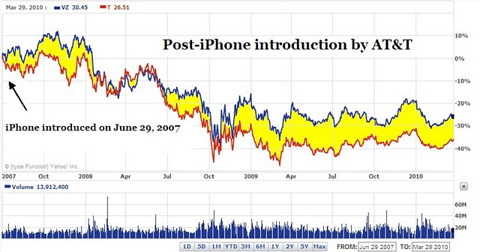 By some accounts, we could say that the rise in AT&T's stock price before the iPhone was due to the anticipation of the iPhone becoming a part of the stable of products that was being offered (buy the rumor, sell the news). However, the rumor mill really started churning in late 2006, at a time when AT&T had already gained a 22% difference in stock price from the October 2005 low for both T and VZ.
Historically, T has typically been the stock to rise and fall by a greater magnitude than VZ. This means that as the decline from October 2007 took place, it was expected that the decline would greater in T and smaller in VZ. Because the stocks have similar movement in price pattern at approximately the same time, you can do a comparison with any major peak or trough to come to the same conclusion (try it here.)
The take away from this piece should be that if you're nervous about large moves down, then you should start researching VZ to see if it is the right investment for you. On the other hand, if you don't mind wide swings down with greater potential for large gains, as compared to Verizon, then AT&T might be the better choice. However, in terms of the impact that the iPhone might have on the prospects of either company, there isn't much of a difference.
Disclosure: Author holds a long position in T