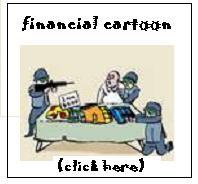 Outlook: The holiday shortened week produced further evidence ranging from improved consumer sentiment, the U.S. manufacturing index and payrolls of a slowly improving economy. Cracks in the fixed-income markets are becoming palpable with rising rates, sloppy auctions and concerns regarding the US mortgage markets—ranging from the Fed's withdrawal to the resolution of its GSE's. The "sucking sounds" you're hearing will not be coming from Mexico but from the fixed-income markets as they gush towards equities.
CEF Weekly Review: The 13 closed-end fund (CEF) types on average posted a 0.8% increase for the week ending 4/2/10. The high-low spread was 2.7% vs. 2.0% last week. On an aggregate, unweighted basis the weekly average price change for the 500 plus CEFs was up 0.8%.
The PowerShares CEF Income Composite (NYSEARCA:PCEF), an ETF that invests in taxable income CEFs, advanced 0.6% for the week. The S&P 500 increased 1.0% for the week; up 5.6% YTD.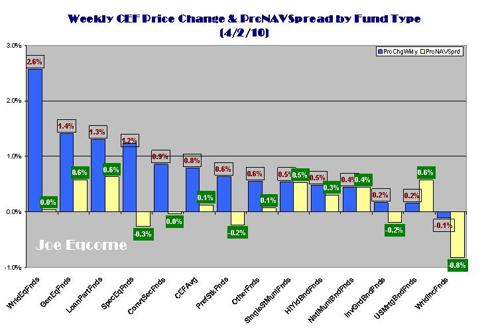 (Click here [ii] for YTD CEF Performance. The table is based on a smaller CEF sample size as all the data fields are not available for the CEF universe.)
The Eqcome CEF Fear Index further eased for the week with the average price advancing 0.8% versus a 0.6% increase in the NAV. The CBOE Volatility Index (VIX), which typically moves inversely with the stock market—but is mostly a measure of volatility—was off 1.7%. It continues to hug its 52 week low.
The S&P 500 average daily trading volume fell 5.7% from the previous week to 4.238 billion shares.
CEF Weekly Fund Type Performance: Fund type performance reflected the up-beat mood of equity investors and the growing anxiety of fixed-income investors. This was most evident in WrldEqFnds and WrldIncFnds being the best and worst performers, respectively. The global aspect of these fund types was "drown-out" by their respective investment characteristics. This was also true of HiYldBndFnds poor performance; it traded more on its fixed-income characteristics than its equity risk profile.
USMrtgBndFnds performance faltered this week after sustaining several weeks of superior price performance. It will be interesting to see if the demand of private buyers pick up the Fed's slack as the Fed becomes a net seller of its $1.25 trillion mortgage backed securities portfolio. InvGrdBndFnds appeared impacted by rise in the 10-year Treasury note's yield—now approaching the 4% psychological "sound barrier".
The PrcNAVSprds [1], which typically move in the direction of stock prices, registered several exceptions which included: SpecEqFnds, PrefStkFnds, InvGrdBndFnds and WrldIncFnds. In all these cases, it reflected the fund type's average price under-performance relative to its respective NAV.
In the case of SpecEqFnds, two utility CEFs (GUT and UTG) experienced sizable price declines despite an increase in their respective NAVs. It seems investors have abandoned utilities seeking other sectors with greater capital appreciation potential. This is a confirmed trend in related ETFs.
CEF Winners and Losers: One of the CEFs with the greatest positive PrcNAVSprd for the week was Nuveen Tax-Advantaged Floating Rate Fund (NYSEMKT:JFP). JFP price appreciated 7.7% while its NAV declined 0.9% generating a positive PrcNAVSprd of 8.6%. The price increase makes sense as it addresses two investors' most recent concerns: 1) rising interest rates' impact on fixed-income investments; 2) rising taxes rates. JFP is a very small fund with only $31 million in net total assets. Despite its small size, it has a 3 month trailing average daily trading volume of 99,000 shares. It's annualized monthly distribution rate is 8.1% and is trading at par.
This week's CEF with the one of greatest negative PrcNAVSprd was Pimco Strategic Global Government Fund (NYSE:RCS). RCS share price declined 5.1% and its NAV advanced 0.4% generating a 5.5% decline. RCS's price swoon is similar to another Pimco fund (NYSE:PFL) that preceded what was a yet unannounced rights offering. Stay tuned.
Economic & Earnings Outlook: (Click here [iii] for next week's economic calendar; click here [iv] for earnings announcements and estimates.)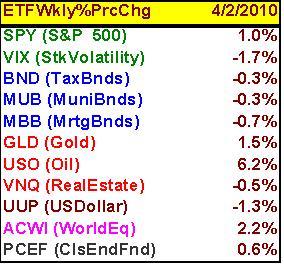 ETFs: (Click here [v] for ETF YTD sector performance.)
Insider Trading: There was no CEF insider trading for the holiday-shortened week. (Click here for a hyperlink to the Joe Eqcome CEF Weekly Insider Report.)
CEF Distribution Announcements This Week: The following is a link to a table of CEF distribution announcements this week as well as the previous week's with yet expired ex-dividend dates. The list is not intended to be inclusive. (Click here for Weekly CEF Distribution Announcements.)
Significant CEF Corporate Events: The investment manager, Aberdeen Asset Management PLC, is rebranding five of the CEFs it manages by essentially dropping "The" or "The First" in its name and replacing it with "Aberdeen". Those CEFs include The Chile Fund (NYSEMKT:CH), The Emerging Markets Telecommunications Fund (ETF), The First Israel Fund (NYSEMKT:ISL), The Indonesia Fund (NYSEMKT:IF) and The Latin America Equity Fund (NYSEMKT:LAQ). The Funds' respective investment objectives and ticker symbols remain unchanged.
Karpus Investment Management ("Karpus"), a shareholder of Putnam Municipal Opportunities Trust (PMO), announces that Institutional Shareholder Services Inc. ("ISS"), a leading provider of voting advisory services to institutional investors world-wide, recommends that its preferred shareholder clients vote on the GREEN proxy card FOR Karpus' slate of nominees and FOR Karpus' proposal to convert PMO to an open-end format.
Kayne Anderson Energy Development Company (NYSE:KED) announced this week that it entered into a new $70 million senior secured revolving credit facility with a syndicate of lenders led by SunTrust Robinson Humphrey, Inc. The Facility is a three year commitment maturing on March 30, 2013. As of March 30, 2010, the Company has $55 million in borrowings outstanding under the Facility. Outstanding loan balances will accrue interest daily at a rate equal to LIBOR plus 2.00% based on the current borrowings and the current borrowing base. If borrowings exceed the borrowing base attributable to "quoted" securities (generally defined as equity investments in public MLPs and investments in bank debt and high yield bonds which are traded), the interest rate will increase to LIBOR plus 3.00%.
CEFs Focus for the Week: None.
Eqcome CEF Index Adjustment: The Eqcome CEF Index ("Index") has been historically adjusted for the merger of Cohen & Steers REIT and Utility Income Fund (RTU) merged into Cohen & Steers Infrastructure Fund (NYSE:UTF). (Click here [vi] for the adjusted Index numbers.)
[1] A positive PrcNAVSprd can be interpreted as negative because it typically signals a share price movement less favorable than the NAV. All things being equal, price and NAV should move in tandem. A price movement greater than the NAV may indicate the stock is overvalued relative to its NAV which in theory is the stock's intrinsic value. The opposite would be true for a negative PrcNAVSprd.
Disclosure: Author owns a diversfied porfolio of CEFs
---