Stratasys (NASDAQ:SSYS) released mixed FY2014 earnings and revenue guidance on January 14. Non-GAAP earnings guidance was below estimates, while revenue forecast was ahead of analyst expectations. I believe that the emphasis should be on revenue guidance, since the company is in an expansionary phase, and aims to invest aggressively to increase adoption of 3D printing and additive manufacturing, expand product offerings and exploit the rising opportunities in the industrial and consumer markets. At the same time, investors seem to have set the bar much higher for Stratasys, given the market reaction to the guidance. 3D Systems was also down, as investors react to Stratasys' announcement, and as valuation concerns emerge again. The expectations might be readjusted in 2014, especially considering the duration of this bull market and the recent selloff.
Guidance disappoints the market
Stratasys provided 2014 guidance, and the non-GAAP earnings guidance range of $2.15 to $2.25, fell short of analyst estimates of $2.33. Stratasys intends to invest aggressively to "address a full spectrum of opportunities by providing solutions that help foster innovation, accelerate design processes, and transform the way things are made". I believe that the focus should be on revenue and the company's plans going forward, and both are quite positive and optimistic. Full-year revenue forecast between $660 million and $680 million is above analyst estimates of $656 million. This translates into 37% to 41% increase over the expected 2013 revenue. The company is also actively evaluating new acquisitions, and will continue to aggressively invest in sales, marketing and R&D. Potential new acquisitions will likely result in higher future growth expectations, and I expect that Stratasys will easily deliver above its initial expectations. As a reminder, Stratasys' initial 2013 revenue and non-GAAP earnings guidance was $430 million to $450 million and $1.80 to $1.95 respectively. The company is on track to report 2013 revenue of $481 million and non-GAAP earnings of $1.83.
Stratasys expects operating margins to remain consistent with 2013 levels, mainly because of MakerBot, which has lower operating margins than the other segments of the company, which are expected to expand margins and offset MakerBot's lower margins. At the same time, MakerBot is one of the brightest spots, which was acquired in August of 2013, and is exceeding management's expectations, and is on track to be accretive to the company's earnings by the end of the year. The consumer segment is clearly the focus of attention of both Stratasys and 3D Systems (NYSE:DDD), since both companies are aggressively rolling out consumer products, as evidenced at the international CES in Las Vegas in early January. MakerBot announced three new MakerBot desktop 3D printers, MakerBot Desktop and Mobile, MakerBot PrintShop and Digital Store and a strategic partnership with 3D vision company SoftKinetic. 3D Systems was also very consumer orientated lately, with numerous product and services announcements.
Valuation concerns
Stratasys, 3D Systems and other stocks in the 3D printing space have advanced rapidly in last couple of years. They seem to be getting ahead of themselves, with their P/S ratios trading much higher. 3D Systems currently trades at a P/S ratio of 19, while Stratasys' ratio is at 15.3. Although the justifications for these ratios are rapid adoption of their products, innovation and growth acceleration, investors seem to have expected more from Stratasys, since both Stratasys and 3D Systems are trading lower after the announcement, and after the recent general market selloff.
I believe that although valuations are stretched at the moment, they can be brought down by higher growth levels in the coming years. If 3D Systems and Stratasys can deliver revenue growth above 30% in the next couple of years, their current prices are not excessive, but they are vulnerable to a pullback right now, since expectations are running high, and they need to deliver. A prolonged selloff might bring a more attractive buying opportunity. It is also worthy of note that both stocks could suffer if the general market turns sharply lower, which has not been the case in the last two years. I expect that 3D Systems will be more vulnerable than Stratasys if a meaningful correction occurs; at least until their respective P/S ratios fill the gap. However, the long-term prospects of both companies are very bright, and they will benefit from greater adoption of their products and as they penetrate new markets and new verticals.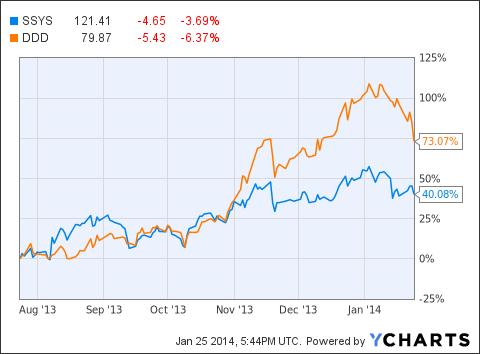 SSYS data by YCharts
Conclusion
While the market is not satisfied with Stratasys' guidance I believe that there are more positives than negatives. MakerBot's strength, revenue forecast above analyst estimates and aggressive investments in sales, marketing and R&D are very positive, and the lower earnings forecast is a sacrifice for long-term growth. A wait-and-see approach is warranted here, since momentum goes both ways, and I would not buy Stratasys at the moment. The general market selloff is also weighing down on Stratasys and 3D Systems, and we might get a better buying opportunity.
Disclosure: I have no positions in any stocks mentioned, and no plans to initiate any positions within the next 72 hours. I wrote this article myself, and it expresses my own opinions. I am not receiving compensation for it (other than from Seeking Alpha). I have no business relationship with any company whose stock is mentioned in this article.