Chesapeake Energy (NYSE:CHK) and Cabot Oil & Gas (NYSE:COG) are two exploration and production (E&P) stocks that are interesting plays off of rising production from shale projects in the U.S and recent increases in the price of natural gas. However, these two stories are very different. Cabot is a top-tier operator largely driven by its assets in the Marcellus shale. Chesapeake Energy on the other hand has operating metrics that rank it at the bottom of the shale E&Ps and it has diverse shale exposure. Earlier this week, on January 21st, the shares of Chesapeake were upgraded by SunTrust Robinson while Cabot Oil & Gas had Brean Capital trim estimates on Jan. 22nd.
Chesapeake Energy - Buy Case Driven by Operating Improvements along with Shale Exposure
Chesapeake Energy is the second largest natural gas E&P in the US and the eleventh largest liquids E&P. All of its assets are onshore within the continental United States. It has assets in the Marcellus shale, Utica, Eagle Ford among other regions. A map of its current assets is as follows.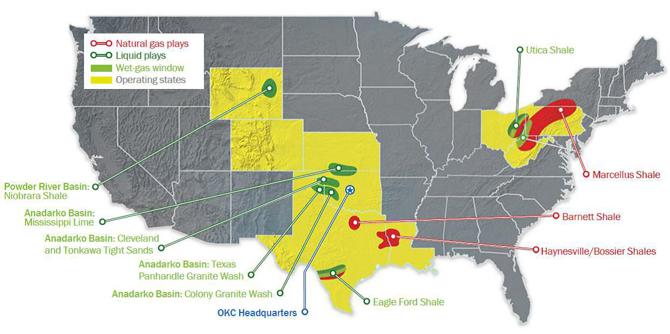 Click to enlarge
Source: CHK Company documents
Chesapeake has taken actions to reorganize and transform the company's operations. Over the past ten years, Chesapeake aggressively invested in production growth sometimes in assets with lower returns and annual capex significantly exceeding free cash flow. High debt levels and below average profitability resulted from its aggressive asset development, see below.

Click to enlarge
Source: Google Finance
The focus of the transformation at Chesapeake is profitable growth by focusing on improving core operations and FCF. It has sold non-core holdings, such as its Permian Basin assets in 2012, additional gas and processing assets were sold to SemGroup (NYSE:SEMG) in August 2013 and it sold its subsidiary Chaparral Energy earlier this month. Management states it will continue to sell non-core assets. This will improve focus on improving current operations and generate cash which can repay debt.
(Source for details on CHK and management targets for this section)
Management is also focused on diversifying its production by increasing its liquids exposure, largely NGL, whereas most of current production is dry gas. Along these lines, 86% of 2013 capex focused on liquids and 14% on dry gas versus 13% on liquids and 87% dry gas in 2008 with the shift towards liquids starting in 2010.
Management has set a target for Chesapeake to become a top-tier operator in the sector with top-quartile financial metrics. It is improving operations and profitability through cost cutting and new operational processes to get there. It will cut its workforce in E&P by 20%, in line with its goal of focusing on developing higher quality assets. As previously mentioned, it will match capex to cash flows to improve its balance sheet and achieve investment grade ratings.
Operational improvements are driven by optimizing the current base and reduced downtime of drilling and production assets. Well costs and fixed cost reductions should also lead to margin improvement. Specifically, management is reducing the cycle time from spud to TIL. Cycle times were eight months in 2013 and management has targeted improvement of 30-60% that will lead to better asset utilization. There is a 40% target for reduced rig count and for Chesapeake to become more efficient with equipment and crew deployment.
The two regions that will drive Chesapeake growth are Eagle Ford and Northern Marcellus. In Eagle Ford, Chesapeake has a 39% CAGR since 1Q 2011 with 10 rigs drilling. Management plans to increase this to 15 rigs in 2014. It plans to drill 85% of wells from existing pads versus 70% in 2014. This will reduce cycle times, cut costs and leave to improved margins and more rapid growth in production. Operations in Northern Marcellus will see similar efficiency efforts as it will drill over 80% of wells from existing pads versus 65%.
Chesapeake Energy Risk Level Indications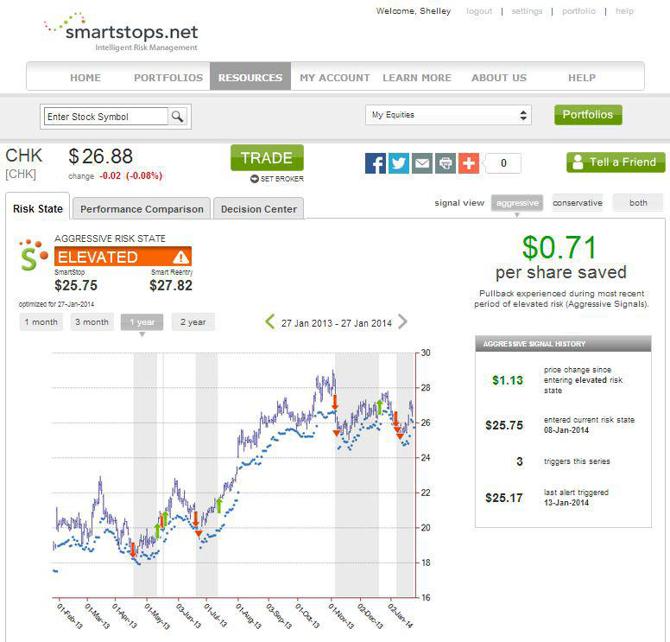 Click to enlarge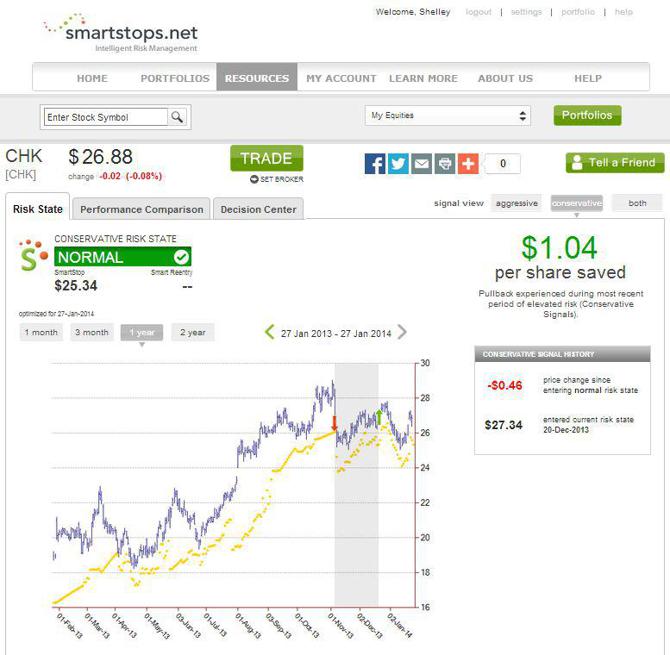 Click to enlarge
The risk levels for Chesapeake based on Smartstops' algorithms indicate it is in an elevated state based on the aggressive indicator. The aggressive risk state signals are designed for investors who want to actively and aggressively sidestep periods of elevated risk. That said, the risk level is in the normal state based on the conservative risk signals which are designed for more passive investors that will accept minor pullbacks but want to be alerted when significant elevated risk is detected. In terms of an entry point, the stock price has already benefited from some of the actions taken to improve operations. However, it is a long road for a bottom to top tier operator and there remains room for further appreciation if they can achieve top tier operating metrics. Continued success in its transformation will likely lead to multiple expansion behind an improved balance sheet and margins, and earnings growth that will drive the shares higher. However, the story is longer term and investors can acquire shares on dips or in times of reduced risk.
Cabot Oil & Gas - Operational Leader, Play on Utica Shale
Cabot Oil & Gas is the company that Chesapeake is trying to become, at least from an operational and financial perspective. It has higher quality assets mostly located in Marcellus share and some exposure to Eagle Ford. Cabot also has industry leading operating metrics and balance sheet, see below.
Source: Google Finance
Cabot's assets in Marcellus are among the best and achieve industry leading rates of return. The company also leads its peers in first and second year production, supporting the belief its assets and operations are best of breed. First year production exceed its closest peer by 76%.
The cost structure in the Marcellus are some of the lowest, with guidance for 2013 and 2014 of $1.37 and $1.21, respectively. Currently, this is over $3 below the February contract price on NYMEX.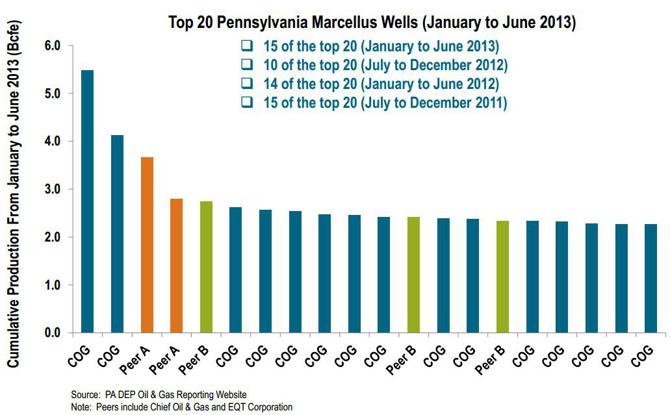 Click to enlarge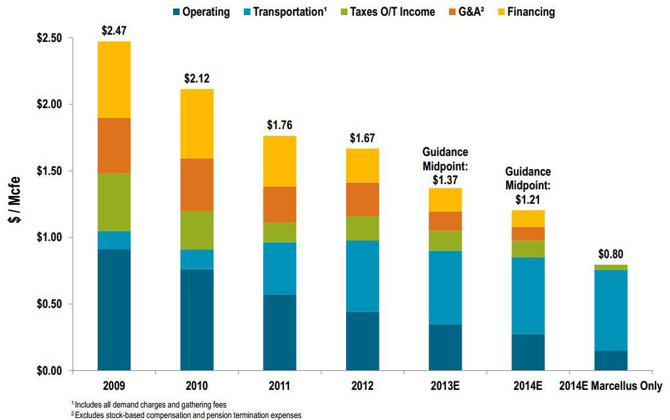 Click to enlarge
Source: Cabot O&G Company reports
Brean Capital recently cut 4Q forecasts for Cabot based on differentials coming in at the higher versus lower end of a $0.15 - $0.30 per Mcf range. A miss when it reports 4Q or cut to estimates could present a buying opportunity for a high quality company. There is also concern on the Street that Marcellus takeaway bottlenecks could get worse before they get better and act as a further headwind to growth. However, management does not see takeaway capacity as an issue through 2015 and believes the Constitution pipeline will address longer term concerns. Delays to this project that pushed it out from March 2015 to mid-year will not impact production according to management. That said, pipeline projects have frequent delays and a further pushback could impact EPS for 2016.
Capacity will continue to grow for Cabot (see below) and it continues to take actions to improve operations. For example, drilling days continue to fall and rig move days have fallen from 8.7 in 2011/2012 to 4.8 currently.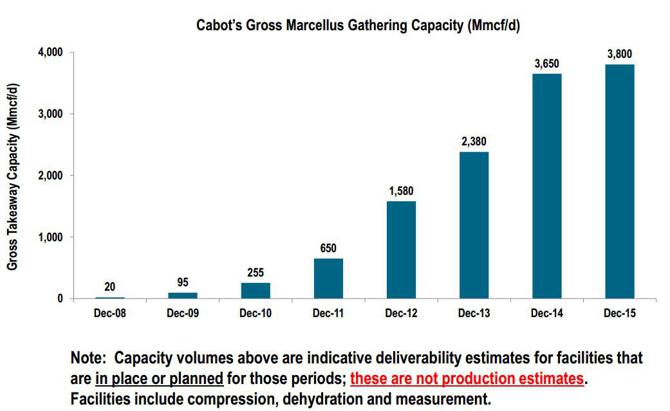 Click to enlarge
Source: COG Company reports
Cabot O&G is a top-tier company from an operations stand point and the highest quality play off of the Marcellus shale gas. In addition, natural gas prices have turned upwards which is good for Cabot and other E&Ps with exposure. According to Smartstops, it entered a normal risk state on December 5 and has increased in value by $4.58 since. Buyers of the share are not in a period of elevated risk so investors should have less concern on buying the shares.
Cabot O&G in Period of Normal Risk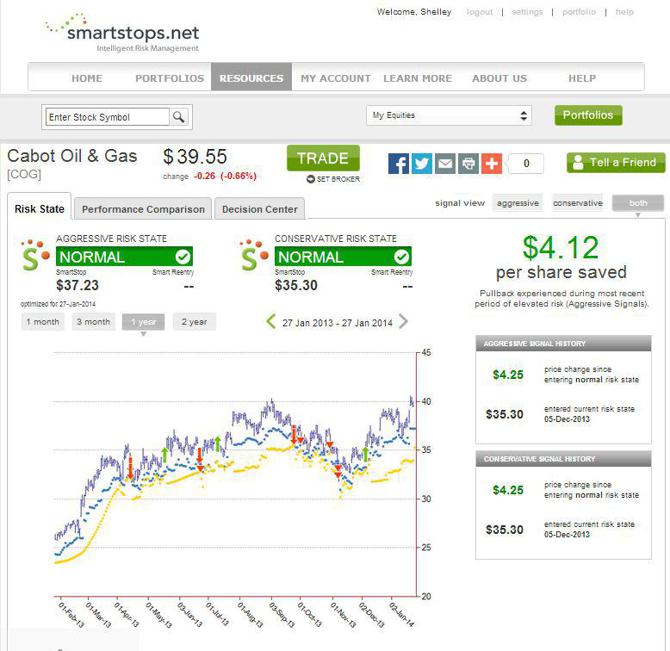 Click to enlarge
Shale and Natural Gas ETFs Require less Homework
At times, conducting company level analysis on shale exposure, operating efficiency, balance sheets, FCF and earnings forecasts may require too much time for the average investor. An ETF is a good alternative way to invest in the sector. ETFs like Market Vectors Unconventional Oil & Gas (NYSEARCA:FRAK) for fracking plays or United States Natural Gas Fund (NYSEARCA:UNG) for exposure directly to natural gas allow investors to conduct analysis at the industry versus company level. This is also a good way to play the recent surge in natural gas prices.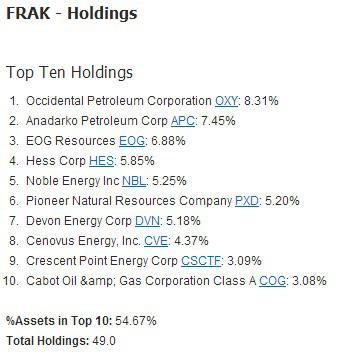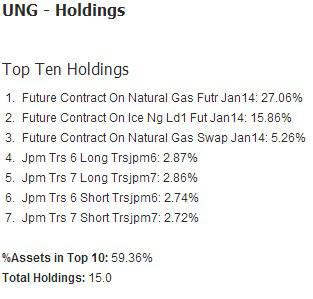 Source: Filings Data, etfdb.com
UNG just recently emerged from an elevated risk state on Smartstops and is direct play on natural gas prices.
UNG ETF Recently Entered Period of Normal Risk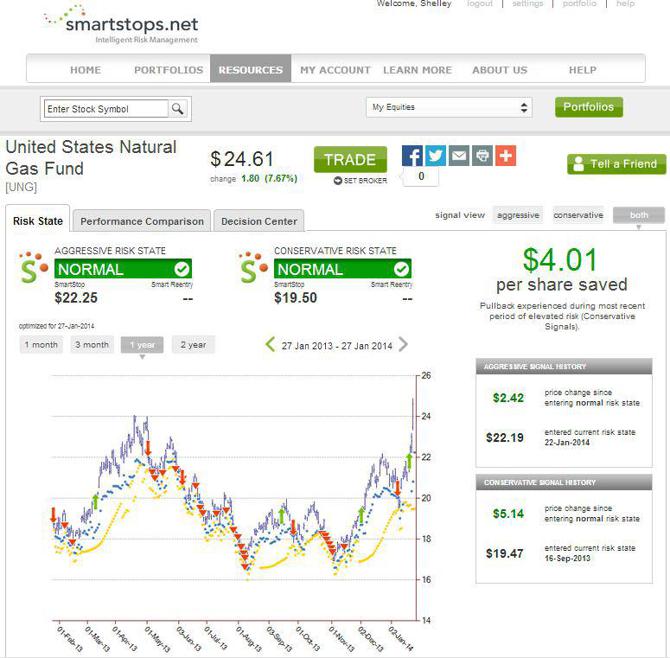 Click to enlarge
Conclusion
There are four investment ideas here, all plays on natural gas and shale but for different types of investors. First, Chesapeake is a turnaround story probably in the early innings of receiving the benefits of its efforts. Second, Cabot O&G is a best in breed natural gas play for investors looking for exposure but with less operational risk. Last, the ETF UNG is for investors who want to buy natural gas outright and the ETF FRAK is for those who want broad equity exposure to shale plays both liquid and dry natural gas and want to avoid the company level issues.
Disclosure: I have no positions in any stocks mentioned, and no plans to initiate any positions within the next 72 hours. I wrote this article myself, and it expresses my own opinions. I am not receiving compensation for it (other than from Seeking Alpha). I have no business relationship with any company whose stock is mentioned in this article.