Argentina may be the canary in the coal mine for a lot of emerging economies. The peso plunged last week and many forecast inflation will run up to 30% in 2014.
The economy faces a crisis Argentine leader Cristina Kirchner seems incapable of dealing with. The last economic crisis in Argentina lasted from 1998 to 2002 and was in most respects a major depression in the Country leading to a default on its debt.
The usual metrics did not give much of a hint that this current crisis was imminent. GDP had been expanding since the world took an economic tumble in 2008, although with some volatility.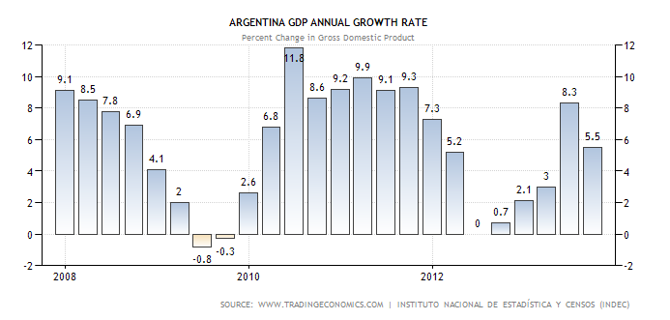 Argentina's debt as a percentage of GDP was well on the mend falling to a mere 43% compares to the United States which is now in triple digits.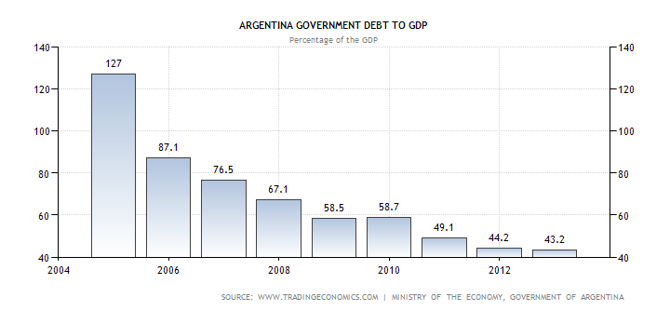 Inflation in Argentina has been pretty high but relatively stable in the 10% range for a years.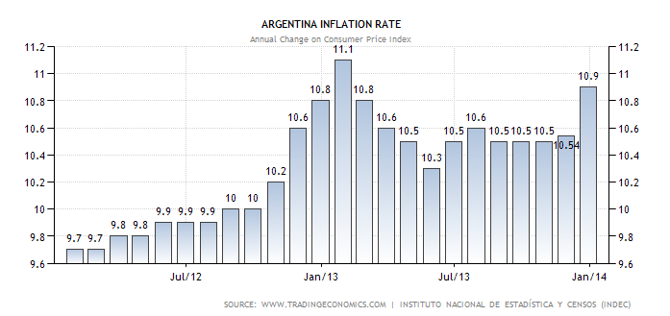 Interest rates have been high, a reflection of the high inflation.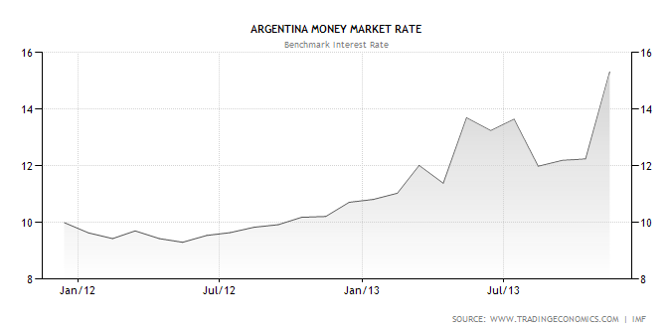 Despite the high rates and high inflation, job growth in Argentina has been reasonably good and the unemployment rate at 6.8% mirrors that of the United States.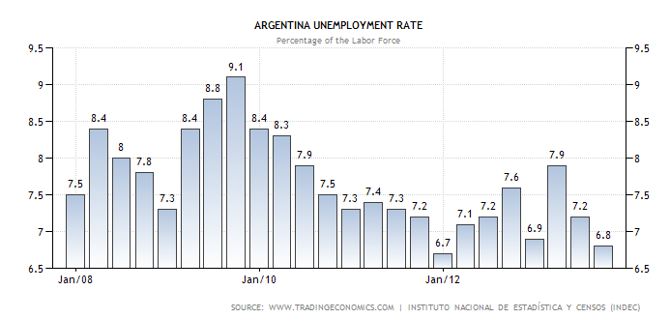 The International Monetary Fund ("IMF") published a paper in 2003 approved by now legendary Timothy Geitner called "Lessons from the crisis in Argentina". Like many reports on "lessons learned" it was immediately put on a shelf somewhere while history was about to repeat itself, or so it seems.
In many respects, I believe the real issue in Argentina was not the potential for sustainable growth but the lack of confidence in leadership in a country where corruption is considered high.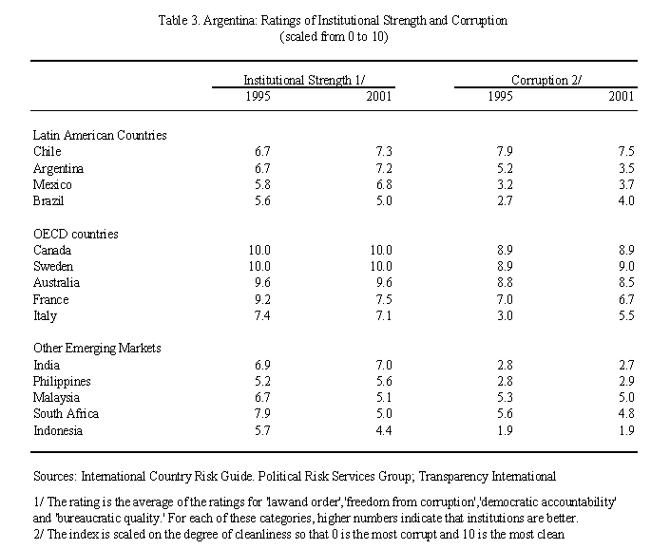 Corruption may be the biggest risk in most emerging markets.
Transparency International's most recent survey found that only the United States, Canada, Scandinavia, parts of Europe and Australia seemed relatively clean of corruption with most emerging markets deeply in the red.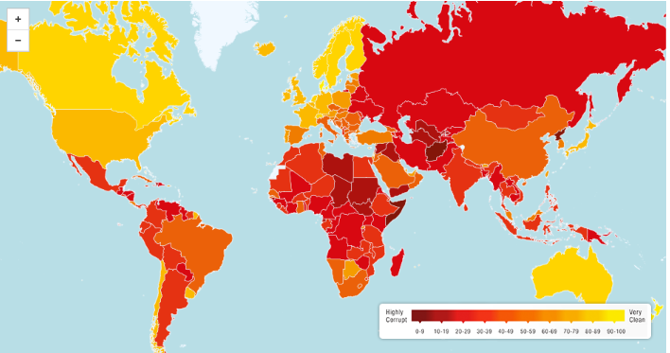 I believe that if you combine income inequality with corruption and add rampant borrowing you create the environment where economic crises are inescapable. We now see a few emerging in Argentina, Venezuela, South Africa, Indonesia, the Ukraine and China raising fears of contagion.
An ancillary problem with corruption is that the data on which we base investment decisions is frequently unreliable. Currency stability is inherently an issue of confidence. Political stability is a combination of confidence and reasonable levels of income disparity.
What we are seeing in Argentina, Venezuela, South Africa, Indonesia, the Ukraine and China is the beginnings of instability. Currency shocks happen quickly and are destructive not only to the currency markets generally but also to investor confidence in companies operating in the regions immediately affected. A flight of money to perceived quality and spikes in interest rates in the weaker countries cause waves of losses in fixed income, pressures on local banks and dislocations to trading partners.
A lot of major mining companies have operations in Argentina. Barrick Gold (NYSE:ABX) produces well over 1 million ounces of gold annually from its South American mines with its Veladero mine in Argentina being a major contributor with its two mines in Peru making up the balance, and has South American assets totaling $2.2 billion. With expectations that inflation in Argentina will rise to as much as 30% to 40% Barrick will face some challenges in controlling its mining costs in that country, with competing forces of inflation increasing costs and currency devaluation reducing them. I have a long position in Barrick LEAPS based on my view the company is undervalued and that gold may trade higher, but I see risk as well.
Mining is just one area of concern. International businesses have exposure to all the troubled regions, particularly in segments like banking, offshore manufacturing and technology. Managing in periods of high volatility can be a daunting task and financial markets will adjust for the risks they see.
Investors should take the Argentinean situation seriously. In my view it is the canary in the coal mine and may trigger the next leg down in world financial markets.
Disclosure: I am long ABX, . I wrote this article myself, and it expresses my own opinions. I am not receiving compensation for it (other than from Seeking Alpha). I have no business relationship with any company whose stock is mentioned in this article.