It looks like the rate implications of creeping inflation in Australia still outweigh disappointing job news and the latest China PMI reading. The market's odds for a rate reduction dropped from 12% to 5% after inflation came in hotter than expected. Those odds have remained steady ever since.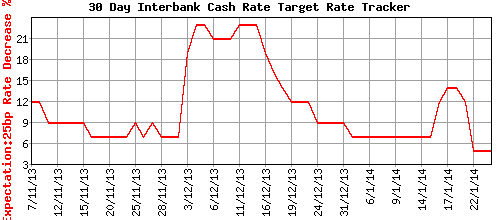 Implied expectation of Change to Target Cash Rate for February 2014 Expiry Month
Source: ASX Rate Tracker
These steady odds have not prevented the Australian dollar (NYSEARCA:FXA) from selling off. The Australian dollar ended last week at fresh three and a half year lows.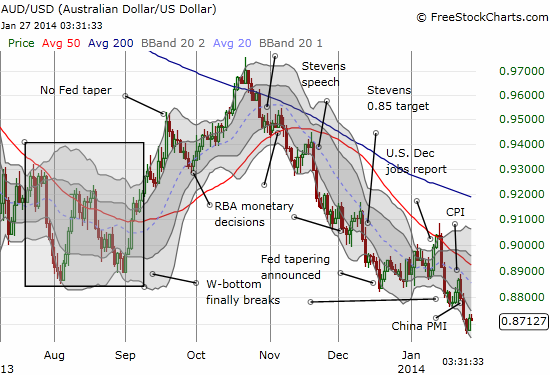 Australian dollar hits 3 1/2 year lows against the U.S. dollar
A relief rally from current levels is likely, especially after the U.S. Federal Reserve meeting on Wednesday. I am expecting the Fed to provide the softest language it can to reassure markets about the accommodation of existing monetary policy even with tapering. However, overall, the current downward momentum for the Australian dollar means that it could hit Reserve Bank of Australia (RBA) Governor Stevens' "target" of 0.85 versus the U.S. dollar by the next statement on monetary policy. The China PMI raises the stakes further for the RBA next week. Even if it acknowledges that the next direction for rates must be up to follow inflation, it may have to stay silent on the issue to try to enjoy lower currency rates for as long as possible.
Most notable for me last week was the breakdown in the Australian dollar versus Japanese yen (NYSEARCA:FXY) currency pair (AUD/JPY). As I suspected, a big move in this pair coincided with a similar move in the stock market (note I originally guessed resolution of the AUD/JPY would be to the upside). Sure enough, the two-day sell-off in the S&P 500 and other global stock markets accompanied the breakdown. I think the AUD/JPY relationship with the stock market will be more important than all the other yen pairs: AUD is so directly associated with risk-seeking and JPY so directly associated with risk-aversion. This relationship appears like it will be much more important on the downside than to the upside since the stock market was able to grind higher even as AUD/JPY bounced in a range.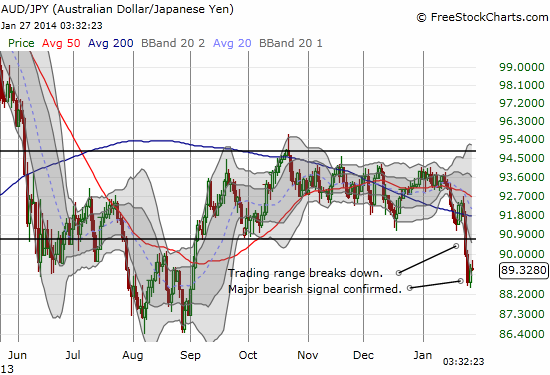 AUD/JPY trading range breaks down completely
Source for charts: FreeStockCharts.com
Be careful out there!
Disclosure: I have no positions in any stocks mentioned, and no plans to initiate any positions within the next 72 hours. I wrote this article myself, and it expresses my own opinions. I am not receiving compensation for it (other than from Seeking Alpha). I have no business relationship with any company whose stock is mentioned in this article.
Additional disclosure: In forex, I am net short Australian dollar and Japanese yen