"Escape velocity won't come cheap." - Mark Carney, Governor of the Bank of England (BoE), January 24, 2014
This was Governor Carney's warning to the audience at the Davos CBI British Business Leaders Lunch. It was a reference near the end of his speech summing up the prospect of maintaining low interest rates for an unusually extended period of time in order to generate a sustainable economic recovery. Carney delivered a speech covering the global economic outlook, financial reform, and monetary policy in the United Kingdom. His commentary on monetary policy garnered the most attention by financial markets. After reminding us that attainment of the 7% unemployment threshold would not automatically trigger rate hikes, Carney pre-announced that…
The Bank's assessment of how to evolve guidance to changing circumstances will begin in our February Inflation Report. The MPC will consider a range of options to update our guidance, recognising both what we have learned about the behaviour of aggregate supply in the economy as well as the more benign inflation outlook.
Technically, there is no need to change guidance given the BoE's current guidance does not promise action. In fact, if anything, it promises that the BoE reserves the right to inaction no matter what happens with unemployment. I suspect this announcement is more about redrawing the line in the sand to further delay the day of reckoning when reporters at BoE press conferences pepper Carney and his colleagues with demands for a specific timetable for rate hikes. Carney explained that a reduction in inflationary pressures relieved the BoE of considering rate hikes. I assume this implies that the BoE will attempt to enhance guidance with inflation targets…including a promise that once again reserves the BoE's right to keep rates low as long as it feels necessary.
The on-going question for Carney, the BoE, and economists is the "surprisingly poor performance" of the supply side of the economy, its production capacity. Carney notes that before the current conundrum, central bankers only had to respond to changes in aggregate demand; supply just kept growing on a constant trend. Now, it seems the drop in demand may also have destroyed productive capacity, making monetary policy less straightforward. "These questions mean it makes sense for policy to test the extent to which supply performance is 'endogenous' to demand." In other words, monetary policy must be aggressive until supply responds. After all…
A few quarters of above trend growth driven by household spending represent a good start, but they aren't sufficient. It will take sustained growth, more balanced demand and a recovery in the supply side for advanced economies to break free into a more normal universe.
Carney also made a point to cite the currency as one of the factors suddenly keeping inflation in check (emphasis mine):
…inflation has fallen from 5% in 2011 back to the target for the first time since 2009. Global inflation is subdued, with both euro area and US consumer price inflation now less than 1%; oil prices have fallen by 4% relative to a year ago; other commodity prices have fallen by more than 10%, and sterling has appreciated by almost 9% since last summer. All of these developments will hold back imported inflation pressures that have to a great extent explained the above-target inflation over the past five years.
I am sure this kind of commentary heightened the sense that the Bank of England is finally getting uncomfortable with the steady strengthening in the British pound (NYSEARCA:FXB). The reaction to this commentary was notable as the British pound sank against every major currency on Friday (January 24, 2014), even the U.S. dollar: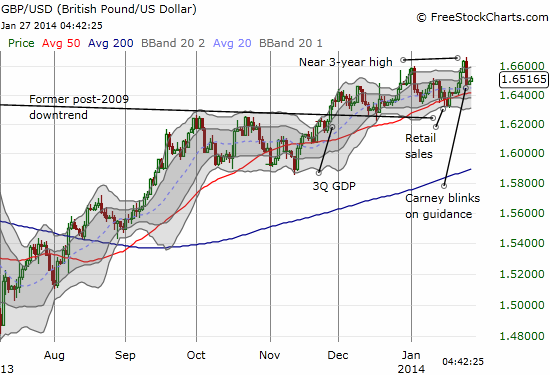 The British pound takes another dip
Source: FreeStockCharts.com
I think this dip represents a fresh trading opportunity to go long the pound. If the fundamental thesis of economic recovery remains intact in the UK, then unemployment will continue its downward trend. No matter what new guidance the BoE develops, traders and financial markets will understand that at some point sooner than later, inflationary pressures will grow strong enough to force the BoE's hand to begin some kind of normalization of rates. The markets will try to get ahead of that moment and continue to push the currency higher.
Developing an upside target for the pound is difficult given its dependence on developments in the eurozone. USD/GBP hit just above 1.70 in the immediate bounce back from the March 2009 lows. That marked a post-recession high. Given current economic trends and trajectories, I think it is reasonable to set 1.70 as a FIRST upside target. With the U.S. dollar unable to get much lift out of the Federal Reserve's tapering of bond purchases, I now think GBP/USD is one of the better currency pairs to play pound strength.
Be careful out there!
Disclosure: I have no positions in any stocks mentioned, and no plans to initiate any positions within the next 72 hours. I wrote this article myself, and it expresses my own opinions. I am not receiving compensation for it (other than from Seeking Alpha). I have no business relationship with any company whose stock is mentioned in this article.
Additional disclosure: In forex, I am net long the British pound.