Aerospace and Defense manufacturer Honeywell International (NYSE:HON) closed Thursday at 45.03, in the area of a 52 week high. On March 30, the company raised first quarter guidance from $0.40 - 0.45 to $0.45 – 0.049, shading annual guidance to the high end of its previous range, $2.20 – 2.40. The tone of the press release was optimistic. Jeffries upgraded to buy and raised their target from 46 to 52, and JPM raised their target from 38 to 45 while remaining neutral. Boeing (NYSE:BA) recently announced production increases, which has given the Aerospace sector a lift, including Honeywell, which derives 35% of sales from the sector.
Reservations - I have a long position with a respectable profit, but I do have reservations about the desirability of this company as a long term holding. These would be in two areas: 1) reality based interpretation of pension obligations and 2) a history of questionable share repurchases. What I see is a company with a number of fine if cyclical businesses, but a management approach to the two concerns mentioned that is questionable with the wisdom of hindsight.
In the process of a portfolio review, I checked Morningstar's analysis, which included some concerns on pension obligations, and decided to go over the situation on my own. This article presents the results.
Overview- from the 10-K:
Honeywell International Inc. (Honeywell) is a diversified technology and manufacturing company, serving customers worldwide with aerospace products and services, control, sensing and security technologies for buildings, homes and industry, turbochargers, automotive products, specialty chemicals, electronic and advanced materials, process technology for refining and petrochemicals, and energy efficient products and solutions for homes, business and transportation. Honeywell was incorporated in Delaware in 1985.

We globally manage our business operations through four businesses that are reported as operating segments: Aerospace, Automation and Control Solutions, Specialty Materials and Transportation Systems.

Our sales to aerospace customers were 35 percent of our total sales in each of 2009, 2008 and 2007, respectively.
Pensions – Pension accounting is dependent on two key assumptions – the rate of return on pension assets, and the discount rate applied to future liabilities. The rate of return assumption will vary based on whether investments are tilted toward equities or bonds. Finally, annual gains or losses on pension liabilities do not go directly to P&L: They are averaged out over time by means of the Accumulated Other Comprehensive Income (Loss) item in the Shareholder's Equity section of the balance sheet. Here are snips of the relevant information from the most recent 10-K:


Honeywell's approach is aggressive: satisfactory resolution of their pension liabilities requires a continued resurgence of equity markets. Note that the (29%) loss for 2008 is not compensated by the 20% gain for 2009. The gyrations of these values are not reflected in GAAP EPS, and the shareholder is not really getting the smooth ride the earnings portray. 60 to 70% of pension assets are invested in equities.
Valuation – Regular readers know I use a P/5 year average EPS method of valuation in situations where it is feasible, adjusting for share counts if the entity involved has a history of buybacks. Noting that my five year history of profits does not include the pension obligation increases that have been parked in AOCI(NYSE:L), I intend to bring them in. Here is the math: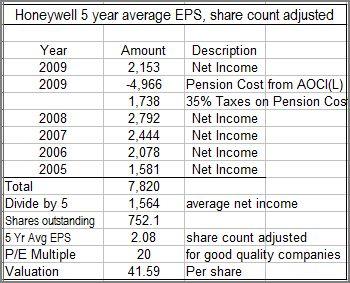 Leaving pensions out of the computation, the shares would be worth $59 by this method. My impression is that the pension obligation will develop favorably this year and I would feather the approximate $42 value upward somewhat on that basis.
Buybacks – there is considerable debate as to the extent to which buybacks create or destroy shareholder value. It is best to look at them over a significant period of time, comparing the prices paid to market values and also to an objective standard of value. Then the cash deployed for this purpose should be compared to other potential uses, including the reduction of outstanding debt.
Honeywell includes treasury shares (buybacks) at cost on the balance sheet: totaling 9.0 billion for 193.4 million shares, or 46.50 per share, as of Y/E 2009. This does not compare favorably to today's price or the valuation previously developed that considers the effect of accumulated pension obligations on earnings.
Long term debt checks in at $6.2 billion, somewhat less than the total expended on buybacks. The picture is not pretty: Management has deployed cash that could have reduced long term debt in order to buy shares at prices in excess of a prudent valuation. There is a linkage between buybacks and pension, in that the company contributes its own shares to the pension plan from time to time.
Honeywell did not repurchase any of its common stock during 2009 and does not anticipate that it will do so during 2010.
Strategy – I have been playing this situation with a combination of diagonal and vertical call spreads, with the upper (short) legs at 44 and 45 in June. The exit price looks about right and there is no reason to chase the stock higher.
Investment Implications - Investors who are long the shares may want to review the pension information and form their own conclusions. Those who do not share management's view that 9% returns are possible going forward will adjust accordingly.
In spite of being an Industrial, Honeywell is leveraged to the equity markets, in much the same way as variable annuity providers such as Metropolitan (NYSE:MET) and Prudential (NYSE:HIG), both of which are doing well as confidence is being restored. After all, a pension is an annuity, and Honeywell's obligations are funded by equity investments, just like Met or Pru's.
Implied volatility is low at 21.3%. The dividend is 1.21, yielding 2.69% at last week's closing price. Short interest is trivial at .89%. Beta at 1.3 suggests the stock will move in the same direction but more rapidly than the market as a whole. HON is an excellent fair weather stock but is unlikely to stand up well to renewed economic and market difficulties.


Disclosure: Long HON, MET and PRU, no position BA