The past week may have been a short week, but it was long on reminders that investors need to put 2013 behind them and keep their eyes on the road ahead in 2014, because it could be a bumpy ride.
There was a little bit of everything in the past week. Fittingly, there was a lot of activity across the capital markets that can be neatly summed up in the following manner: stocks were weak, Treasuries were strong, gold prices rallied, volatility surged, and the dollar was flattened under the weight of a strong yen and euro.
Why that all came to pass is the $64,000 question. There seem to be 64,000 answers, but only one answer suffices.
Uncertainty gripped the market, and when uncertainty does that, there is a tendency to sell first and ask questions later, particularly when the S&P 500 is coming off a year in which it gained 30% and when many traders are locked in the same trade.
Listen Up
Some of the more pertinent reminders included the following:
In aggregate, fourth quarter earnings results and first quarter guidance haven't been as upbeat as expected.

With 25% of the S&P 500 having reported fourth quarter results, the blended earnings growth rate stands at 6.4%, according to FactSet, versus 6.3% at the start of the year. In other words, companies aren't easily topping analysts' lowered earnings expectations as they have in quarters past.
The consensus EPS growth forecast for the first quarter has been reduced to 3.1% from 4.4% at the start of the year.

China poses an increased risk to the global growth forecast

A sub-50 reading (49.6) in the HSBC Flash PMI reading for January reflects a contraction in manufacturing activity and is the weakest reading in six months
Questions are swirling around the country's shadow banking system, and a possible run on the banks, following reports a $500 mln high-yield investment trust is at risk of default on January 31

The knock-on effect of such a default could include a breakdown in credit transmission that would ultimately curb both import demand and export potential

It's that time again for Congress to fight - er, handle - raising the debt limit

Treasury Secretary Lew notified Congress that it should raise the debt limit without issue as soon as possible since extraordinary funding measures would likely be exhausted by late February
Subsequent news reports have indicated a "clean" debt ceiling bill (i.e. free of policy demands) won't be able to pass the House

Weak income growth and higher mortgage rates are impacting the housing market

Sales of existing homes fell 0.6% year-over-year in December. That was the second consecutive, monthly year-over-year decline. Before November, existing home sales had not declined on a year-over-year basis since June 2011.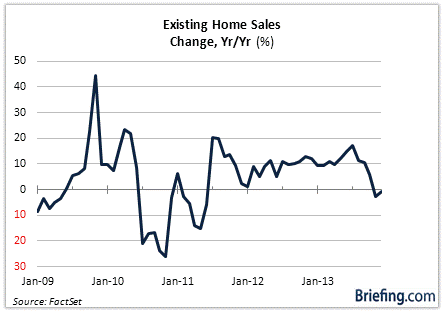 When everyone is leaning on the same trade, it has a tendency to produce a negative surprise

With the Fed tapering and growth picking up, being short US Treasuries was a popular trade

The yield on the benchmark 10-year note has dropped nearly 30 basis points since the end of 2013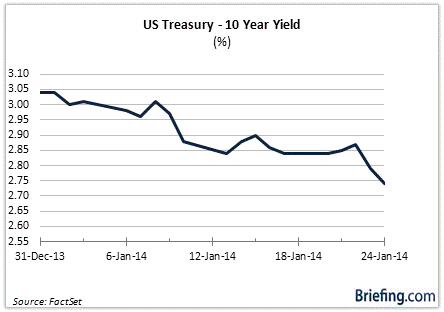 The ProShares UltraShort 20+ Year Treasury (NYSEARCA:TBT) is down 10.3% year-to-date
With the Fed tapering, and both inflation and inflation expectations in check, it was time to sell gold
Gold prices have risen $64, or 5.3%, to $1266.40/troy ounce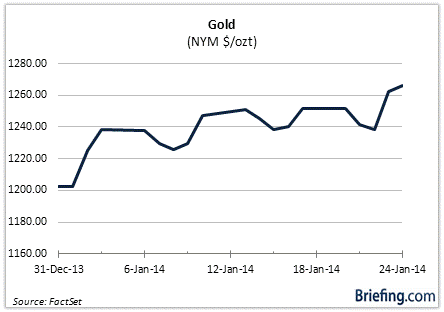 The yen has been a cheap funding currency in carry trades used to increase leverage. In turn, with the Bank of Japan's ultra-accommodative monetary policy, many traders have favored a short yen-long Nikkei trade

The yen is up 2.8% against the dollar and 3.2% against the euro
The Nikkei is down 5.5% year-to-date
Suddenly, the South African rand, the Turkish lira, the Ukrainian

hryvnia

and the Argentinean peso, as well as emerging market currencies in general, are on everyone's radar screen as political concerns, fears of a slowdown in China and worries about interest rates going up in the US on account of the Fed tapering are fueling outflows

The weakness in these currencies has sparked talk of increased potential for a new currency crisis hitting the global economy and financial markets
What It All Means
We said in our Page One comment on Friday that the stock market might have a problem on its hands and that the problem is that it isn't exactly sure what the problem is.
Are stocks really trading lower on the belief there is going to be a currency crisis? Are they trading lower because the earnings guidance hasn't been as upbeat as expected? Are they trading lower on concern about the Fed tapering and continuing to taper as emerging market currencies show signs of distress?
Perhaps stocks are trading lower simply because the market is due for a pullback after surging 30% in 2013 and 10% in the fourth quarter alone.
The week that just passed provided a basis for selling because there were several reminders that things aren't as copacetic as many thought they were at the end of 2013. To be sure, the main communication points in 2014 market outlooks didn't involve the words rand, lira, hryvnia or peso. I know ours didn't. Suddenly, though, no market commentary is complete without them.
The capital markets are a dynamic space and trader/investor attitudes tend to get more fickle the higher stock prices climb because they recognize the pool of buyers shrinks the higher stock prices climb. That can lead to some emotionally-charged selling when the headlines and the trend move against them.
That was certainly the case in the past week and we suspect selling pressure was exacerbated by participants paring their leveraged positions. That led to some startling price action that hasn't been seen in a while and gave rise to a number of narratives aiming to explain it.
There could be more to the reminders in the past week than meets the eye... or there could be less. One salient reminder is that risk management remains paramount for investors in a market that has thrived on leverage, liquidity, momentum and low volatility. When those tides turn for whatever reason, things can change in a hurry.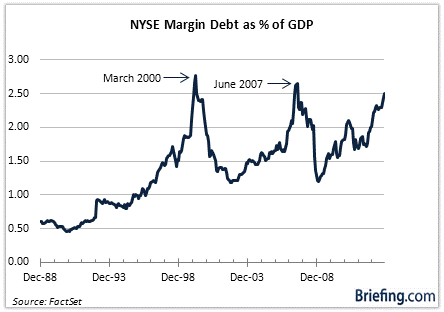 Disclosure: I have no positions in any stocks mentioned, and no plans to initiate any positions within the next 72 hours. I wrote this article myself, and it expresses my own opinions. I am not receiving compensation for it. I have no business relationship with any company whose stock is mentioned in this article.