Procter & Gamble (NYSE:PG) has a diverse geographical operational and revenue base, and is among the world's leading retail goods companies. Since the rejoining of Mr. A.G. Lafley as CEO of PG last year, the company has done well to improve its financial performance. I remain bullish on PG, as it has been effectively using several levers, including share repurchases, costs savings measures, product innovation and emerging market expansion to achieve sales and earnings growth and expand its market share.
Recently, PG reported a satisfactory financial performance for 2QFY2014. The company reported net sales of $22.3 billion, in line with analyst expectations, representing an organic sales increase of 3%. Adjusted earnings for the quarter came out to be $1.21, $0.01 above consensus estimates. A positive takeaway from the earnings release was the fact that the company was able to increase its total sales volumes by 3%, despite the difficult economic conditions in key economies around the world.
However, gross margin for the company dropped by 0.9%, which is mainly a result of growth in lower margin businesses, such as Fabric and Home Care, in contrast to higher margin businesses such as Beauty and Grooming; in 2QFY2014, PG experienced a 4% year-on-year growth in Fabric and Home Care whereas the sales of the Beauty segment remained flat year-on-year. Growth for the company's Health Care segment remained solid, as organic sales for the segment increased by 5% year-on-year, mainly driven by a volume growth of 6% partially offset by a -2% sales mix. The following table shows the sales performance of PG's different reporting segments.



Source: Quarterly Reports
The company's total market share in the recent quarter remained flat. As the company has been aggressively working towards product innovation, PG's market share is expected to improve due to product innovation and higher promotional spending.
A positive takeaway from the earnings release was that the company maintained its FY2014's guidance despite the increasing foreign exchange headwind. Foreign exchange movements adversely affected net sales by 3% and earnings per share by $0.11. The company continues to expect organic sales growth in a range of 3%-4%, and adjusted earnings growth of 5%-7%. As the company has significant international market exposure, approximately 60% of the sales are generated from international markets; foreign currency is believed to remain a drag on PG's performance. I believe the possibility that the Fed will maintain its tapering in the coming months and any uncertainty in emerging markets will result in the strengthening of the U.S. Dollar, which would adversely affect the company's top and bottom line results. I recently discussed a case of foreign exchange as a risk for consumer companies in 2014, details on which can be found here. The following table shows the foreign exchange drag on PG's performance (2014 number is based on estimates).
| | | | | |
| --- | --- | --- | --- | --- |
| | 2011 | 2012 | 2013 | 2014 |
| FX drag | 2.5% | (2.5%) | | (1%) |
Source: Companies Annual Reports and Estimates
Exposure to emerging markets remains one of the most important stock price catalysts for PG. The company currently generates approximately 40% of its total sales from fast-growing emerging markets. A large population base and increasing household incomes in emerging markets portend well for the company. The company remains focused on increasing its emerging market exposure to tap the available growth opportunities and expand its top and bottom lines. PG has been doing well in expanding its emerging market footprint, evident by the fact that the company increased its emerging market sales by 8% in 1QFY2014 and 2QFY2014, each.
Other than expanding emerging markets exposure and product innovation, PG has been targeting cost saving initiatives and share repurchases to support earnings growth. In the recent quarter's earnings release, I was expecting PG to provide some details regarding the next round of cost saving efforts beyond 2016, which it did not. The company announced in 2012 a $10 billion cost saving plan to be achieved by 2016. Under its ongoing cost saving plan, the company is expected to achieve cost savings of approximately $1.5 billion in FY2014. I believe the company should and will target additional cost savings beyond 2016, which will help the stock price.
Share repurchases remain another tool with PG to expand its bottom line numbers. Under its targeted share repurchase plan of $11.5-$13.5 billion for FY2014, the company repurchased $1.5 billion worth of common shares in the recent quarter. Also, the company paid $1.7 billion in dividends, maintaining its shareholder-friendly return policy. PG currently offers a decent and safe dividend yield of 3%. The following table shows the solid relationship between PG's free cash flows and dividend, indicating the sustainability of dividends.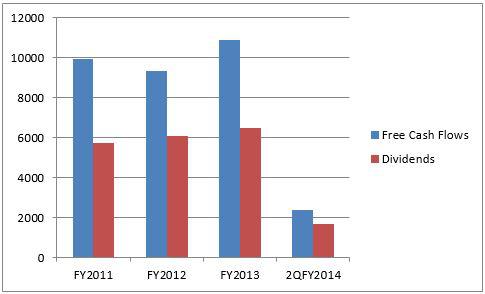 Source: Company Reports
Conclusion
I am bullish on PG. The company has been taking corrective measures to expand its bottom line results. Significant emerging markets exposure remains an important growth driver for the company, which is also likely to offset the slowness in developed markets. However, foreign exchange movements could adversely affect earnings growth and the stock price. Also, I expect that in the upcoming quarters, PG will come up with additional cost saving plans, targeting cost savings beyond 2016, which support the stock price. Moreover, the company offers a safe dividend yield of 3%, which makes it a good investment option for dividend-seeking investors.
Disclosure: I have no positions in any stocks mentioned, and no plans to initiate any positions within the next 72 hours. I wrote this article myself, and it expresses my own opinions. I am not receiving compensation for it (other than from Seeking Alpha). I have no business relationship with any company whose stock is mentioned in this article.