Diamond Offshore Drilling (NYSE:DO) is an offshore drilling company. Currently, it offers a dividend yield of 6.9%, which is above the industry's average and only surpassed by debt-laden competitor Seadrill (NYSE:SDRL). It has also a low valuation given that it is trading at only 10x its estimated 2014 earnings. This high-dividend yield and undemanding valuation seems to be very attractive for income investors, but as usual with high-yielders, it can also represent a risky and unsustainable income investment. Diamond has a market capitalization of about $7 billion and trades on the New York Stock Exchange.
Company Overview
Diamond Offshore is a Houston-based offshore drilling company that went public in 1995 with about 5,300 employees. Diamond provides contract drilling services to the energy industry around the globe and is one of the leading companies in deepwater drilling. The company owns and operates one of the world's largest fleets of offshore drilling units. It currently owns 45 units, including seven deepwater rigs under construction. Loews Corporation (NYSE:L), run by the Tisch family, is the company's largest shareholder owning 50% of equity capital.
The offshore drilling industry is highly competitive and fragmented, including several large companies that compete on a global scale, and numerous smaller companies that compete on a local basis. Diamond's major competitors are Transocean (NYSE:RIG), Seadrill, Ensco (NYSE:ESV), and Noble (NYSE:NE), beyond others. The offshore drilling industry has high barriers to entry given that it is a capital intensive business, it needs experienced management and operational staff, and a good reputation with customers and suppliers. Therefore, the competitive landscape shouldn't change dramatically over the next few years, providing relatively good visibility on the company's earnings.
The core business of an offshore drilling company is to contract out its assets to oil companies for them to extract oil from the seabed. Therefore, these companies rely heavily on how much oil companies spent on offshore upstream activities, which include the exploration, recovery, and production of oil. Naturally, the big oil majors like Exxon Mobil (NYSE:XOM), Chevron (NYSE:CVX) or Total (NYSE:TOT) are the main clients of offshore drilling companies. Offshore upstream spending slowed following the global financial crisis of 2008-09, but has seen healthy growth over the past few years. As a global company, the vast majority of Diamond's revenues is generated abroad, with operations outside of the U.S. accounting for more than 90% of its revenues. Diamond's largest market is Brazil and Petrobras (NYSE:PBR) its largest client, accounting for more than 30% of its annual revenues.
In the U.S. the Bakken revolution has overshadowed the important role offshore drilling plays in the future of global oil production. Big investments in areas such as West Africa, the Gulf of Mexico, and Brazil are still essential to the global oil supply. However, these locations pose unique challenges for oil exploration and production, as new deposits are mostly found in deep waters and harsh climates. This means stringent requirements with regard to technology, equipment, safety, and know-how. This is also why newly built rigs are generally preferred compared to older rigs, as they comply more easily with current technological requirements. Therefore, a young fleet can represent a competitive advantage within the industry. On this factor, Seadrill is clearly ahead of the competition, as it has invested heavily in new rigs since its inception in 2005 and has currently an average fleet age of just three years. On the other hand, Diamond has one of the oldest fleet ages within the offshore drilling industry at about 32 years, which helps to explain why it offers a low valuation and an above-average dividend yield. Historically known for having one of the oldest fleets of drilling rigs in the industry, Diamond is in the midst of a remarkable turnaround with the first of seven newbuilds deepwater rigs being delivered in 2014.
Diamond is nowadays more exposured to the shallow drilling market, which has lower growth prospects over the long-term. Currently, deepwater units contribute to only about 45% of its EBITDA. However, as the company will receive seven newbuilds over the next three years, the weight of deepwater units will increase significantly, transforming Diamond into a deepwater player. Diamond expects deepwater to hit approximately 70% of its EBITDA in 2016, increasing tremendously its profitability levels. These seven newbuilds will drastically reduce the average fleet age and increase its EBITDA by about 60% to more than $2.2 billion in 2016.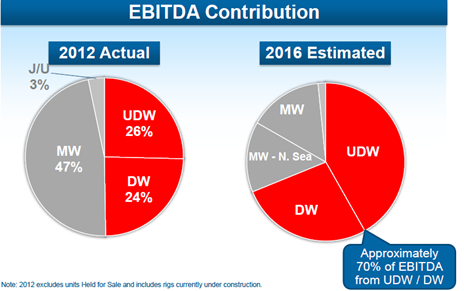 Financial Performance
The offshore drilling industry has experienced strong fundamentals over the past few years, with customer demand driving upward pricing for dayrates in all rig classes. Oil prices have remained at a level that supports activity across all water depths, and in particular, growth in the ultra-deepwater market. However, Diamond's financial performance has not been impressive over the past few years, especially in 2012 when its revenues declined by 10% to close to $3 billion, and its EBITDA drop 18% to $1.35 billion. Nevertheless, its profitability remained very high, achieving an EBITDA margin of 45%. This weak performance was mainly due to a higher number of planned downtime days for regulatory inspections, during which no revenues were earned. Diamond's net profit declined by 25% to $720 million, or $5.18 per share. During the first nine months of 2013, its revenues declined by 2.8% to $2.14 billion, and its operating income plunged by 20% to $614 million. The company was negatively affected by the financial position of two customers, OGX (OTC:OGXPF) and Niko Resources (OTCPK:NKRSF), and recorded bad debt expenses regarding the probability of collection of amounts due to the company. Furthermore, it has not recognized any revenue from these two customers during the third quarter of 2013, helping to explain its weak financial performance.
Diamond's revenue backlog is currently about $9 billion, which represents about 3 years of revenues and provides very good visibility about the company's future financial performance. However, one reason why the company is trading with a low valuation is the contracted backlog, as the company had an issue with one client a few months ago. Diamond had two semi-submersibles contracted to Brazilian tycoon Eike Batista's oil service company OGX. The company had been a few months behind on payments when it filed for bankruptcy on October, 2013. OGX was Diamond's second-largest customer, accounting for about 12% of its revenues in 2012. Diamond took a $75 million hit in the third quarter of 2013 related to customer non-payments. This has impacted its financial performance and led to negative sentiment towards its stock.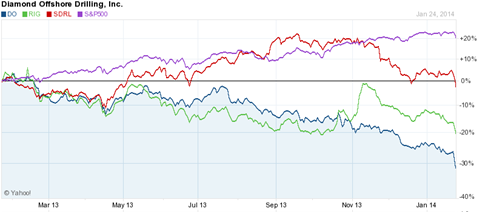 Despite recent headwinds, Diamond's earnings power going forward seem to be robust, as the company should benefit from newbuilds coming into operation over the next three years; but also from its capacity to rollover current contracts at more attractive terms. This will boost its earnings in the short to medium-term, and according to analysts' estimates its revenues should increase by 16% in 2014 and 24% in 2015, which is impressive. Its EBITDA is expected to increase to almost $2 billion in 2015, representing an EBITDA margin of 46% compared to only 28% expected for 2013.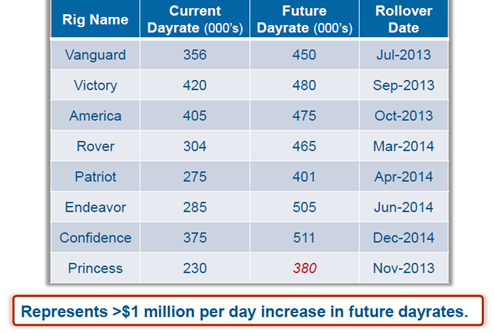 Dividends
Regarding dividends, Diamond has a shareholder-friendly policy ingrained by its major shareholder Loews Corporation. Moreover, the company has kept its debt levels low while at the same time improved its fleet and paid substantial dividends to shareholders; which is remarkable as many companies have resorted to more debt to improve dividends and perform share buybacks, a policy that is most likely unsustainable in the long haul. Since Diamond has begun paying special dividends in 2006, it has paid more than $5 billion in regular and special dividends to shareholders. Diamond's policy is to consider paying special dividends in amounts to be determined quarterly. Its last dividend was a regular dividend of $0.125 per share and a special dividend of $0.75, or an annual dividend of $3.50 per share for the whole year 2013 a stable payment from the previous two years. At its current stock price Diamond offers a very interesting dividend yield of 6.9%.
The company's dividend seems to be sustainable both from an earnings and cash flow perspective. Despite the fall in its earnings, its dividend payout ratio remained acceptable at 68% in 2012. Considering the trailing twelve months earnings its payout ratio increases to 75%, a level that should decline to less than 50% in 2015 when most of its newbuilds will be operational. Diamond's cash flow generation is quite good, given that over the past three years its cash flow from operations was more than enough to finance its capital expenditure and dividend payments. Also supportive for its dividend sustainability is the fact that Diamond boasts a strong balance sheet, having practically zero net debt and has one of the best credit ratings within its industry. Its balance sheet is among the least leveraged of its industry peers, contrasting with Seadrill and Noble which are heavily leveraged.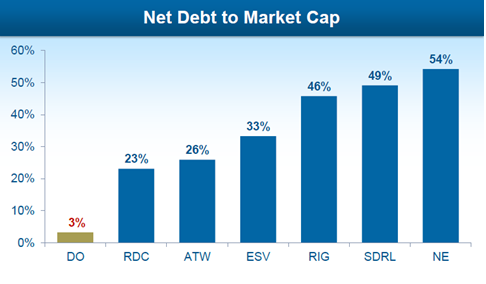 Conclusion
Diamond has faced a few headwinds over the past few months, which explains its weak share performance compared to peers and the S&P 500 index. Nevertheless, it is an interesting turnaround story that should deliver interesting growth over the next few years while paying a high-dividend yield that is sustainable, taking into account its good profitability levels, sound cash flow generation, and a very strong balance sheet. Contrary to many high yielders, Diamond's dividend seems to be sustainable and is therefore a compelling income investment.
Disclosure: I have no positions in any stocks mentioned, but may initiate a long position in DO, over the next 72 hours. I wrote this article myself, and it expresses my own opinions. I am not receiving compensation for it (other than from Seeking Alpha). I have no business relationship with any company whose stock is mentioned in this article.