The stock discussed in this article is a microcap. Investing in this type of security involves significant risk. Microcap stocks are prone to higher levels of volatility and tend to have fewer shares traded per day. Due to the lack of liquidity, there is the potential for a small amount of volume to significantly impact the stock price. Timely trade execution is also a risk when investing in microcap stocks. Microcaps tend to be in weak financial positions which can pose a going-concern risk. Losses from investing in microcap stocks can be substantially greater than in larger sized stocks due to the risks outlined above.
Fundamental Analysis
Wave Systems Corp. (NASDAQ:WAVX) is a Massachusetts based company in the security software & services industry. Its products deal with hardware-based cybersecurity and mainly consist of EMBASSY Trust Suite, EMBASSY Trust Service Application, eSign Transaction Management Suite, and Safend Data Protection Suite. EMBASSY Trust Suite consists of applications and services designed as a comprehensive solution for securing platforms equipped with a Trusted Platform Module (TPM). Trust Suite is their client-side application and allows the user to customize their TPM enabled platform. EMBASSY Trust Service Application is their management-side application geared towards enterprises. Most of their revenue is generated from their EMBASSY product lines. Wave holds a permanent seat on the Trusted Computing Group (TCG) Board of Directors and is in the highest membership level of promoter.
The TCG is a nonprofit organization with the goal of developing and promoting international industry standards for interoperable trusted computing platforms. It was founded in April 2003 by AMD, HP, IBM, Intel, and Microsoft. The TCG developed the concept of TPM which is a semiconductor chip that performs protected activities and contains secured storage. TPMs are made by various chipmakers and are equipped on various platforms like PCs, Tablets, Smartphones, Servers, and other types of devices. The TCG's goal is to have all platforms be equipped with TPMs, enabling a hardware-based root of trust. Over 600 million TPM PC platforms have been shipped according to the TCG. The first step in the root of trust is the TPM. Wave comes in to play by providing essential operational and lifecycle services for this hardware through its various security products.
Wave generates most of its revenue from its PC security segment. Its most recent win relates to the Samsung 840 Evo series. Wave's EMBASSY Remote Administration Server (ERAS) and Wave Cloud 2014 are being offered with the Samsung 840 EVO series. According to the Wave press release disclosing the offering, "ERAS is the only management solution that delivers drive initialization, user management, drive locking, user recovery and crypto erase for all Opal-based, proprietary and solid-state SEDs (self-encrypting drive), while Wave Cloud 2014 is the only cloud-management solution for SEDs on the market today." I feel this is a significant win for Wave as it further validates their products and could lead to cross-selling. Wave is offering the same kind of solution with the Intel SSD Pro 1500. Some of Wave's other customers include BASF, BP, and Dell to name a few. Their 2013 reported revenues are down due to decreased Dell shipments. In 2012, Dell acquired Credant which could be why Wave's licensing revenue has taken a hit. Wave markets its products to governmental and commercial enterprises, systems integrators, PC original equipment manufacturers, and chip OEMs. Although Wave's target platform has been PCs, I think there is huge potential in the tablet and mobile phone platforms as more devices become equipped with TPMs and the demand for a complete security solution increases. Wave Mobility Pro - Tablet Edition and Safend Data Protection Suite can address this need.
Wave recently changed its CEO to Bill Solms, a former Microsoft and Oracle employee. Prior to working in the industry, Mr. Solms served in the military and finished his distinguished career at the Pentagon as a member of the Joint Staff. I think Mr. Solms is a key ingredient in the company's breakthrough as he brings a strong sense of leadership and a solid network of potential customers. He intends to restructure the company's operations and increase sales. On the Q3 2013 conference call, Mr. Solms indicated that he expects increased government sales in Wave's TPM management products. He also indicated that he plans to reshape how Wave's products are presented to potential customers in order to better market their product. Substantial demand for Wave's products exists, it's just a matter of making potential customers understand the value of their security products.
Wave's approach to cybersecurity is unique. They start by securing the hardware through the TPM and ongoing platform management. The traditional approach has been to install layers of software on platforms in order to keep out unwanted traffic. The problem with the traditional approach is that it's not as effective as the hardware-based root of trust in securing platforms. Numerous security breaches at major enterprises have occurred over the years with Target being the most recent. Wave's solutions create a secure system for an enterprise's TPM platforms and networks. A more detailed discussion of TPM can be found here. Mr. Solms has referred to this as ultra-secure network access. According to Wave, their products cost about half as much as traditional security products and provide better security. If this is true, then Wave has a significant point of differentiation.
One of the issues Wave has been facing is the fact that many potential customers have never even heard of TPM. According to the TCG, TPMs are a cheaper and better security solution than the traditional approach. In addition to added security at a lower cost, TPMs create the potential for the end of the password. Users would only need remember the access code for the device. The TPM can store other credentials and even allow for multiple users on one device. I believe 2014 could be the year that the rate of market adoption of TPM enabled devices increases. This is because many enterprises are beginning to realize that the traditional approach to cybersecurity is ineffective and it's time for a change. If this type of a shift occurs, Wave is in a great position to meet the TPM management demand. I expect significant growth to occur in its ERAS, Wave Cloud, and Virtual Smart Card products. Wave's products are compatible with Windows 7, 8, and 8.1. Wave Cloud 2014 is compatible with Windows BitLocker and Mac FileVault. As a result, operating system compatibly should not be an issue for Wave.
In Wave's Q3 2013 10-Q, they reported cash of $1.85 million, total current assets of $6.94 million, and total current liabilities of $13.90 million. This yields a current ratio of about 0.5. $7.10 million of the $13.90 current liabilities consist of deferred revenue. On November 26, 2013, Wave entered into a factoring and security agreement with CapFlow Funding Group Managers. Wave has access to a credit line of $2 million under this agreement. On December 19, 2013, Wave announced the sale of 1,253,351 million shares of its Class A common stock at a purchase price of $0.9725. Included in the offering was five-year warrants, entitling the holder to purchase 626,674 shares of Wave's Class A common stock at $0.91 per share. Gross proceeds of $1,218,885 are expected to be received from the offering. For the nine months ended on September 30, 2013, Wave used cash of $9.43 million in operations. This equates to a burn rate of about $3.14 million per quarter. Based on this and the cash proceeds outlined above, Wave will need to raise additional capital in the first half of 2014 if its revenues do not grow enough to fund operations. This could lead to additional dilution to shareholders. For the nine months ended on September 30, 2013, Wave reported total revenue of $18.79 million, a gross margin of about 82 percent, and a net loss of $16.65 million. They managed to decrease their net loss by 21 percent in comparison to the same period for 2012. This was mainly accomplished through reductions in R&D and SG&A expenses. As described above, the new CEO expects to further decrease expenses which will lead to a narrower loss in future quarters. Combine this with the potential for increased revenue due to the adoption of TPM enabled platforms and Wave is on its way to profitability.
Technical Analysis
The technicals are also starting to turn bullish for Wave Systems. From July 2013 through January 2014, Wave appears to have formed a double bottom at about $0.80. This is a trend reversal pattern and could signal the start of a new uptrend in the stock. This double bottom was also accompanied by bullish divergence on the MACD. A higher low on the MACD was made on the second test of $0.80. January 2014 has had the highest volume in five years. High volume events like this usually indicate a turning point in a stock. Lastly, short interest on Wave is at a one year low. On the December 31, 2013 settlement date, the short interest on the stock was 950,245 shares with a short interest ratio of 3.86. More information on of the short interest in WAVX can be found here. Downside momentum on Wave is beginning to wane and this further supports the bull case.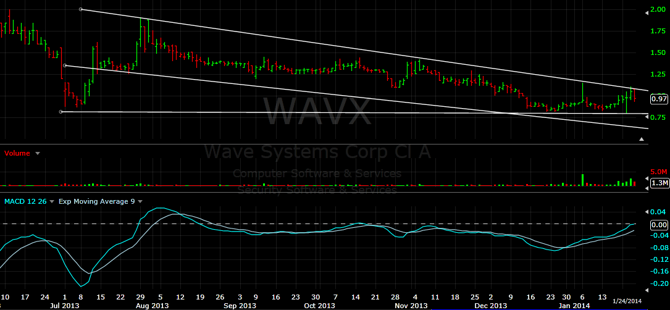 Conclusion
Although I am bullish on Wave, the company has its risks. The first deals with competition. The industry in which Wave operates is highly competitive. Wave is going up against companies with significantly greater resources and this could have an effect on their growth prospects. The technology in the security services & software industry is constantly changing and this could cause Wave's products to become obsolete. Wave's growth is dependent on the adoption of TPM enabled platforms. The rate of market adoption of TCG solutions has been slow going and if it continues, Wave will not experience the growth outlined above. See Wave's 2012 Annual 10-K for a more complete listing of its risks. The fundamentals and technicals are beginning to look bullish for Wave and the stock price could appreciate significantly in 2014 if its product sales begin to take off.
Disclaimer: I am not an investment advisor and do not provide specific investment advice. This article is for informational purposes only and is not a buy or sell recommendation. Please consult your investment advisor before making an investment decision.
Disclosure: I am long WAVX. I wrote this article myself, and it expresses my own opinions. I am not receiving compensation for it. I have no business relationship with any company whose stock is mentioned in this article.