The recent SEC announcement that it had banned the Big Four accounting firms' Chinese joint ventures from auditing US listed stocks sent chills through Chinese ADRs. From Baidu (NASDAQ:BIDU) to Ctrip.com (NASDAQ:CTRP), investors fled the stocks to the tune of losses in the 6% range. With limited political will and possibly years of appeals and reviews, investors should focus more on the prospects of the individual stocks instead of unlikely SEC sanctions.
In the case of Baidu, high-speed mobile networks are replacing the previously spotty Internet connections in China. One of the prime reasons that Chinese people prefer the larger screen size phones, or phablets, is the lack of good Internet access at home or even a reliable PC. All of this adds up to a huge pressure to obtain market share in the mobile sector with China Mobile (NYSE:CHL) ramping up implementation of a 4G LTE network providing its customer base of 750 million subscribers access to the fastest Internet speeds around.
SEC Ban
Considering all of the previous issues with Chinese ADRs listed on US exchanges, it shouldn't be too surprising that the SEC made a move at least in name only to punish the audit firms typically responsible for overlooking weak accounting practices. Considering the ruling is neither final nor immediately effective, JPMorgan analyst Alex Yao expects that any trading suspension wouldn't take place prior to May 2015 providing time to find another auditor.
Another reason the ban isn't likely to go into effect is that it also hurts US headquartered multinationals operating in China. Having a far and wide impact, the move by the SEC is mostly posturing in order to obtain a strong position when negotiating with the Chinese regulators.
Mobile Search Market Share
A big concern for the unquestioned desktop search leader was whether the market share would hold up in the Chinese market transition to mobile. After spending feverishly in the last year, the good news is that Maxim estimates that Baidu has now grabbed 57% of the mobile search market.
The research firm thinks Baidu has dominant shares in browser-generated queries (69%) and mobile search app-generated queries (75%). The weakness is search queries generated by other apps, such mobile maps and video apps where a fragmented market allows other search operators to gain market share.
Maxim forecasts the China search giant will earn around $7.70 in 2015 and places a $200 target on the stock based on trading at 26.3x those forward earnings estimates. With the stock currently trading around $160, Maxim expects 25% upside from these levels. Compared to the 30% to 40% growth rates that estimate could prove low.
Stock Chart
Along with other Chinese stocks, Baidu had been on a big run during the last half of 2013. If anything, this is the pause that refreshes.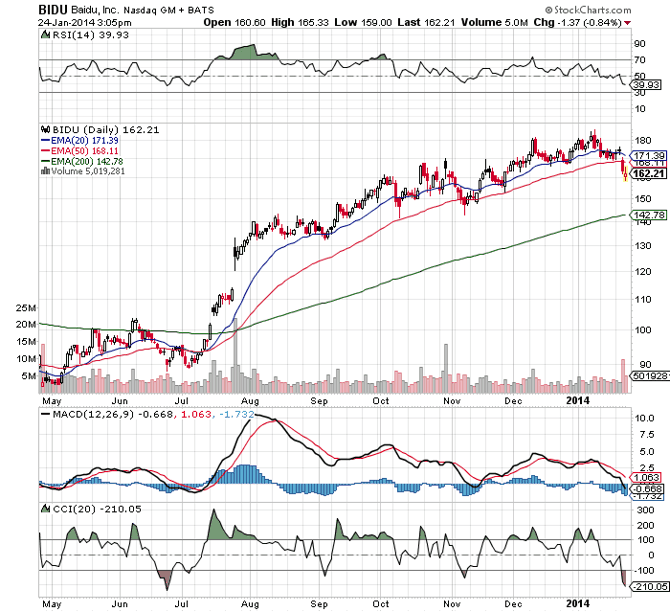 Conclusion
When Baidu reports Q413 numbers later this week, investors need to pay attention to the mobile search numbers and ensure that it is working on a backup plan regarding the auditing firm ban. Nobody benefits from the SEC banning a large firm such as Baidu from listing in the US. Oddly, those who would be most impacted in such a scenario would be the US investors it is attempting to protect.
With a valuation of only $57 billion after the sell-off, Baidu compares very favorably to the domestic search leader Google (NASDAQ:GOOG) that trades at a market cap of $377 billion. The China Mobile 4G network could be the final piece of the puzzle to usher in massive Internet growth in the very populous country and Baidu will be one of the biggest beneficiaries.
Disclosure: I am long BIDU. I wrote this article myself, and it expresses my own opinions. I am not receiving compensation for it (other than from Seeking Alpha). I have no business relationship with any company whose stock is mentioned in this article.
Additional disclosure: The information contained herein is for informational purposes only. Nothing in this article should be taken as a solicitation to purchase or sell securities. Before buying or selling any stock you should do your own research and reach your own conclusion or consult a financial advisor. Investing includes risks, including loss of principal.