Canada's banking industry is widely known as one of the safest and most efficient banking systems in the world, because its banks are well-capitalized, less leveraged, less exposed to structured products, and more conservative. Canada's financial system is also stricter with greater regulatory supervision and oversight. As a result, none of the Canadian banks failed during the 2008 Financial Crisis. In this article, I want to share my thoughts on the Royal Bank of Canada (NYSE: RY)-one of the Big Five Canadian Banks-and explain why I think it is a great long-term investment for those who want to invest in a bank that is well-managed with growing dividends.
Company Overview
The Royal Bank of Canada (AKA RBC) is Canada's largest bank by market cap and assets under management. It operates under five business segments:
Personal & Commercial Banking
Wealth Management
Insurance
Investor & Treasury Services
Capital Markets
While the bank earns most of its revenues in Canada, it also has operations in the U.S., U.K., Asia, the Caribbean and other international markets. In terms of business segments, the bank earns the most from Personal & Commercial Banking, followed by Capital Markets (corporate and investment banking) and Wealth Management.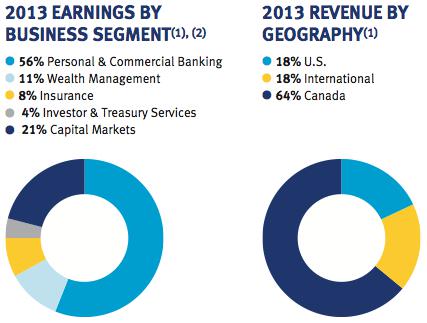 Banking Industry and Fragmentation
The Canadian banking industry is very different from the one in the U.S. One of the biggest differences is that it is an oligopoly dominated by the Big Five Banks (RBC, TD Bank, Bank of Nova Scotia, BMO and CIBC) that own the majority of the market share. On the other hand, the U.S. banking industry is fragmented with thousands of state banks along with the Big Four Banks (Wells Fargo, JP Morgan, Bank of America and Citigroup). As a Canadian who has been living in Canada for many years, I find that it is almost impossible to not do business with one of the Big Five banks. This is because they have the most branches as well as ATMs and because they offer the most extensive financial services (e.g. personal, commercial, mutual funds).
This means that the Big Five Banks will continue to dominate the Canadian market for many years and benefit from Canada's economic growth-except in the unlikely circumstance that the Bank Act changes. The Bank Act makes it more difficult for foreign banks to enter the Canadian market and be able to compete with the domestic banks.
Economic Prospects
Like many banks, RBC earns interest income and non-interest income from multiple sources: lending (mortgage and loans origination as well as servicing), personal and business banking services, wealth management, investment advisory, asset management, custodial services, insurance products and investment banking services (equity and debt origination and distribution, structuring, M&A and trading).
RBC has grown steadily in recent years because of the strong growth in its top three business segments: Personal & Commercial Banking, Capital Markets and Wealth Management. This has resulted in an average annual Total Shareholder Return of 13% in the past three years compared with the peer group average of 11%. While the return is not as high as other growth companies, it is above average in the banking industry.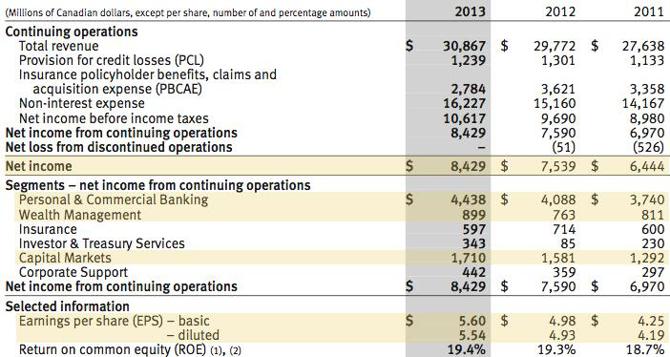 As the Canadian economy continues to improve, I believe that RBC's top three business segments will benefit:
1) For the Personal & Commercial Banking segment, the management team expects that the bank will continue to have volume growth across most of its products (e.g. mortgages, loans, investments, mutual funds, wealth management services, etc.). They also expect that their commercial and personal lending will continue to grow because of the favorable credit conditions, lower credit losses, low interest rate environment and improvements in the Canadian economy. The bank's net interest margin will likely remain low due to the low interest rate environment. It had an average net interest margin of 1.55% in 2013.

2) RBC's Capital Markets is the leading investment bank in Canada and was the 10th largest by fees in the U.S. in 2013 (Thomson Reuters). This segment has been growing steadily in the past three years due to the bank's expansion in the U.S. (see below image). The management team expects that they will continue to grow their equity and debit origination, M&A, trading, lending and advisory businesses in 2014. I believe that the bank will benefit from the improvements in the U.S. economy because better economic conditions usually lead to more M&As, IPOs and other investment banking activities.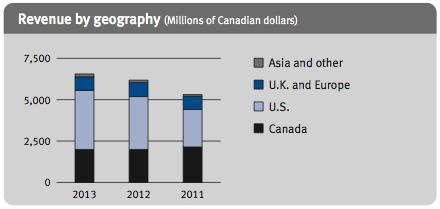 3) RBC's Wealth Management is also growing in both the Canadian, U.S. and international markets. The bank has more assets under management (AUM) in the U.S. and international markets than the Canadian one (see below image). Moreover, the bank has benefited from the increase in assets under management, higher average fees on client assets and higher transaction volumes. I believe this business segment will continue to grow as the U.S. job market continues to improve and as more investors shift their fixed income investments to equity investments that tend to generate higher fees for the bank.

Management Efficiency
For fiscal 2013, the bank had an efficiency ratio of 52.6% and a Return on Equity (ROE) of 19.4%. (The efficiency ratio measures how much the bank spends for every dollar that it earns.) While RBC's efficiency ratio is standard, its ROE is much better than the majority of U.S. banks. One of the main reasons is that the bank returns 40 to 50% of its net profits to shareholders in dividends every year while maintaining its revenue and net profit growth.
Dividend Growth
In terms of dividend payouts, the bank is paying a 3.79% dividend at the time of writing and has been growing its dividend consistently in the past ten years (see below image).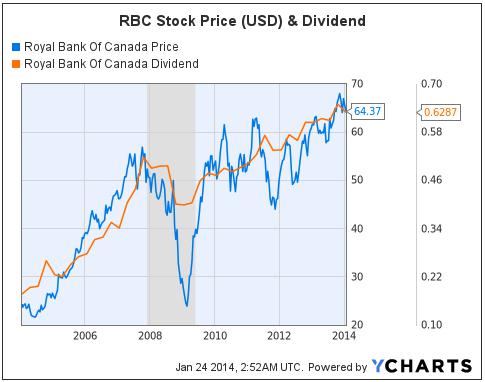 Risks
Like other banks, RBC's biggest risk is credit risk. In fiscal 2013, the bank had $408.7 billion in loan assets, 89% of which was from Canada and 11% of which was from the U.S. and other international markets. Most of these loan assets have low-to-medium risk levels according to the management. In Canada, banks can no longer lend based on equity. This means that borrowers can only obtain loans and mortgages from the Big Five banks if they can prove that they have sufficient income to meet all of their obligations and if the loan-to-value ratio is within guideline.
In terms of capital adequacy, RBC has already adopted the Basel III framework and had a common equity Tier 1 ratio of 9.6% as of October 31, 2013. This already exceeds the Office of the Superintendent of Financial Institutions' target ratio. As a result, the bank is well capitalized and should be able to meet most stress tests and economic conditions.
The Bottom Line
I believe that RBC is a great bank to invest in for the long-term because it is the most profitable bank in Canada, its top three business segments are growing, it is well-managed, and it has growing dividends. While most of its operations are in Canada, it still has a lot of growth opportunities there. This is because most Canadians use the Big Five banks, and economic growth in Canada always leads to more lending and investment business for the largest banks.
Source: All images are from RBC 2013 Annual Report and Ycharts.
Disclaimer: This article is intended to provide information to readers. As I have no knowledge of individual investor circumstances, make sure to consult an investment advisor and/or complete enough due diligence before purchasing any stocks mentioned above.
Disclosure: I have no positions in any stocks mentioned, and no plans to initiate any positions within the next 72 hours. I wrote this article myself, and it expresses my own opinions. I am not receiving compensation for it (other than from Seeking Alpha). I have no business relationship with any company whose stock is mentioned in this article.