I. Overview
IntelGenx (IGXT) is fast approaching an FDA decision on its New Drug Application (NDA) for Rizatriptan oral film for the treatment of acute migraine. The so called 'PDUFA' date for FDA decision is set for February 3, 2014 and the investors seem very bullish as evidenced by the share price. Shares are trading at 52-week high levels and have soared more than 100% since a recent public offering closed just a month ago on December 16, 2013. Apart from previous collaborations with multiple pharmaceutical companies, IntelGenx has strengthened its bonds with its largest partner Par Pharmaceutical by collaborating on two more products on January 13, 2014. Despite the impressive pre-PDUFA rally in shares, IntelGenx still carries the potential for a higher valuation. Let's have a closer look.
II. Background:

About IntelGenx: IntelGenx is a Montreal, Canada based company developing its novel and innovative proprietary technologies for enhanced drug delivery. Its strategy is to apply its proprietary drug delivery technologies to improve existing drug compounds with proven efficacy and safety and, in conjunction with strategic development and distribution partners, reintroduce these drug compounds to the market as branded products with improved deliverability and efficacy.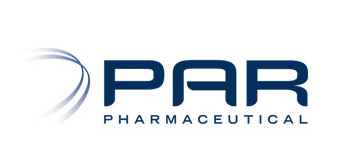 About Par Pharmaceutical: It's a generic and specialty pharmaceutical company based in New Jersey. Through its wholly-owned subsidiary's two operating divisions, Par Pharmaceutical and Strativa Pharmaceuticals, it develops, manufactures and markets high-barrier-to-entry generic drugs and niche, innovative proprietary pharmaceuticals. Par Pharmaceutical was acquired by TPG Capital for $1.9 billion in 2012. Par has collaborated with IntelGenx for 3 products being developed through IntelGenx's proprietary technologies.

About Versafilm Technology: IntelGenx immediate release oral film technology, VersaFilm™, is made up of a strip of thin polymeric film. Over the time, IntelGenx has shifted its focus mainly to the VersaFilm platform and currently has 5 products in various stages of development based on this technology. The major advantages of oral film are:
Fast onset of action
Patient Convenience
Can be taken without water
Life-cycle extension of existing products
III. The Ducks Lining up
IntelGenx's low risk business model- The 505(b)(2) regulatory pathway: The best thing about IntelGenx is its business model which they describe as 'We make approved drugs better'. The 505(b)(2) regulatory pathway allows drug developers to come up with innovative variants of already approved products without going through the multimillion-dollar clinical trial studies. Most of the products in IntelGenx pipeline are based on bioequivalence studies which typically cost $0.03 MN to $0.3 MN per study, far cheaper when compared to clinical trials evaluating safety and efficacy of drugs.
Financials: IntelGenx boasts a strong balance sheet with no debt which is a rare observation in development stage biotech/pharma companies. The company has a fully diluted share count of 72 million which gives a ~$70mn market capital at share price $0.961 (its closing price on January 24, 2014). With the help of a recent $3.5 million financing, IntelGenx had $5.1mn cash before entering into a partnership with Par for two more products. The upfront payments from this recent partnership are undisclosed. With an ultra-low cash burn rate of ~$0.7mn per quarter, IntelGenx is very well funded.
The Upcoming Catalyst: IntelGenx is awaiting a decision from FDA due on Feb. 3, 2014 for its NDA for the marketing approval of Anti-Migraine VersaFilm™ oral film product. The product is a novel, oral thin-film formulation, based on IntelGenx' proprietary VersaFilm™ technology containing Rizatriptan, the active drug in Merck's (MRK) Maxalt-MLT® orally disintegrating tablets. If approved, IntelGenx's product will be poised to take a sizable share from the > $600 million annual market of Maxalt® and also a $1.6 billion annual US market of Anti-Migraine drugs due to its advantages over existing products.
Odds of Anti-Migraine Product Approval by FDA: The information available so far regarding Anti-Migraine Versafilm product suggests high chances of approval on Feb. 3, 2014. The data provided by IntelGenx suggests that its product has a very good bioequivalence profile when compared to Merck's Maxalt® MLT. Also the product is stable up to 12 months as per available data. These are very positive factors for an FDA approval.

Anti-Migraine Film, Beyond US Market: Surprisingly, there has been no mention from IntelGenx regarding the recent development where the company along with its co-development and commercialization partner RedHill Biopharma (RDHL) had a positive European Scientific Advice meeting with the German drug regulatory agency (BfArM) for Rizatriptan film. The companies are now planning to file a European Marketing Authorization Application for Anti-Migraine Film during the first half of 2014.
New Leadership: Dr. Rajiv Khosla, the former Vice President of Business Development at Biovail Corp. (acquired by Valeant Pharma (NYSE:VRX) for $3.3 billion) replaced Dr. Horst Zerbe as the new CEO and President of Intelgenx on January 1, 2014. Dr. Khosla holds an impressive track record of leading the transaction process for more than 75 deal opportunities in a variety of therapeutic areas during his career including 5 year tenure at Biovail Corp.
Under the leadership of Dr. Khosla, IntelGenx has geared up for what seems to be a forward integration effort by setting up manufacturing capability for VersaFilm platform products. The company announced that it intends to use proceeds from recent financing for capital investments in VersaFilm™ manufacturing equipment and other purposes. These steps will likely provide much needed strategic manufacturing independence rather than relying on contract manufacturers.
Undisclosed Products in Par Partnership: Though these are pure speculations, the two products in the recently announced partnership agreements are most likely to be the late stage products in IntelGenx pipeline,
1) The VersaFilm based Erectile Dysfunction product;
2) The VersaTab based Hypertension product.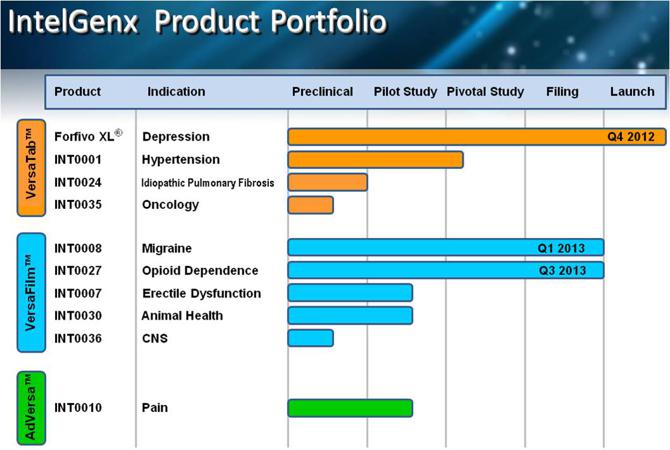 Though financial terms of this deal are not disclosed, investors can get a hint from former CEO Dr. Zerbe's comments made during the 25th Annual Roth conference:
''We are currently talking to a specialty pharma company in US who wants to give us $3 MN upfront for exclusivity rights for this product (fast acting Tadalafil film product) for the US market ''
From my follow-up email conversation (refer to snapshot below) with Dr. Zerbe and the recent announcement of partnership with Par Pharma, my beliefs are strengthened that Par Pharma is in love with IntelGenx' Tadalafil film.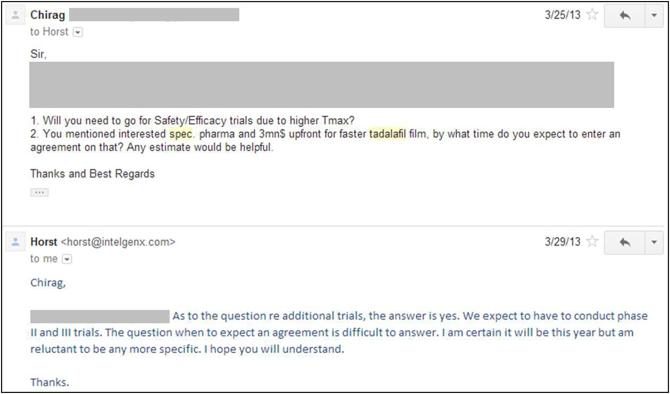 Valuation : With 10 products in the pipeline and 5 of them already partnered, a $70 million fully diluted market cap for IntelGenx seems highly undervalued. Moreover, the recent spike in the interest of big pharmaceutical companies in Anti-Migraine medications may bode well for a higher valuation for IntelGenx and its partner RedHill Biopharma, if their product is approved. The anti-Migraine space has heated up as evident from some recent deals:
Jan. 21, 2014, Teva announced the acquisition of NuPathe for $144mn in upfront payments and additional $124mn in sales based milestone payments, outbidding Endo's offer to get NuPathe's FDA approved Anti-Migraine Patch (Zecuity) and the patch technology.
Jan. 13, 2014, Eli Lilly announced the acquisition of CGRP Antibody for Migraine Prevention from Arteaus Therapeutics; financial terms were undisclosed.
IV. Conclusion: With a phenomenal start of the year 2014 with new leadership, stronger stock performance, new partnership with Par Pharma, patented Anti-Migraine product approaching FDA decision, upcoming EU filing for Anti-Migraine Film, a healthy balance sheet and even healthier product pipeline, all ducks seem to be lining up for IntelGenx and its bullish investors.
Disclosure: I am long IGXT. I wrote this article myself, and it expresses my own opinions. I am not receiving compensation for it (other than from Seeking Alpha). I have no business relationship with any company whose stock is mentioned in this article.