If you were lucky enough to buy shares of Promotora de Informaciones [(NYSE:PRIS)(NYSE:PRIS.B)] ("Prisa") in late November or early December, congratulations, you have made a 50% paper gain. I noted in a number of prior articles that the event-driven idea to propel shares higher was a significant debt restructuring, thereby allaying any fear of a debt default in the near term.
Removal of this uncertainty sent the equity appreciably higher over the last couple months.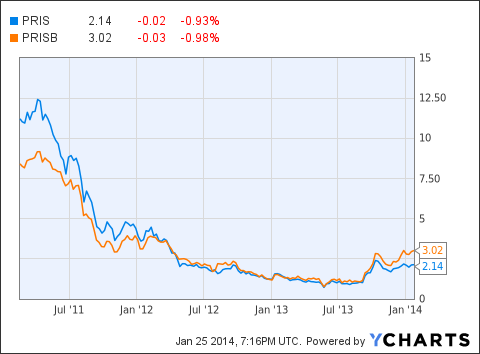 Market Repricing the Arbitrage?
The other thing of note in the chart is that the market appears to be picking up on the difference in value between Prisa's dual class structure, A and B shares. While the shares traded down in tandem until September 2013, the B shares have rebounded more than the A shares.
The B shares have certain liquidation, dividend and conversion preferences to the A shares. As noted in prior columns, each B share is the economic equivalent of 1.6 A shares given the B's are set to be forcibly converted to A's in May 2014 at the rate of 1.33 A's per B. The B's also will get a 0.26 A share per B share owned as a scrip dividend.
Potential investors are directed to the B shares, which are superior to the A's.
Debt Refinance
In December, we received news that Prisa, did in fact, come to terms with its creditors, who allowed Prisa to extend its debt maturities by 5 to 6 years, provided certain deleveraging milestones were met in the medium term. However, Prisa shareholders were also diluted to the tune of 17%. Certain distressed debt funds received 17% of the company in return for providing a €353 million credit facility to provide Prisa adequate breathing room to effect its turnaround strategy, which includes selling non core audiovisual assets, and focusing on its digital transformation, particularly in Latin America.
I understand Prisa is required to make a €900 million repayment by then end of 2015 and another €600 million by the end of 2016. If it doesn't, I understand the creditors will be able to seize the crown jewel asset of Prisa, it's 75% share of education publisher, Santillana.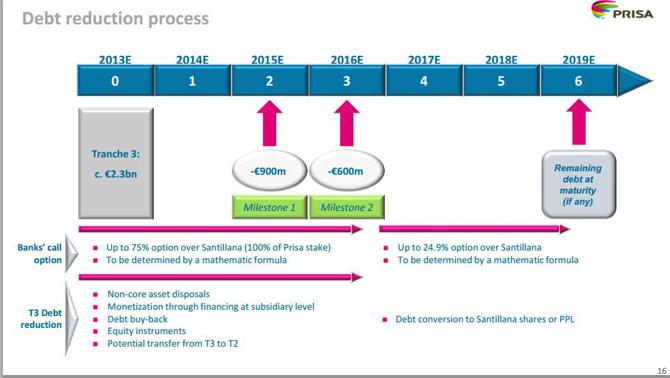 Due to all the consolidation occurring in the pay-TV industry in North America and Europe, I continue to believe that Prisa will receive numerous offers for its audiovisual assets. Certain players including, Vivendi (OTCPK:VIVHY), Telefonica (NYSE:TEF), American Movil (NYSE:AMX), Liberty Global (NASDAQ:LBTYA), and 21st Century Fox (NASDAQ:FOX) come to mind as potential acquirers.
Using a prior transaction, where Telefonica and Mediaset Espana acquired a 44% stake in Digital+, valuing the company at €2.35 billion, I continue to think suitors will pay at least that pro rata portion for a 56% control stake in Digital+.
However, risk remains. After the recent run up in Prisa shares, I think it is prudent to take some gains off the table, in case management is unable to secure a favorable deal. Moreover, a potential sale might not occur in the near term as Prisa management has until 2015 to satisfy its debt covenants.
The next opportunity, in my mind, is trading the arbitrage in the A and B shares that currently exists. As we approach the forcible conversion date, compelling risk/reward trades may present themselves depending on how the shares trade over the next several months.
Conclusion
The risk/reward scenario has changed for Prisa, given the run up in the equity prices and the dilution incurred as part of the debt restructure. While the risk of default has been removed, I think there continues to be potential for a negative catalyst should management not get a satisfactory price for its audiovisual assets.
In my mind, Prisa needs to get at least €1.2 billion for its 56% share of Digital+. If it gets that price, and if management is able to hold and sell its 17% share in Mediaset Espana at market prices that continue to appreciate, Prisa should be well on the way to cleaning up its balance sheet problems.
Discerning, event-driven value investors should continue to monitor this situation closely.
Disclosure: I have no positions in any stocks mentioned, and no plans to initiate any positions within the next 72 hours. I wrote this article myself, and it expresses my own opinions. I am not receiving compensation for it (other than from Seeking Alpha). I have no business relationship with any company whose stock is mentioned in this article.