Ventas, Inc. (NYSE:VTR) is a publicly-owned real estate investment trust specializing in senior housing and healthcare properties. I feel that the company is one of several large-cap firms within the financial sector that offer a great opportunity for share appreciation and dividend collection. My positive investment thesis for Ventas Inc. is based upon seven key criteria I have developed for investing in U.S. based financial or REIT companies, which include:
Key Selection Criteria
1. A market capitalization over $10 billion.
2. A leadership position within a growing industry.
3. A dominant, or large, market share within its product mix.
4. A strong balance sheet and high credit rating.
5. A low historical relative valuation as measured by price/sales and/or price/FFO ratios.
6. A strong dividend growth rate.
7. A catalyst of new revenue opportunities.
Capitalization
Ventas is a large-cap healthcare real estate investment trust with a current capitalization of $18 billion.
Leadership
Ventas owns nearly 1,500 healthcare properties including senior housing communities, skilled nursing facilities, medical office buildings, and smaller percentage of hospitals located throughout the U.S. and Canada. Ventas' competitive advantage is in its diversification and risk control. Ventas limits downside risk by owning high-quality assets in strong markets with favorable demographics that it expects to enjoy stable and growing demand over time. Ventas usually leases its healthcare facilities under "triple net" leases, where the tenant pays for taxes, insurance and maintenance of the properties, in addition to rent. These long-term net lease properties produce steady cash flow with escalations, the majority of which are tied to CPI. This insulates the company from short-term market swings that may adversely affect the operations of a particular facility.
Balance Sheet/FCF
The balance sheet of Ventas is in excellent condition. Ventas, Inc. announced in December that Standard & Poor's Ratings Services had raised its ratings on the company's senior unsecured debt to BBB+ from BBB, with a stable outlook. Ventas Chairman and Chief Executive Officer Debra A. Cafaro said:
"We are extremely pleased that S&P has recognized the financial strength and flexibility of our company, as well as the excellent performance of our large and diversified portfolio."
S&P analysts commented:
"We have revised our assessment of Ventas Inc.'s financial risk profile to "modest" from "intermediate" based on strong coverage measures supported by stable cash flow and management's commitment to conservative balance sheet management."
Total cash flows from operations were $328 million in the third quarter, up 32% from the third quarter last year. Dividends were $198 million producing a net of $130 million available to invest in additional properties.
| | |
| --- | --- |
| | FCF |
| 2013 | 255M |
| 2012 | 144M |
| 2011 | 153M |
| 2010 | 363M |
Source: Ventas, Inc. Annual Report
Relative Valuation
Ventas is trading toward the middle of its range in history in terms of price to FFO (funds from operations) at 14. Ventas has traded at a price to FFO ratio range of 8.3 to 18.6 in the past decade. The average price to FFO ratio for the previous ten years has been 15.5. Book value per share nearly tripled in 2011 due to a massive balance sheet expansion and since has remained consistent. Year over year for the past decade, FFO for Ventas has increased 11% on an annual basis.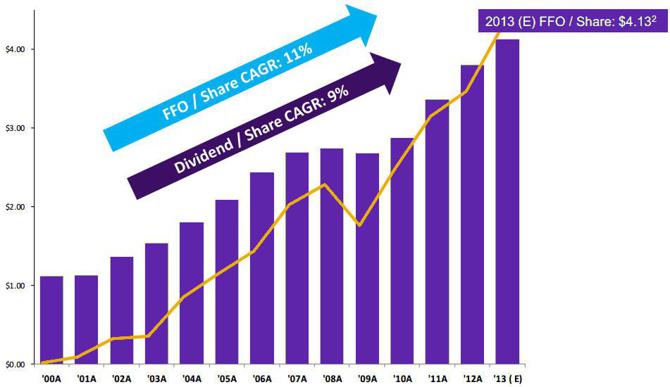 Source: Ventas, Inc. Presentation NAREIT World, November 2013
The most recent double-digit dividend rate hike was based on Ventas' expectation of hearty growth of 11% in 2013 FFO per share (excluding non-cash items). The company has a dependable track record of increasing shareholders' wealth. In late October, Ventas came up with improved third-quarter 2013 results with normalized FFO per share of $1.04, exceeding consensus estimates by 2%. Yearly growth in FFO was an impressive 8.3%. I expect FFO to continue at an above market pace through the next five years.
| | | |
| --- | --- | --- |
| Date | Price to FFO | Book Value Per Share |
| 2013 | 14.2 | 30.20 |
| 2012 | 15.9 | 28.47 |
| 2011 | 14.7 | 32.11 |
| 2010 | 16.6 | 15.17 |
Source: Ventas, Inc. Annual Report
| | |
| --- | --- |
| 2017 FFO Projected | 5.25 |
| Price to FFO 2016 | 15.5 |
| | |
| 2017 Target Price | $81.35 |
Dividends
Ventas has increased its dividend by a 9% compound annual growth rate over the last 10 years. In the past decade, dividends have risen substantially from $1.07 in 2003 to $2.74 a share in 2013. Ventas' total 2013 dividend came in at $2.74 per share. This reflects a 10.3% hike from the 2012 dividend. Notably, solid dividend payouts are possibly the biggest appeal for REIT investors as the U.S. law requires these companies to distribute 90% of their annual taxable net income in the form of dividends to shareholders.
Ventas, Inc. Dividend Payout History - 5 Years
| | | | | | |
| --- | --- | --- | --- | --- | --- |
| | 2009 | 2010 | 2011 | 2012 | 2013 |
| Dividends Per Share | 2.05 | 2.14 | 2.30 | 2.48 | 2.74 |
Source: Ventas, Inc. Annual Report
I expect dividends to continue to climb by a conservative 8% clip over the next three years. This would result in a collection of dividends for a Ventas investor of $2.95 in 2015, $3.20 in 2016, and $3.45 in 2017. Combine these dividend payments of $9.60 over the next three years plus my capital gains projections ($81.35 target minus $61 current price) of $20.35 results in a total return of nearly 50%.
Catalysts
There are four principal property types healthcare REITs invest in: Senior Housing, Skilled Nursing Facilities, Medical Office Buildings and Hospitals. Many healthcare REITs concentrate in one of two areas. However, Ventas has one of the biggest and most diversified portfolios in the healthcare REIT sector with exposure to each type of healthcare facility. The product assortment that Ventas owns allows the firm to benefit from on opportunities in miscellaneous markets based on individual marketplace dynamics. Ventas also participates in an industry that is growing rapidly due to large demographic changes in the United States. According to the CMS, healthcare spending will rise from approximately 18% of the GDP in 2012 to nearly 20% by 2021. This rise in healthcare spending is expected to drive demand for all the healthcare REIT companies. With over 3.5 million boomers reaching age 65 each year, I expect a sturdy increase in each area of the company's diverse portfolio. The four segments include triple-net leased properties, senior living, medical office building (MOB) operations, and other hospital type facilities, etc. Ventas' triple-net leased properties segment, which generated 52% of net operating income in 2013, are leased to healthcare operating companies that require tenants to pay all property-related expenses. The triple net structure thus gives Ventas a very predictable revenue stream as the company is not subject to the patchy nature of building maintenance.
Not only is the industry growing due to future demographics, but the industry as a whole is also highly fragmented. The healthcare REIT company estimates that a measly 10% of the $1 trillion healthcare real estate market is in REIT possession. This allows for Ventas to continue its strong acquisition bent which has driven FFO per share growth of 11% in the past decade. Acquisitions have continued on a rapid pace by Ventas, as $2.5 billion in secured deals went through in the first nine months of 2013. Some of the highlights included a $360 million investment in eight high-quality senior housing operating investments and nearly $800 million in independent living triple-net leases with a new tenant. Ventas also allocated $120 million to medical office building investment last year, including acquiring eight medical office buildings located on the campuses of current hospital clients. These medical office buildings are over 90% occupied and contain 430,000 square feet.
Potential headwinds for Ventas in 2014 are higher interest rates and a rapid construction of senior living facilities. But I feel rising interest rates have already had a large negative effect on Ventas during 2013. And despite the interest rate rise, Ventas still delivered impressive growth in FFO and the firm also financed debt at extremely favorable levels. As for the acceleration in construction in the senior living space, Ventas management recently stated that there are approximately 17,000 senior living facilities now under construction, but there are now 17 million people now over 75 years of age. By 2020, this figure should be 22 million. Thus even with the expansion of senior living facilities, demand should far outstrip supply over the next few years. Ventas' stock price has dropped from $84 in May of 2013 to $61 as most high yield type investments like REITs and utilities fared poorly. I think the discounted price offers a great opportunity to buy the premier firm in the healthcare REIT industry at a reasonable price. Even a very conservative assumption of no price growth in Ventas shares would allow for a collection of nearly $10 a share in dividends through 2017. As Ventas maintains the most diversified mix of revenue in the industry and a proven track record of growing both FFO and dividends above competitors, I think it is the best high yield investment selection for 2014.
Disclosure: I am long VTR. I wrote this article myself, and it expresses my own opinions. I am not receiving compensation for it (other than from Seeking Alpha). I have no business relationship with any company whose stock is mentioned in this article.