lt's just about that time again. Alcoa (NYSE:AA) is set to kick off the first quarter earnings season next Monday after the close. One key earnings characteristic is how volatile a stock typically is around its earnings reports. Many traders like to play the volatile stocks from both the long and short side during earnings season.
Below we highlight the S&P 500 and Russell 3,000 stocks that have historically moved the most on the first trading day following their earnings reports (for companies that report before the open, we use that day's change, and for companies that report after the close, we use the next day's change).
To calculate the earnings report day volatility, we simply take the average absolute one-day percentage change for stocks on their release days. (As an example, if a stock moves up 20% on one day and down 10% on another day, its average absolute change on those two days is 15%.) The average US stock moves about +/-5.50% on its earnings report day.
As shown, First Solar (NASDAQ:FSLR) is the most volatile S&P 500 stock on its earnings report days, with an average change of +/-16.89%. Intuitive Surgical (NASDAQ:ISRG) is the second-most volatile at +/-15.74%, followed by priceline.com (NASDAQ:PCLN) at +/-14.77%. Other notables on the S&P 500 list include Amazon.com (NASDAQ:AMZN), Mastercard (NYSE:MA), Whole Foods (WFMI), and Yahoo! (NASDAQ:YHOO).
click to enlarge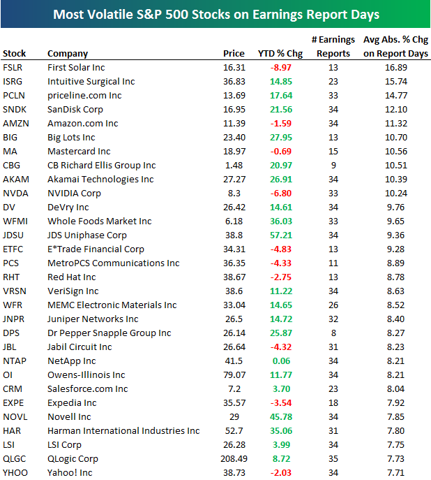 The most volatile stock on earnings report days in the Russell 3,000 is Geokinetics (GOK) with an average one-day change of +/-17.83%.