The latest data on steel imports showed continued stability, but far from a v-shaped recovery. The preliminary February steel imports were $1.3B vs $1.4B in January. Year over year imports are down 25% from 2009 and down 45% from 2008.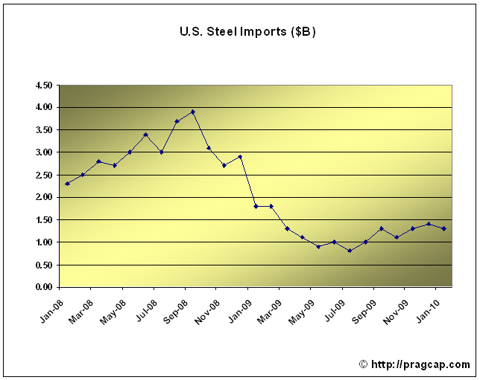 Click to enlarge
The Census Bureau detailed the report:
The February change in steel imports based on metric tonnage reflected decreases primarily in oil country goods; hot rolled bars; and blooms, billets, and slabs. Monthly increases occurred primarily with wire rods, reinforcing bars, and hot rolled sheets. Monthly decreases occurred primarily with Korea, Canada, and Russia. Increases occurred primarily with Mexico, Japan, and Turkey.

The year to date final statistics through January 2010 showed steel imports of 1.5 million metric tons compared to 2.1 million metric tons through January 2009. The largest commodity decrease was in oil country goods and the largest commodity increase was in blooms, billets, and slabs. The largest country decrease was with China and the largest country increase was with Canada.
Source: Census Bureau