Immersion (NASDAQ:IMMR) reported 4Q 2009 results on March 30th (conference call transcript available here).
Click to enlarge
Since our last article on the Company, back in May 2009, many things have happened.
A quick summary of the event that forced Immersion into reporting three quarters late, and a brief update of recent Company announcements are both probably necessary before digging into the latest results.
On July 1, 2009, the Company announced an internal investigation into certain previous revenue transactions in the Medical line of its business. Due to this investigation, Immersion was unable to file quarterly reports and announce financial results in a timely manner for a few quarters.
A few months after this announcement, the CEO, Clent Richardson, resigned, and Victor Viegas, former Chief Executive Officer of Immersion, was asked to serve as Interim Chief Executive Officer.
Previously, the CFO, Stephen M. Ambler, had also resigned, and Daniel Chavez, Immersion's Senior Vice President and General Manager of the Medical Line of Business left the Company roughly around the same time. Mr. Henry Hirvela joined Immersion in August of 2009 as Interim Head of Finance.
During the investigation, Immersion was still capable of announcing a few interesting deals with strategic touch screen chip producers, like Cypress Semiconductor Corp. (NASDAQ:CY), IDT (Integrated Device Technology, Inc.) (NASDAQ:IDTI) and Atmel Corporation (OTC:AMTL).
While we do not believe that IMMR will add much in terms of revenues from these deals, integrating haptic technologies into these Companies' offerings will help with driving the adoption of haptics in more digital devices – it's basically like saying that Immersion will leverage, at no cost, the sales force strength of these partners to gain more customers and address more consumer products beyond the usual suspects (mobile phones, game consoles, etc.). Customers should also receive the benefit of an easier installation of haptic into their products, and these partners have enhanced the user features they can offer. It seems like a nice win-win situation for all.
Later on, we'll see how the addition of Synaptics (NASDAQ:SYNA) as a partner has positioned the Company as one of the leaders in the touch screen market.
Another interesting event in the last few months has been the fact that Ramius Capital took a significant position in the Company. The first filing is dated September, 15, 2009, and at that time Ramius held a 5.9% position in the Company.
(Click to enlarge)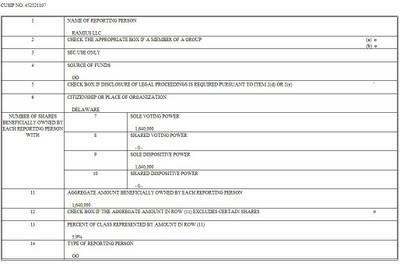 Ramius' move did attract some attention to the stock, and Immersion was mentioned in Barron's (subscription required):
What's Happening: Ramius Capital filed a boilerplate 13D stating no current activist intentions.
Key Numbers and Dates:
4: the number of recent 13D filings by Ramius on companies with a solid core business and an underperforming non-core business.
10.7%: Ramius' average return on those four investments.
13.9%: the average decline in the S&P 500 in the same periods.
Behind the Scenes: Despite filing a boilerplate 13D, Ramius certainly will meet with management and will take an active role in enhancing shareholder value.
The latest filings show that Ramius added shares, reaching a position just below the 15% limit.
On February 8th, 2010, Immersion finally announced the conclusion of the investigation. Victor Viegas, Interim CEO of Immersion, said:
We are pleased to have this independent financial investigation completed. At a high level, the impact of the restatement since 2006 resulted in the reversal of less than $1 million in revenue that ultimately will not be recognized, an increase in net loss of approximately $2 million, and no change to our reported cash balances. In total, $5.7 million of revenue previously recognized through the first quarter 2009 has either been recognized in a later period, will be deferred to future periods, or will be written off. The Company is actively continuing the process of enhancing its policies and procedures to reduce the chance of recurrence of the issues identified in the independent financial investigation.
On the same occasion, in addition to releasing 2Q and 3Q 2009 results, the Company also announced a shift in its business model:
In addition and after an extensive review of the Company's business, Immersion's Board has concluded that applying our licensing model to a highly-targeted number of end-markets and vertical growth sectors offers the most positive outlook for a rapid return to profitability and long-term value for our stockholders. Therefore, while we will continue to pursue the medical segment of the touch market via a licensing approach, our current medical product offerings are no longer core to the Company's go-forward strategy. We are actively reviewing strategic options for the medical line of business and are engaged in licensing discussions with several parties that are interested in developing and selling medical simulation products.
We'll analyze this move more deeply later on.
Another interesting press release came on February 12th, Synaptics Showcases New Features on Fuse™ Mobile Phone Concept with Partners at Mobile World Congress 2010.
Here is a video of this interesting phone concept, followed by a few comments on the device:

Synaptics has just announced this really neat concept phone called the Fuse, which has sensors of pretty much every type all over it. First off, it has a touch sensor on the back of the device when combined with haptic feedback, unlocks some great potential for 3D apps and multitouch. The device is also pressure sensitive, so squeezing its sides will let you stop inertial scrolling and open applications.
An interview with Mark Vena, Synaptic vice president is available at this link.
Through all these announced partnerships, Immersion seems to have gained a great strategic position in the touchscreen chip market:
The touchscreen chip market is like the Wild West.

A plethora of companies are entering the fledging market - and for good reason: Apple's (NASDAQ:AAPL) iPhone seemed to have ignited a revolution for touchscreen technology in cellular phones. Netbooks, PCs and other products are moving towards touchscreen technology.

...

Atmel, Cypress, IDT, Microchip (NASDAQ:MCHP), Renesas (OTCPK:RNECY), Synaptics and others are selling touchscreen chips for handsets and other products. Synaptics was one of the early leaders for handsets, but Atmel and Cypress are coming on strong. The others are scrambling to get their foot in the door.
It also sounds like the number of addressable markets may grow due to the innovative use of haptics by existing customers. This is evident through recent reports from LG (OTC:LGERF) and Samsung (OTC:SSNLF).
LG has introduced a new ultra-thin notebook, the LG X300, and it's seemingly using Intel's (NASDAQ:INTC) 2GHz Menlow-based Atom Z550 rather than any of the new Pine Trail chips. Measuring a scant 17.6mm thick, the X300 has an 11.6-inch display, 2GB of RAM and an SSD for storage.
There's also a borderless trackpad with haptic feedback and an auto-sync client that pulls new PIM data from a nearby paired cellphone.
Samsung's remote control looks and feels like a mobile phone, complete with haptic feedback and sound effects found on existing Samsung handsets.
While there may be other interesting news that might be worth a mention (like the fact that the Company keeps adding patents to its already impressive number or that Lexus (NYSE:TM) used its award winning Remote Touch in a new car), we'll just mention a recent product development, before getting back to the latest conference call and analyzing the financial results.
At the recent Mobile World Congress 2010, Immersion announced two solutions, under a brand new "High-Definition" haptics category inorder to increase its offering of localized, instantaneous touch feedback.
Here are the links to the specifications of each product: TouchSense 4000, TouchSense 5000.
TouchSense 4000 is currently available and was used in the Fuse handset mentioned prior. TouchSense 5000 is expected to ship in commercial mobile handsets in the second half of 2010.
From a business point of view, this is an attempt, by Immersion, to offer, especially in the mobile phone sector, some more advanced products to be able to work around one of the Company's biggest problems: the very low royalty-per-unit rate attached to each mobile phone using basic haptic (probably around 10 cents per phone).
While this approach was probably necessary to gain some of the largest producers in the industry as customers (Nokia (NYSE:NOK), LG, Samsung), the strategy to use the traction of being installed in many devices to get higher royalties from game downloads or other applications linked to the phone, seems to have failed so far. Also, revenues haven't really reflected the success that the number of phones sold with haptic has (Immersion recently announced having shipped its TouchSense technology in more than 100 million mobile phones worldwide).
Let's have a look at some recent numbers, after the accounting restatement: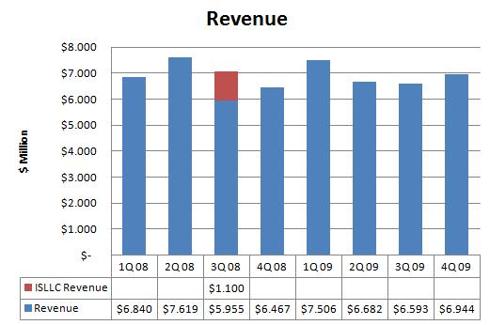 Click to enlarge
(Click to enlarge)
Revenues aren't really growing like the wider and wider adoption of haptic might suggest. Digging into numbers, we should probably exclude a one time event (revenue received in the 3Q 2008 as settlement by ISLLC, which we have underlined in red in this spreadsheet), and also consider that 2Q and 3Q 2009 saw a 40% YOY decline in automotive and gaming. For example, BMW removed Immersion's technology from its cars. Still, this trend is not exactly what you would expect from a growth story.
Here is a more detailed sheet by segment: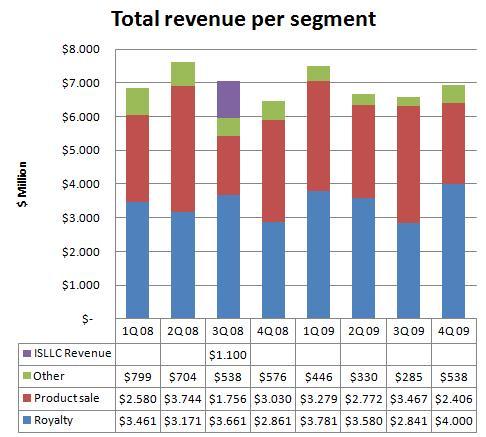 As we quickly mentioned, Immersion has recently taken a fundamental change in its business model and will be pursuing a pure licensing business model.
A quick look at the royalty stream underlines the fact that royalty and license revenues have just recently touched the $ 4 million per quarter run rate: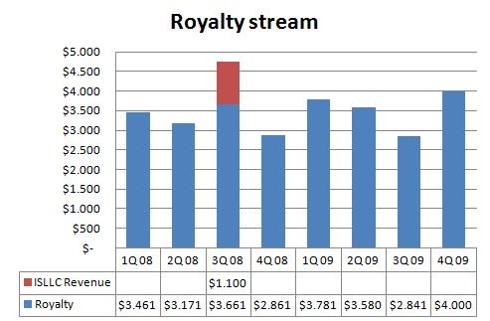 Click to enlarge
(Click to enlarge)
The first move toward this new business approach was the sale of the Medical division, announced together with 4Q 2009 results. This division represented about $6 million in revenues in 2009, as we learned from the recently filed 10-K – pg. 36. Victor Viegas, Interim CEO of Immersion, said:
We are proud of the pioneering work that we have accomplished in the surgical simulation market. We believe that CAE Healthcare provides a great opportunity for our medical employees, customers, and distributors to take our simulation business forward. At Immersion, we will focus our core strategy on what we do best - building reference designs and licensing TouchSense haptics solutions to all markets, including healthcare. We welcome CAE Healthcare as a new customer as we continue to capitalize on the medical market through our licensing model.

CAE Healthcare, a division of CAE, and Immersion , a leading innovator of haptic (touch feedback) technology, today announced that CAE Healthcare has acquired part of Immersion's medical simulation business unit. Three product lines are part of the acquisition and will form the core offerings of CAE Healthcare's newly established surgical simulation division.
The impact of the sale will be mostly positive, as explained during the conference call. Victor Viegas said:
On our last conference call, we announced the strategic decision to stop selling Medical simulation products. We believe we have substantially achieved this goal through the sale of our laparoscopy, endoscopy and endovascular Medical product line to CAE Healthcare. But we also granted a non-exclusive, worldwide license for Immersions' haptic based technology and medical training application.

After the close of the transaction, CAE Healthcare intends to retain existing manufacturing, operations, research and development, service and support and sales personnel. This will result in Immersion reducing its headcount by approximately 35, after which we expect to have a total of approximately 100 employees, which we believe is the right size to execute on our go forward strategy.

As with other license agreements, Immersion will not be disclosing the details of the license agreement with CAE. However, Immersion will receive license fees for rights granted under the non-exclusive license plus approximately $1.6 million under terms of the asset sale.
More details from the Q&A session:
Victor Viegas

So again, the one agreement was an asset purchase. Inventory success, that's $1.6, that's what it was for, that's how it was valued. The other is the license under our patent portfolio, just like we do with all our other licensees. We license them which allows them to build themselves products and for that they pay license fees.

John Zaro - Bourgeon Capital

Right. Okay.

Victor Viegas

Separate from that, then, there's a transition where the 35 or so employees will all become employees of CAE. CAE picks up the distribution agreements, the customer relationships, and they carry on the business as we have in the past. So our customers are taken care of, our employees are satisfied and taken care of. We make an exit from a product business.

John Zaro - Bourgeon Capital

Right. And you don't have any write offs or the other stuff related to it.

Victor Viegas

I don't believe there will be any write offs that I'm aware of. No.

John Zaro - Bourgeon Capital

And because you don't have to pay severance or anything.

Victor Viegas

That's correct.
The royalty benefits of the CAE relationship will probably start being reflected in the 2Q 2010 numbers, and the Medical segment is generally expected to contribute approximately $3 to $5 million in royalties in 2010 (as a reminder, there are other licensees, like MAKO Surgical, in this sector). Medical is still expected to represent about $ 1 Million in revenues in the 1Q 2010, as the sale of the division to CAE completed at the end of the quarter.
Given the new business model pursued, Immersion has also issued guidance for 2010 to help investors understand what kind of business model and financial results the Company is targeting.
Having reported 4Q results on the last day of the 1Q 2010, it's no surprise that Immersion could also give out some numbers for the next quarter, which is actually just visibility into what happened – but the results may actually come as a surprise, especially as to the royalty revenues achieved:
Victor Viegas , CEO, said:
Turning to a discussion of our near term outlook, as indicated on our last call we expect to generate revenues of at least $25 to $30 million in 2010. Now that we have largely exited the medical products business, we expect the Medical segment to contribute approximately $3 to $5 million of that total.

Additionally, we expect to be profitable on an adjusted EBITDA basis for the year. Today's agreement with CAE Healthcare further solidifies that goal, significantly reducing our operating expenditures and allowing us to benefit from the higher margins associated with the primarily license oriented model.

While we don't expect to provide quarterly guidance regularly, given that we are at March 30, it seems prudent to give you a little color on expected Q1 results. We anticipate total revenues of approximately $8 million with royalty and license revenues comprising approximately $6 million.
The $6 million in royalty and license revenues sounds like a great improvement on previous results. It must be added that there is some sort of seasonality in these numbers as the 1Q 2010 will see royalties recognized in the 4Q of the year, that includes the strong holiday period sales in gaming and mobile phones. Having said this, it is a very welcome (and unexpected) result that has probably taken investors by surprise, as the reaction in the share price after earnings might suggest.
Previous disappointments with this Company make us a bit skeptical about its capacity to execute, but these recent announcements let us (once more) hope that the wider adoption of haptics and the addition of new solutions and consumer products might finally bring the time Immersion will start delivering good results for its shareholders, too.
Assuming 2010 may be a transitional year for Immersion to establish a new, smaller and potentially more valuable Company, the comment about being profitable on an adjusted EBITDA basis needs to be evaluated more closely. In the 4Q 2009 Immersion burned about $6 Million in cash, with revenues in the $7 million range, and as 2010 guidance targets a mid point of less than $ 7 Million a quarter in revenues, the obvious question is: How do these numbers and the EBIDTA profitable target fit together?
Here is a part of the Q&A session discussing this point:
Mark Argento - Craig-Hallum Capital

So you guys should get basically your expenses at or slightly above, dependent upon what the add backs are to your revenue. And so if you guys are doing $7, $8, $9 million a quarter in revenue, your expenses have to be kind of at that level which would suggest you can get them down below that $10 million a quarter which I think you alluded to earlier. I just want to make sure that's what you're talking about.

Victor Viegas

Yes. I think if you look at the fourth quarter, we were at $12.2 million. Of that $1.9 was related to our efforts in our restatement. If you then reduce that by the headcount costs and the other operating expenses related to the medical product line, we should be substantially lower than the $10 million. And as we get down to the $6 to $7 million range, that drives an adjusted EBITDA profitability.
Another small surprise came from a comment on the cash available:
Mark Argento - Craig-Hallum Capital

Do you have a cash balance number for us for the end of the quarter here, roughly? I know I think you ended, was it $63 million at the end of the year or $67?

Victor Viegas

$63.7 at the end of the year. We haven't closed our books for Q1, so we don't have a final number. I did take a quick look at the end of February and we had I think something higher than $65 million, so we added some cash in the first two months of the year.
Once we have 1Q 2010 results, it will be interesting to understand how the Company could report such a turnaround in cash consumption in such a small amount of time.
A last comment about TouchSense solutions for mobile phones. Last year, this segment represented about 29% of revenues, or about $ 8,000,000 (10-K, pg. 7). In 2009 about 75 million handsets were shipped with Immersion technology, or about 30% of all touchscreens sold (as a side note, royalties recognized in 2009 do not reflect exactly the number of phones sold in the same year, as 4Q sales are recognized in the following quarter).
Research from DisplaySearch estimates that over 248 million touchscreen mobile phones shipped during 2009, a number forecasted to more than triple to 765 million by 2014. Additionally, Gartner identified haptic technology as a key trigger in computer interface design in 2009.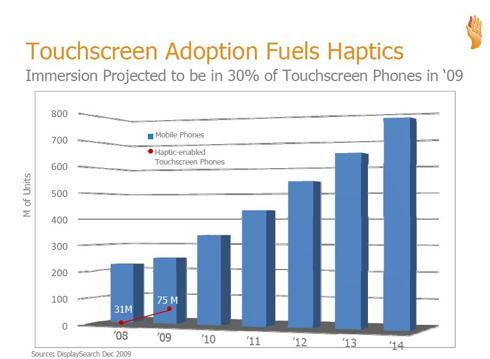 Click to enlarge
(Click to enlarge)
Assuming these predictions are correct, and Immersion's existing partners do keep their market share, allowing the Company to retain a 30% presence of the whole market, it would be possible to speculate that Immersion's technology will be installed in about 230 million phones in 2014.
On a stable royalty rate, this alone could add $15 million in revenues in 2014, and almost triple the contribution from this segment to $23 million. If Immersion succeeds in getting better rates for advanced haptic, or new licensees, or has an existing licensee improving dramatically market share, these numbers could even get better.
Even more interesting is what could happen within more rich (per-unit) markets.
Automotive represented only $1.7 million in 2009, but although we do not have the exact number of cars shipped in 2009, we know that just 2,4 million vehicles included TouchSense technology since 2001 (9 years). Royalties per unit, in this sector, or say casino or bar-top amusement market, are much higher, and just a few strategic wins could really boost revenues – and hopefully bottom line, as margins will be now stable in the 90% range. Assuming management succeeds in keeping costs under control, and some of the sleeping partners (3M (NYSE:MMM), Visteon (VSTNQ.PK), Volkswagen (OTCPK:VLKAY), Toyota) start delivering their promises, this could finally become the nice turnaround story we've envisioned for a while.
Disclosure: Author long IMMR