By Brandon Matthews
Yesterday, I wrote an article in which I hypothesized that the recent antitrust clearance announcement pertaining to a potential deal between Liberty Media (Nasdaq: LMDIA) and Sirius XM Radio (Nasdaq: SIRI), could have been related to Liberty's announced intent to purchase $150 million in Sirius XM bonds. After further review and an in depth discussion with "Homer," I cannot in good faith allow this to remain published. It appears to simply be wrong.
Part of my argument stemmed from statements made by Liberty CEO Greg Maffei, who publicly stated that the company would not seek to convert its preferred shares to common nor would it seek to add to its equity stake due to questions surrounding change of control laws, as they apply to Sirius XM's $10 billion in accumulated net operating losses. Specifically, Maffei had stated that certain Sirius XM bond purchases may prevent Liberty from acquiring any more common shares prior to the termination of the standstill agreement.
Liberty currently holds a 40% equity stake in Sirius XM. Under the terms of the agreement, Liberty cannot acquire more than 49.9% of Sirius XM until the second anniversary of the agreement, which will occur in 2011. Despite Maffei's statement, a check of the convertible Sirius XM bonds held by Liberty leaves plenty of room for a substantial acquisition at this time.
Click to enlarge images

The only convertible bond held by Liberty are the 7% notes exchangeable at 1.87, which represent only 5.8 million shares of Sirus XM common. This means that Liberty can purchase up to 623,522,704 shares, at any time.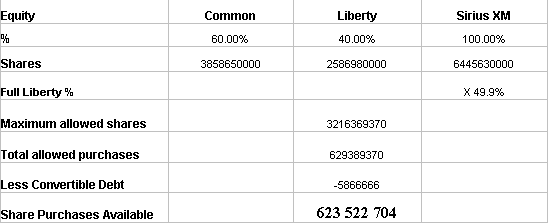 With Sirius XM posting phenomenal results over the past several quarters together with a positive industry outlook, it would be wise for Liberty to take advantage of Sirius XM's currently suppressed stock price.
Disclosure: Long SIRI