(On Friday, January 10, 2014, I returned to Solazyme's research headquarters in San Francisco to converse with key staff members in a follow-up session nearly 2 years after my last visit found here. This is the last article of a series which is based on my own conclusions as an individual investor in the company. Part 1 can be found here. Part 2 can be found here.)
"But ultimately when you're designing an expensive plant, it needs to run. It needs to run completely reliably. You have customers that are basing products on your oils. You can't introduce additional complexity into the process. What that means, is that before you do anything, you have to run all your loss numbers. You know what you lose at [each part of the downstream process]. You know what each of the losses are at each of the steps."

- Jonathan Wolfson, CEO of Solazyme
"Execution" is the buzz word now surrounding renewable oil producer, Solazyme (SZYM). As the company is finishing the construction and commissioning process of its first large-scale commercial facilities, the task of reliably performing goes on the top of the agenda for the coming year. On the way out are the speculative questions of whether the company's sugar-to-oil technology can perform at scale. On the way in is the needed reassurance for consistency by any partaker in the new technology.
For Solazyme, management is aware that it needs to establish a positive record for commercial partners and investors alike. There is no denying that companies are watching now. Solazyme's CEO, Jonathan Wolfson, reaffirmed this thought as he stated the following:
"As a practical matter, you have to develop a track record of reliably getting in-spec product to your customers. A company isn't born with that. You actually have to prove it. Even if your people have done it before in other places, you as a company have to establish that you're bona fide. What we're doing is we're finding people turning pieces of their supply chains over. But they're not turning the whole thing over. Even smaller companies aren't giving us everything."
It is an inevitable reality for any introduction of a novel technology. For customers to sole-source their supply line with Solazyme without proof of consistent production remains a risk at large. There is a valid concern that any production process disruption could potentially risk their own reputations. It is for this reason that some companies may be willing to blend with Solazyme's unique oils for now rather than using them exclusively to develop a truly differentiated product.
Yet with this reality mind, Solazyme has placed much emphasis on getting things right the first time around on the production end. The company is keeping things simple in regards to the technology and production process. Needless to say, the 100,000 metric ton [MT] Moema plant and the 20,000 MT Clinton plant have become the proving grounds for Solazyme as it gradually emerges onto this new stage of full-scale commercial production.
Fuels Are Still Part Of The Plan
Inherent in the establishment of these initial facilities as a proving ground is the desire to also create the framework for Solazyme's entry into its target markets. Solazyme may have initially been founded with the goal of creating biofuels, yet the company soon discovered that the business plan made more sense and that its technology was more useful when first applied to the markets of skincare & personal care, nutritionals, and chemicals. Despite fuels having the largest volume market within the company's reach, it also carried the lowest margins and a heavy political backlash which did little to support the company's role in this field.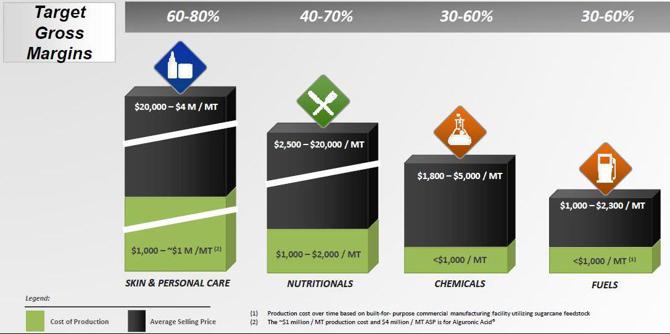 Click to enlarge
With this in mind I had the chance to sit down with Solazyme's Vice President, Graham Ellis, who is in charge of the company's upstream business development. With 16 years of experience at Honeywell's UOP, Ellis also remains a key part of Solazyme's strategy when it comes to fuels. He reminded me as we talked that Solazyme has no intention to dedicate Moema to any one market right now. Despite the fact that investors have placed fuels in the back of their minds, Ellis reassured me that it remains very much a part of the company's current business plan:
"I'm actually very excited about [fuels]. That opportunity keeps growing over time rather than moving further away like some people believe. Because I'm a chemical engineer, I look at highly technical things. There are lots of ways to enter the fuels market. But when you can do something that's really unique, then people can pay a premium for that."
Like a surgeon holding a scalpel, Solazyme expects to carefully carve out its niche in the fuels market rather than merely throwing a bulk commodity out there for consumer use. While the company's high profile involvement in fuels thus far helped to build relationships and test brands, the current focus in this market appears to be more specialized than some may have anticipated. Speaking largely from his background in the refining and petrochemical space, Ellis had the following to say about how Solazyme can help the refiners:
"It might not be the massive volume opportunity tomorrow, but you can build a business from here and then get going. We can zero in on ideal components for certain applications and ease pain points. It's that uniqueness that makes it good. Fuels are not created equal [in the refining and petrochemical space]. There are 10 different blending components - some are valuable, some are less valuable. Well guess what? We'll start at the most valuable, and work our way down."
(Crude Oil Samples & Refining Process Example)

Click to enlarge
Solazyme's technology is unique in that it is capable of designing oils within the algae cell. Rather than having to resort to what is found in nature, the company can create oils with a greater portion of the higher value properties found in certain cuts of crude oil while utilizing a relatively similar cost structure across its technology platform. As a result, just as some chemical companies create blending components for fuel oil, Solazyme can also apply its higher quality oil to create products which will assist in the refining process.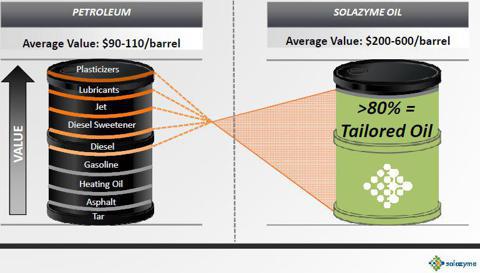 These products can be designed to increase the yields or ease problematic points felt across the refining process. As Wolfson previously noted in an example found here, Solazyme could possibly take a heavy sour crude from Venezuela and uplift it so that you can run it through a refinery that hasn't been refitted. Alternatively, the company could take a light sweet oil and blend it with a bunker fuel so that it can be uplifted it to a low-sulfur diesel. In each instance, Solazyme captures the higher premium needed to make its entry into fuels economically viable while also utilizing the comparative advantage of its technology's differentiating value.
Looking Forward To Future Expansion
While Solazyme establishes the foundation of its product markets, it still remains to be seen how the company will move forward in expanding its production capability. The partnership with Archer-Daniels-Midland company (ADM) and the facility at Clinton, Iowa provided some insight into how this can be handled in the near future. The 20,000 MT capability there is expected to be increased to 100,000 MT in subsequent years.
Yet speaking with Solazyme's CFO, Tyler Painter, I came to understand that the design of the plants themselves could become a strength for the company. It's modular design allows for flexibility in the decision-making process. Unlike a company like Gevo (GEVO) which has turned to larger fermenters (now at the million-liter scale), Solazyme appears content with its current scale of production (around the 500k - 600k liter scale). Speaking on the design of the plants themselves, Painter had the following to say:
"The way we designed the plants is very modular. So you can actually just say, 'I want to take it from 100,000 MT to 120,000 MT,' and basically add on another line. It also gives you some more flexibility in terms of how much you want running. You may have different campaigns that are running at the same time in the same plant."
While this doesn't exclude the possibility of further scaling to even higher levels of production, it does appears as if the current design takes into account one of Solazyme's other strengths. Unlike companies that maintain a single-molecule focus, Solazyme is in the business of staying flexible. Solazyme has multiple product lines and its modular approach can help the company react to the shifting fluctuations of market demand.
Looking even further down the road, it appears as if Solazyme is looking to keep its markets on the local level. For now, Moema will be producing product within Brazil and also exporting to markets outside of the country. But over time, it would be more ideal to solely utilize a local feedstock in order to address a local market. This can limit the additional costs derived from an economic, social, and environmental standpoint. When asked what his personal outlook was on the future expansion opportunities, Painter conveyed the following thoughts:
"I think what will end up being more likely is that we'll see modular expansion where we'll be able to do scale-down facilities around the globe. [I believe] we'll be able to go into places where there is a certain carbohydrate-based sugar feedstock, whether it's from cellulosic, or a waste stream, or from sugar cane, or from corn, or any other next generation feedstock, [and etc.]. Then you can take advantage of what's there and size the plant appropriately with the biomass you actually have for the sugar feeding it. Then you can actually take advantage of the local resource by converting that to the oils that your customers have a demand for. [As a result], you're not shipping product all over the world."
When you take a look at the world's development today, it's a wonder if the current model of transporting large amounts of goods is healthy over the long-run. In 2012, the United States shipped $15.2 billion in oil seed to China during a year in which oil seed exports rose 58.6%. US exports of oil itself rose 79.3% to $137.5 billion. A large part of the reason as to why these trade routes exist often comes down geographical disparities between supply and demand.
Yet when we look at a company like Solazyme, one of its benefits to society may ultimately be found in keeping both the supply and demand geographically local. The technology can be used to feed local carbohydrates into a process that creates valuable oil and bioproducts which are fed right back into the local community. In doing so, the process may also be able to produce products at a higher margin than the alternative. As a result, Solazyme can help alleviate some of the growing problems now found in global trade.
A Look At The Company Now
When we look at Solazyme now, the current market price reflects a company still emerging out of a development phase. As of January 25, the company trades with a market capitalization of $680 million based on the last price of $9.99. As of September 30, the company had $194 million in cash and short-term investments. Despite total assets of $278.8 million, it's important to recall that Solazyme has not consolidated its financials when it comes to the Solazyme Bunge Renewable Oils Joint Venture with agribusiness leader Bunge (BG). The plant at Moema carries a construction cost of about $150 million.
Over the last four quarters, Solazyme generated a meager $36.9 million in revenue primarily on a single cosmetic brand and partnership revenue. Yet this will soon change as Solazyme expects to see this revenue grow significantly over the coming year. The current nameplate capacity of Moema alone is more than fifty times the existing manufacturing capability now owned by Solazyme at its Peoria plant. Clinton will also be coming online in early 2014, with revenue flowing directly to Solazyme. The potential products that will be manufactured at these facilities can be found below.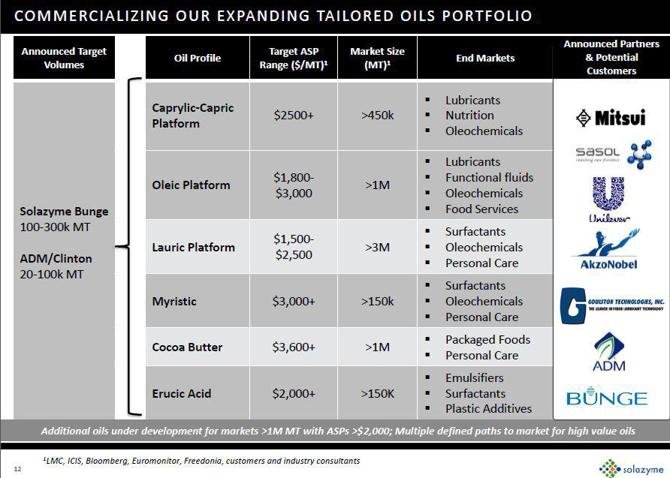 Click to enlarge
It remains yet to be seen what the product mix will be like at Solazyme's new facilities. However, a conservative average selling price of $2000/MT would suggest that $200 million could be generated for SB Renewable Oils annually when running at its nameplate capacity. Solazyme has long targeted markets where products can achieve a minimum average selling price of $2000/MT. It bears reminding that Moema is expected to ramp up to its nameplate capacity over the next 12 to 18 months.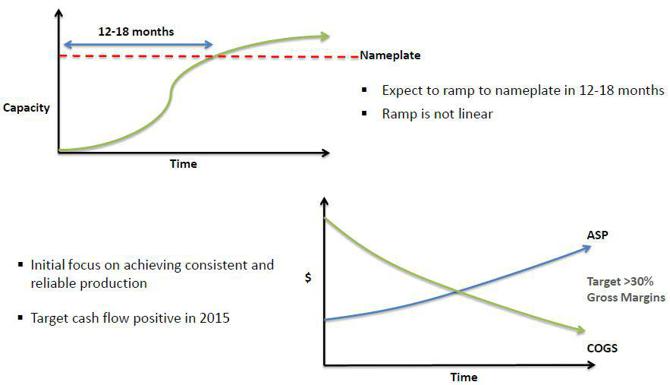 Click to enlarge
Final Thoughts
Solazyme is on track for significant growth over the coming years. Starting in early 2014, the company's new production facilities will begin to increase the company's manufacturing capability. These new plants have taken about a year and a half to be built. The extra 12 to 18 months for a full ramp-up procedure should be expected as the norm. Investors taking a position in Solazyme should anticipate the lengthy construction process and ramp-up requirements needed for each facility brought online in the future.
As Solazyme enters full-scale commercial production, management appears committed to ensuring a smooth execution of its first facilities. It is entirely likely that future facilities could prove to be more efficient as lessons are learned and the technology upgraded. Additionally, the new oil profiles now under development should only help to further widen margins by commanding even larger average selling prices.
Solazyme's algal platform unlocks the ability to design oils in a way that coincides with multiple advantageous trends. The technology can uplift the value of inferior products and it can help ease the growing problems found in existing global trade logistics. Far from requiring a new set of infrastructure to accommodate it, the technology creates products with superior attributes that can plug right into the markets of today. Above all, the process offers a green sustainable solution that is on course for profitability. For patient investors, Solazyme appears to offer a clear long-term opportunity to buy and hold. As if stumbling upon modern day alchemy itself, Solazyme is able to convert low cost feedstocks into the much needed oils of tomorrow.
Disclosure: I am long BG, SZYM, . I wrote this article myself, and it expresses my own opinions. I am not receiving compensation for it (other than from Seeking Alpha). I have no business relationship with any company whose stock is mentioned in this article.