Johnson & Johnson (NYSE:JNJ) has built one of the most comprehensive bases of health care businesses and generates an impressive 70% of revenue from top positions in the respective markets in which it operates. The health care and consumer giant remains focused on innovation and generating incremental revenue from new products as it broadens its geographic presence. Johnson & Johnson's fourth-quarter performance showed that it continues to execute at a very high level.
The company's sales advanced 4.5% in the fourth quarter (6.3% excluding currency) thanks to strong top-line performance in its pharmaceutical division, which witnessed revenue expand by more than 13%, excluding the impact from currency. Domestic sales leapt 7.4%, while international sales increased 2.4% (5.6% excluding currency). Net earnings and adjusted diluted earnings per share for the fourth quarter were $3.5 billion and $1.24, respectively, the latter advancing 4.2%. We very much liked the performance of the company's pharmaceutical business [particularly Remicade (1), Prezista (2), Stelara (3), Zytiga (4), Xarelto (5), Simponi (6)] and the recovery of its large stable of brands in the US OTC market (collectively, they advanced more than 20%+ in the quarter). The integration of J&J's recent acquisition of Synthes has been near-flawless.
(1) Remicade: (up 13.8% in fourth quarter; $1.712 billion), click for info.
(2) Prezista: (up 30.6% in fourth quarter; $461 million), click for info.
(3) Stelara: (up 55% in fourth quarter; $417 million), click for info.
(4) Zytiga: (up 87.5% in fourth quarter; $495 million), click for info.
(5) Xarelto: (up 185% in fourth quarter; $271 million), click for info.
(6) Simponi: (up 40.3% in fourth quarter; $254 million), click for info.
Looking ahead, Johnson & Johnson issued earnings guidance for full-year 2014 of $5.75-$5.85 per share, the high end in line with consensus estimates. Our forecast of $5.90 per share for the year indicates that earnings upside should be expected, and we think its pharmaceutical business will be largely responsible for the outperformance for the year. Management is guiding analysts' models to the mid-point of the range ($5.80 per share) due in part to the strength of its pharmaceutical business in 2013, which will likely result in difficult year-over-year comparisons (not underlying weakness). In fact, we like the progress the firm continues to make in its drug pipeline (especially in oncology), shown below.
Click here to download pictures below.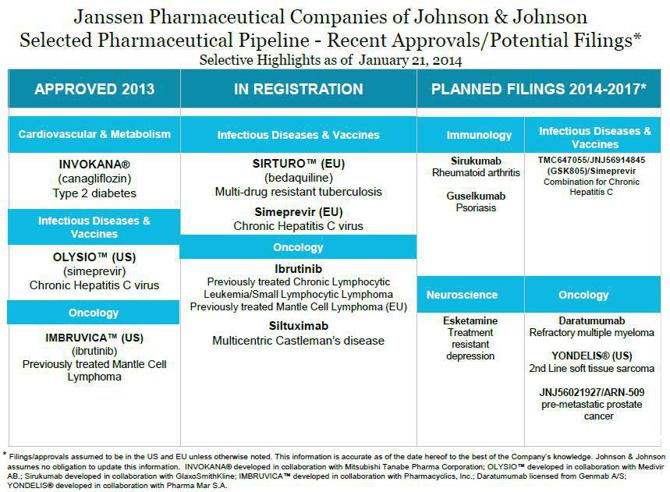 Image Source: Johnson & Johnson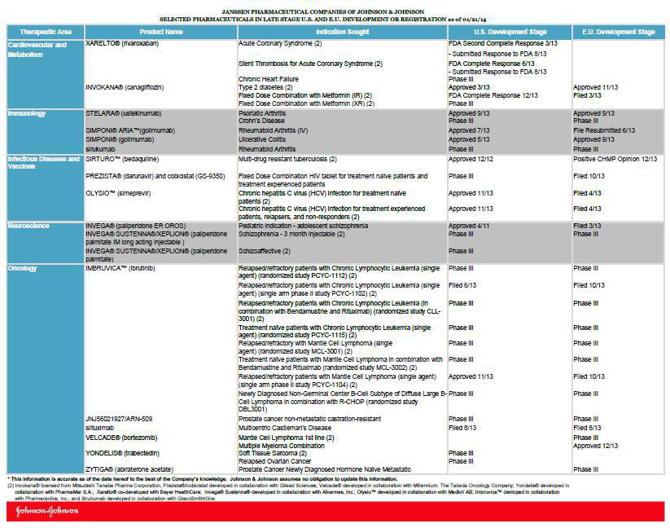 Image Source: Johnson & Johnson
Valuentum's Take
Johnson & Johnson is one of the very few companies in the world that has a AAA debt rating, the highest mark on the credit-rating scale. The company's cash flow generating capacity is top-notch, and we peg its cash-flow-based Valuentum Dividend Cushion score-or how many times the firm can cover its dividend with cash flow and after considering its balance sheet-at more than 2 times, a very healthy measure. We think some of the best dividend growth stocks are ones that have the strongest balance sheets - strongest credit ratings. We continue to hold Johnson & Johnson in the portfolio of the Dividend Growth Newsletter, even though we peg the company's shares as fairly valued. It is a company that we don't mind paying fair value in exchange for its substantial dividend growth potential.
Disclosure: I have no positions in any stocks mentioned, and no plans to initiate any positions within the next 72 hours. I wrote this article myself, and it expresses my own opinions. I am not receiving compensation for it (other than from Seeking Alpha). I have no business relationship with any company whose stock is mentioned in this article. JNJ is included in the portfolio of our Dividend Growth Newsletter.