A core principle of both fundamental and technical analysis is "a rising tide lifts all boats." If the economy is strong and growing, the vast majority of companies should benefit, whether they sell hairspray or jumbo jets. We should expect to see this both in their quarterly reports and their higher stock prices.
An early warning flag should be hoisted, however, if we do not see the latter. As I make clear here financial markets are very good at sniffing out economic weakness in advance.
We may be seeing this now with technology stocks. Tech has been the market leader over the last twelve months: the 31% gain in the PowerShares QQQ Trust ETF (NASDAQ:QQQ) far exceeds the S&P500 Index (NYSEARCA:SPY). That is what makes the weakness shown below so ominous: cracks are appearing on Wall Street's bastion of strength. Not good!
Examine the chart below. It shows the QQQ for the last five months or so. The Qs have been working their way higher and if you look at the breadth chart just beneath, you will see the advance/decline has largely kept pace...until the most recent pop higher, earlier this month.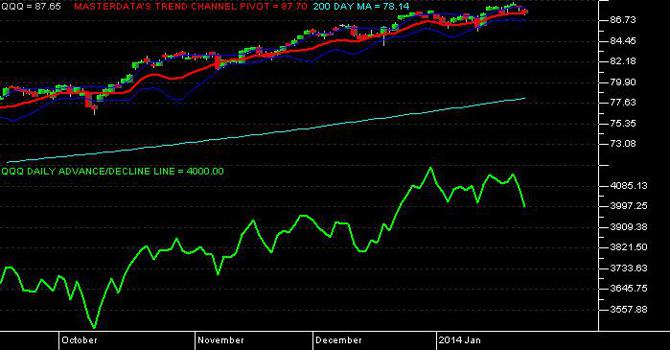 source: www.masterdata.com with jpg conversion
OOPS! See the how the A/D line never climbed above December's peak? Some of the boats weren't carried higher by the rising tide.
A similar look at the SPDRs Select Technology ETF (NYSEARCA:XLK) shows a similar worrying "divergence," as Wall Streeters like to call it.
What does this mean? For now sit tight and let the market speak more clearly. If stocks continue to fall, carrying QQQ and XLK below their early January lows amidst weakening breadth, we need to look closely at those shares in these ETFs which were largely responsible for this divergence. It might herald a severe correction or even a new cyclical bear market. I will write a follow up article as soon as this occurs.
On the other hand, as has happened numerous times over the past sixteen months, the market may catch a second wind here and carry both indices and the A/D line to new highs. I won't need to cheer on the bull market in that case: Seeking Alpha readers can do that for themselves.
Comment: Since this article was submitted, the a/d line for QQQ has hit new lows on an intraday basis. I formulate my trading strategies upon closing market data. I will update the A/D status of all major indices in the very near future; and formulate a new trading strategy if needed. Stay tuned.
Disclosure: I am long XLK, IHI, XLV. I wrote this article myself, and it expresses my own opinions. I am not receiving compensation for it (other than from Seeking Alpha). I have no business relationship with any company whose stock is mentioned in this article.