By Jeff Bailey
In terms of new approvals from the Food and Drug Administration, 2013 was a bad year, with just 27 new drugs green-lighted, down from 39 the prior year. But don't tell that to a handful of relatively small pharmaceutical companies that got the OK to sell drugs that could substantially boost their sales and profits. The count comes courtesy of the people at FierceBiotech, who chronicle the ups and downs of the drug industry.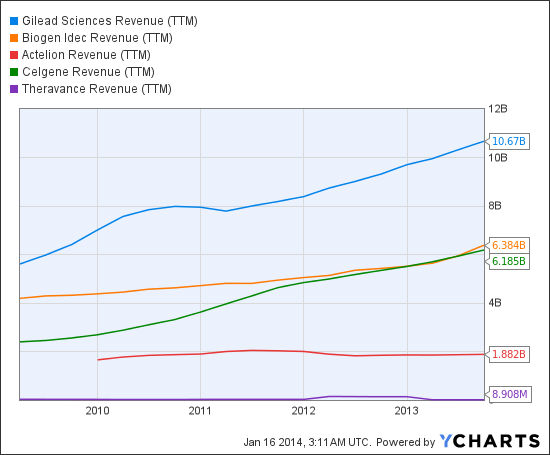 GILD Revenue (TTM) data by YCharts
The companies in the above chart walked off with either exclusive or shared rights to market drugs considered likely to achieve sales of $1 billion or more, according to FierceBiotech:
Gilead's (NASDAQ:GILD) Hepatitis C drug Sovald is expected to hit peak sales of $7 billion a year, 2013's biggest potential blockbuster, according to the publication; Biogen's (NASDAQ:BIIB) Tecfidera, a Multiple sclerosis treatment, is expected to hit peak sales of $4 billion; Actelion's (OTCPK:ALIOF) Opsumit, a treatment for pulmonary arterial hypertension, is expected to hit peak sales of $1.4 billion; Celgene's (NASDAQ:CELG) Pomalyst, a Multiple myeloma treatment, is expected to hit peak sales of $1.1 billion; and Theravance (THRX), a tiny company with a partnership with GlaxoSmithKline (NYSE:GSK), will get a share of the sales of two new drugs – the chronic obstructive pulmonary disease treatment Breo Ellipta, expected to hit $1 billion in sales at its peak, and another drug to treat the same disease, Anoro Ellipta, which is expected to hit peak sales of $1.4 billion.
Bigger pharmaceutical companies, of course, won big drug approvals last year, including Johnson & Johnson (NYSE:JNJ), Roche (OTCQX:RHHBY), Pfizer (NYSE:PFE) and Bayer (OTCPK:BAYRY). But the smaller companies will get a relatively bigger lift from winning new drug approvals. And their stocks have performed accordingly. You can unleash financial advisor tools on any of the stocks to gauge their prospects.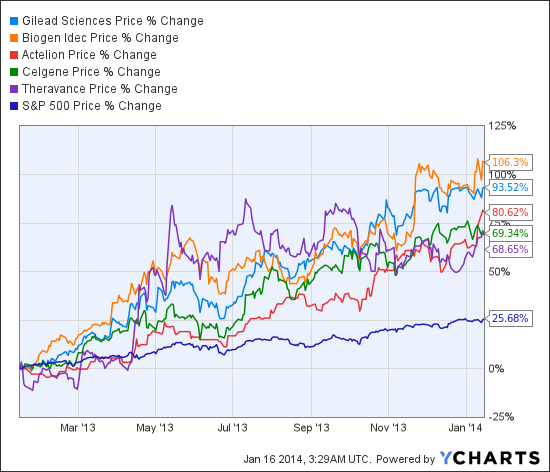 GILD data by YCharts
Drug approval numbers are expected to rise in coming years, reflecting strong emphasis by major pharmaceutical companies, as well as continued R&D by startups and smaller concerns.
Disclosure: None