Do Australia's triple nickels sound good? A 5.5% yield for 5 years!
Or, possibly even better yet, 5.2% for 3 years!
Investors should consider international bonds for the following reasons:
The US government politically seems to have less stability by the day.
In this low rate environment, people are often seeking higher interest rates.
It's current wisdom that through proper diversification you can reduce risk.
Many believe that the US dollar could decline in value due to government spending.
Many other international debt issues have preformed far better than both the US government and US corporate debt.
Currently, we recommend that higher net worth individuals take a look at Australia. Buy or get a quote here for international government and corporate bonds, including Australian bonds. Investors are often surprised at how easy it can be to buy/invest in foreign government and corporate securities.
Australia Economy
Australia's (AUD) GDP is slightly higher than many industrial nations such as UK, Germany and France in terms of purchasing power parity (PPP). The country has provided both a very productive economy judged by the PPP and a very high quality of life being ranked second with the United Nations in 2009. Australia has also provided more economic focus in developing their vast levels of commodities and resources to grow their economy.
Since 2000, the agrarian and resources economies, like Australia, have seen nice rebounds in their economy. For example, Australia's rate of 3.6% of GDP for over 15 years is well above the average of 2.5%.
Australia has experienced persistent deficits since World War II, but it has become well maintained where in 2009-10 the deficit of $57.6 billion was 4.9% of GDP.
Australia is a major exporter of wheat, wool, materials, iron, ore, gold and coal. With the natural resources providing about 3% and 5% of GDP, they are a major part of Australia's exports. Japan, China, South Korea, India and the USA are among their top importers.
Australia Government Debt
Australia government bonds receive superb ratings (Aa3/ AAA).
Yields (updated March 30, 2010):
2011 yield to maturity 4.490
2012 yield to maturity 4.950
2013 yield to maturity 5.245
2014 yield to maturity 5.427
2015 yield to maturity 5.507
Since Australia's debts are in the 5% range, the yield premiums for Australia government debt is about 3.25% higher than US Treasury debt for the same 5-year maturity. This is over double for a comparable government AAA rated debt.
Their currency (the Australian dollar) issues could, and will, affect future returns. Yet, America's debt is exploding and there are many academic studies claiming that a diversified portfolio from US currency could actually reduce US citizens' portfolios; especially if they have an over-abundance or, worse yet, 100% of their assets in US dollars.
While working with other nations, some debt is more restrictive to US citizens than others and Australia has lower restrictions than some.
Australia government bonds maturing in 2015 are yielding around 5.40-5.60%. Australia's dollar (their underlying currency) is popular with currency traders due to high interest rates in Australia, the relative freedom of the foreign exchange market from government intervention, the general stability of its economy and political system and the prevailing view that the Australian dollar offers diversification benefits in a portfolio containing the major world currencies (especially, because of its greater exposure to Asian economies and the commodities cycle).
Australia Restrictions
$10,000 minimum.
Smaller investments size often give lower yields.
Buying in a single country increases your investment risk due to currency fluctuation and ownership of foreign debt (knowing that the volatility of each underling security is higher). But, if you properly build a diversified portfolio utilizing several countries, utilizing both government and corporate debt, the portfolio could actually reduce risk while adding significant income.
Currently, it is our opinion that the future stability of the US dollar is at very high levels of risk for increased volatility; higher than I've ever seen it in my 25-year career. It's due to the twin issues of overall US government increases in spending, that makes a very large corresponding debt even larger, along with the great increase in political instability that appears to be growing by the day. These two titanic shifts will, in my opinion, greatly increase the underling volatility of the US dollar, with a higher probability that the US dollar will under-preform.
Australia on the Positive Side
Australia has one of the lowest levels of government debt as a proportion of GDP among developed countries.
Australia World Rank:

3

United States World Rank: 8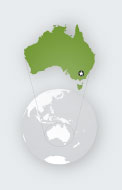 Ten Economic Freedoms of Australia
Australia's economic freedom score is 82.6, making its economy the 3rd freest in the 2010 Index. Its overall score is unchanged from last year. Australia is ranked 3rd out of 41 countries in the Asia–Pacific region, and its score is well above the regional and world averages.
Sound macroeconomic policies and well-implemented structural reforms have allowed the Australian economy to weather the recent global financial and economic crisis better than many other advanced economies.
Australia on the Negative Side
The absence of a successful export-oriented manufacturer and the talk about increasing levels of government debt caused by falling tax revenues and stimulus during 2008 are proposed to continue through 2010.
Quick Facts
Population:
GDP (PPP):
$762.6 billion

3.7% growth

2.9% 5-year compound annual growth

$35,677 per capita
Unemployment:
Inflation (CPI):
FDI Inflow:
Conclusion
Australia's long term position as a stable economy and political system with shrewd fiscal management with an over 5% yield, or over 2 times the same comparable maturity in US debt, plus protection against a possible US decline in currency (but, at risk against a rising dollar) in this market appears doubly attractive for US investors.
Disclosure: No positions